In celebration of the 2014  Teen Choice Awards, Red Carpet Events LA presented a fun and luxurious gifting suite honoring award nominees and presenters. Hosted at the SLS Hotel in Los Angeles, teen celebrities came together, graced the red carpet and were gifted by sponsors from across the country who came to promote their brands to Hollywood.
Some notable teen celebrities include Samantha Logan, Lexi Noel, Simonna, Mia Talerico,  Paris Berelc,  Brendan Robinson , Hunter King, Joey King, Kathryn Newton among others.
Some of the fine vendors attending included:
The Diva Box Co. provided their diva box that allows people to carry their favorite designer shoes fashionably. It sets the new standard for the way people store their footwear.  For more information, please visit thedivabox.com
Nredom Snoitome provided his trendy and luxurious clothing line that has become very popular and are worn by many celebrities including the Pussy Cat Dolls and others. Snoitome's brand is becoming a big favorite in Hollywood and beyond Los Angeles. Please visit snoitome.com.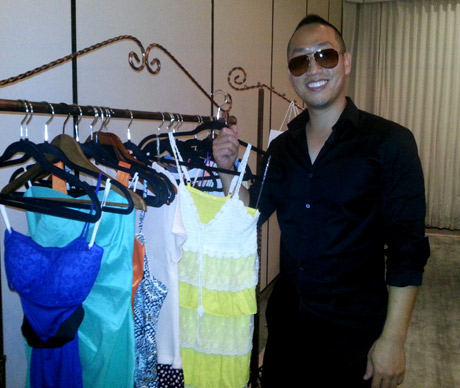 Hot Iron Holsters offered their convenient and efficient hot iron holsters that fulfill the need of storing hot irons. It is a heat resistant silicone holder for hot styling tools that is also big enough to contain multiple items. Also for brushes, hair dryers and more. Please visit hotironholster.com for more information.
Rock Your Hair attended with their superior hair products and guests enjoyed a variety of options. Rock Your Hair provided celebrities with several of their best products for big, volumized hair. Their line of products repairs hair from the overwhelming damage that chemical products and hot irons can cause. Please visit rockyourhair.com for more information.
OFRA Cosmetics, a world renowned cosmetic line, provided their professional makeup and skincare products. Please visit ofracosmetics.com for more information.
Hipsy provided their adjustable non-slip headbands for women that is stable and stays still while in your hair. Comfortable and very stylish! Visit hipsy.com for more information.
Art wear Designs offered their very hip and fashionable designs to celebrities. Their concept is to create affordable wearable art that embraces a modern feel. Artwear Designs is an early startup co-founded by college students Natalia Gonzalez and Lisa Myers. Their mission is to provide a platform for young undiscovered artists to showcase their artwork by mass producing it in the form of screen-printed apparel. Please visit artwear-designs.com for more information.
Dermalogica provided their amazing skincare products to guests of the event. Their products avoid any ingredients that lead to irritation or acne and they are highly regarded by skin care professionals around the world. Please visit dermalogica.com for more information.
SOYJOY provided their healthy snack bars made with both soy and real fruit. Delicious and nutritious. Each bar contains essential nutrients for optimal energy and performance. They are non-GMO soy as well. Please visit soyjoy.com for more information.
Tikkun Holistic Spa – Inspired by tikkun olam, an ancient Hebrew phrase that means "repairing the world",  Tikkun Holistic advances the ultimate in luxury, framed by a uniquely stylish setting for traditional Korean spa treatments and heat therapy rooms that combine far-infrared technology and healing minerals to aid relaxation, increase circulation and enhance metabolism. Modern sensibility meets cultural distinction. Celebrities were offereed the opportunity to try out their Heat Therapy rooms at their spa in Santa Monica. Read more about Tikkun Holistic Spa here… For more information visit tikkunspa.com.
Joy & Mario Shoes brought their fabulous lines of comfortable, fashionable shoes. The main goal of their company is finding a middle ground between comfort and fashion, and they achieved that perfectly. Joy & Mario Shoes have crafted the ultimate must-have, with their reliable soles made from 100 percent rubber and its uppers composed of "natural and designer fabrics."  For more details on finding your new favorite pair of shoes, visit joyandmario.com.
Wubble Ball has revolutionized and changed all perceptions about bubbles. They have created a bouncy ball that is also a bubble. This Wubble Ball is extremely durable and does not pop even if you sit on it. For more information please visit wubbleball.com.
Bo-Po provided guests with their brush on peel off nail polish that comes in ten fun and amazing colors. This product is great for children who want to explore their creative side while preventing messy cleanups that traditional nail polish would create. For more information please visit bo-po.com.
ZICO Premium Coconut Water is perfect for hydration with magnesium, phosphorus, calcium, and an abundance of potassium. This fat and cholesterol free drink is far better than competing coconut water brands. ZICO only chooses the best coconuts and the taste is unparalleled. Please visit zico.com for more information.
Other participating sponsors included:
The Bling Collection from The House of Simone, Tina Riana Hair by Tia Maria Beauty, Streekers, JuNxtaposition, Big Slice, GG GATSBY, Pretty Woman, GREEN SISTER, SweetNorthBabe,  OCTAVIA SHOES, Hide Away Pets, Justin's Peanut Butter Cups, Little Yelow Zpot, Peter W Inc., Appethyl, LoulaBelle; Jay at Play, Red Cup Living; Halfpops, Pedi Princess, Fantasy Cookie, Two Mom's in the Raw, True Solution, ZICO, GLEEFUL PEACOCK, Blossom Footwear, De  Blossom Collection, Red Carpet Events PR, KIND Healthy Snacks, Amy Martinson – Martinson Fine Art Photography: Fine Art Nature & Landscape Photography.
Graphic Design by Julie Rojo; and 3Wolves Productions.
Specifically, these participating sponsors gifted:
Red Cup Living gifted their fun red cups and bottle openers.
Octavia Shoes & Fashion offered designer shoes for women.
Tinariana Hair provided guests with their hair extension shampoo and conditioner, which is for hair extensions and a luxurious spa hair day.
Peacock offered guests their beautiful necklaces in the gift bag.
Streekers offered guests their temporary hair coloring Wild Weekend product that is in bold bright colors and can be easily washed out.
HideAway Pets offered their cute fluffy and fuzzy stuffed animals that can be rolled or hid away into a ball.
GG Gatsby provided guests with their luxurious gold sparkle spray that make your skin and hair shine for fabulous looks.
The Bling Collection gifted guests their SpotLight Nail Shine.
Red Carpet Events LA is known for producing Exclusive Luxury events surrounding major celebrity awards shows, movie premieres, product launches and private entertainment industry related events, Celebrity Gifting, Charitable Consulting and Marketing/Public Relations.
Red Carpet Events LA can be contracted to produce Gift Bags for various charity and celebrity/media events. Red Carpet Events LA offers its clients a full range of marketing services and it is an independent marketing firm widely known in the entertainment industry for bringing that little extra something into the Gifting Lounge environment.
For more information, please contact Roger Zamudio at 310.592.7613.
_______________________________________________________________________________________________________