An LA's The Place 2014 Top Pick for Best Restaurants!
The only luxury boutique hotel in Manhattan Beach, Shade Hotel  houses a gem of a restaurant: Zinc Restaurant is a great destination to relax and enjoy distinctive cuisine. The new menu is richly varied with special versions of all-time favorite brunch items, as well as Chef Garasic's divine creations.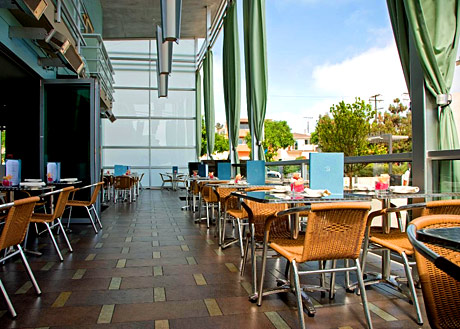 They have had such a great response to their acclaimed brunch, that they are now extending the hours, and now serve it seven days a week from 7 a.m. – 5 p.m.
The hotel's laid-back restaurant lounge, Zinc at Shade offers indoor seating in the lounge, or al fresco dining on the open, beach air terrace. What a great idea to offer brunch, 7 days a week, all day long.
"Why limit breakfast to just the mornings, or lunch to only afternoons for that matter?" said Shaunna McKelvey, General Manager of Shade Hotel. "With our new Brunch menu offered 7-days a week you can enjoy our delicious Eggs Benedict at 3pm and our Truffle Burger at 9am! In addition to some of your favorite brunch classics, we are thrilled to offer Shade guests and locals alike the opportunity to enjoy both lighter and more indulgent brunch options, carefully created by Chef Garasic."
The only problem you will face, is what to choose on their menu. Everything is amazing.
Zinc at Shade's daily brunch menu features sweet and savory dishes. The Summer Peach Stuffed French Toast, featuring brioche slices stuffed with sautéed summer peaches, zesty orange cream, dipped in Cointreau custard then topped with citrus whipped cream and toasted pecans is bite after bite of explosive flavor.
Low calorie options include the California Fit Fritatta, which is made with two egg whites and one whole egg, tossed with oven roasted tomatoes, asparagus, lean smoked ham, feta cheese and lightly tossed greens, served with a side of pico de gallo.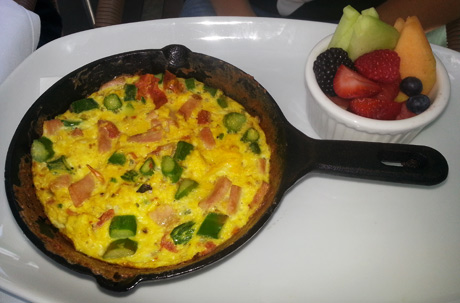 Shade Hotel's brunch not only offers breakfast favorites from morning to evening hours, but also includes salads, sandwiches, pizzas and tacos.
Prices range from $4 to $29. For more information or to make reservations, please contact Alissa at 310-469-3466 or visit Shade Hotel at www.shadehotel.com.
Recently named one of the top 25 "trendiest hotels" in the United States by Trip Advisor, is Manhattan Beach's premiere luxury boutique hotel. It also was deemed the #6 reason to visit Los Angeles! (Conde Nast Traveler). Located at the Metlox Plaza, it intertwines California beach culture and contemporary sophistication
The hotel's energized yet refined interior was designed by Christopher Lowell, and boasts stainless-steel and natural touches that include river rock, running water and exotic bamboo to encourage an environment of balance, harmony and spiritual well-being.  The opaque blue glass, dark wood and flame-filled glass cylinders are a treat for the eye.
Shade offers 38 luxury guestrooms, including 5 distinct suites. Travelers or even local 'daycationers' will enjoy a refreshing California coastal living experience at the hotel's spa, incredible indoor and outdoor dining at zinc@shade, and relaxation poolside at the rooftop Skydeck bar and pool.
Guests will enjoy discovering accommodations that will allow them to host their dream beach wedding, or simply host a business meeting.
Shade Hotel  310.546.4995
www.ShadeHotel.com
www.twitter.com/shadehotel
1221 N Valley Dr
Manhattan Beach, California
_______________________________________________________________________________________________________