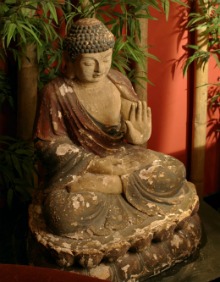 In a city that churns out a new trendy restaurant as fast as they spin out the new A–list celebrity of the moment, Koi Restaurant is a rare phenomenon that is still a Los Angeles hotspot for both foodies to enjoy and starlets to be seen. Like Meryl Streep or George Clooney, Koi has stood the test of time with the finicky tastemakers of LA making its mark as the leader in contemporary Japanese cuisine, offering an innovative take on the art of food in a luxurious and sensual dining oasis. It has remained a go-to restaurant among the Hollywood jetsetters, curious tourists and foodies alike for almost a decade now – an accomplishment very few LA restaurants can claim. Koi Los Angeles blends winning style with culinary substance to create a seamless "New Asian" experience.
Inventive Japanese Fusion Menu
Koi Los Angeles is acclaimed as one of the culinary industry's Asian-fusion leaders. In 2003, Executive Chef Robb Lucas, who has helmed the restaurant since the beginning in 2002, represented Koi Los Angeles as it was honored at the James Beard Foundation Gala as it was voted the "Best New Restaurant of 2003." Other accolades included for Koi Los Angeles include being voted by Gayot as L.A.'s top Japanese restaurant, and in 2005 was named "hottest sushi spot" by Departures Magazine. Koi has also earned the top spot in LA's The Place "THElist 2011" for "Best Japanese Restaurant Los Angeles".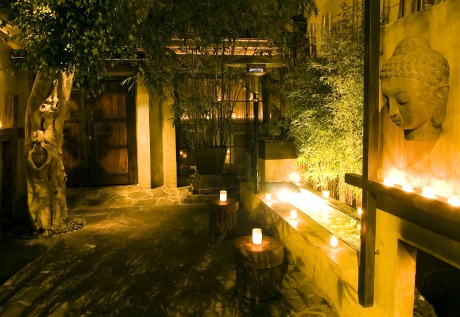 Zen Retreat at Koi Restaurant Los Angeles
As if the inspired, delicious food alone was not enough, the exquisite ambiance of Koi is an experience unto itself. Entering Koi from the buzzing valet line is to be transported into another world. Koi, completely renovated in 2008, is a peaceful, Zen retreat bathed in candlelight, accented with earth-toned décor and feng shui elements such as fountains. From the moment guests step into Koi's 8000-square-foot space, you are delightfully taken by the array of distinct dining and lounge areas that allow you multiple ways to experience the restaurant.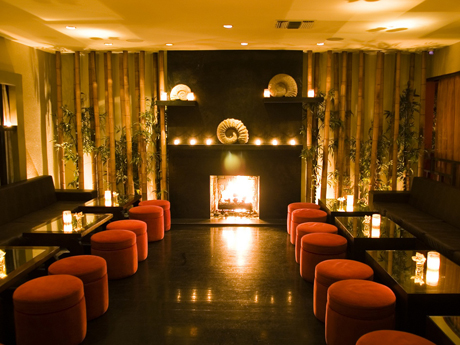 Upon entering, you step through two ornately-carved wooden doors into an outdoor stone patio that immediately evokes a feeling of peace and serenity from the busy city. The lounge seating in this covered outdoor space, which is surrounded by two opposing fireplaces and a sentinel of green bamboo, has a stately fountain  and beacons guests to linger for a drink and lounge in a small sea of beautifully-appointed low banquettes and couches, which are perfect for watching the crowd. A sake flight from over 15 sakes, including Koi's own house brand sake, is a wonderful way to educate your palate in the diversity of the delicate world of Japanese rice wine. Check out the new Omakase menu, and view Koi's sushi masters at work at the coveted sushi bar, which runs the length of the dining room, seating 14.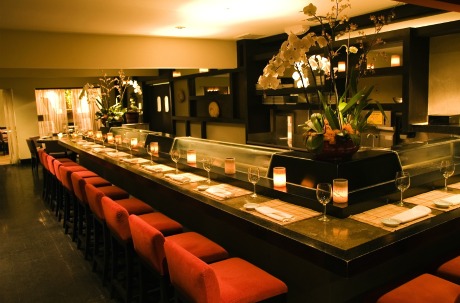 Illuminated by candlelight, the natural and intricate details of the restaurant create an elegant dining atmosphere, while the Zen inspired design of earth-toned colors, sleek design, fireplaces and waterscapes all create a stunning atmosphere of harmony by combining subtly luxurious materials with nature's elements of water, air, fire and light.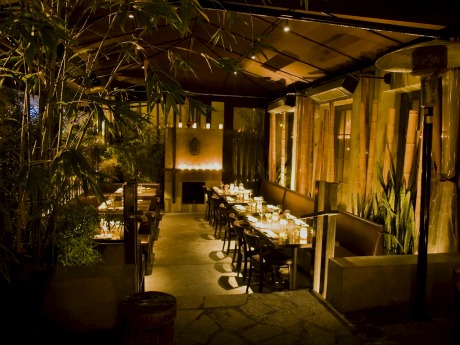 Diners have their choice of four dining areas, which flow easily into one another. This magical, romantic restaurant includes an expansive main dining area; adjacent to that is a rectangular space complete with four corner tables, each with a cozy banquette for two. For group private dining, a room accommodating up to 25 guests is enveloped in sheer orange swags of organza creating a whimsical effect.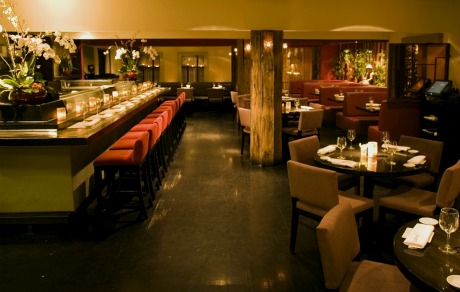 For an ultra-exclusive experience, celebrities and tastemakers alike often book the main private dining room, complete with its own outdoor patio and personal restrooms, which provides seating for 70, or a standing reception for up to 130 guests.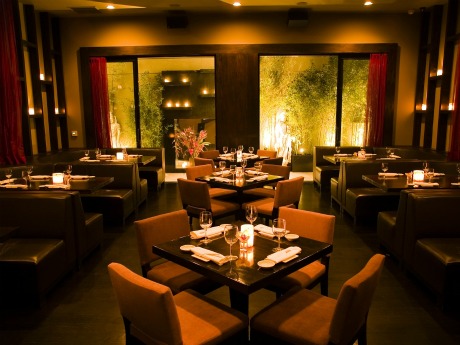 Finally, the lush indoor/outdoor dining area provides seating for 30 people, and reintroduces aspects of the front patio, complete with a fireplace, waterfall and Buddhist relics to convey a serene, yet exotic atmosphere. "I never have seating complaints from diners—people want to sit everywhere," says Haque, "You have excellent views from anywhere in the restaurant, yet can maintain your own immediate intimacy."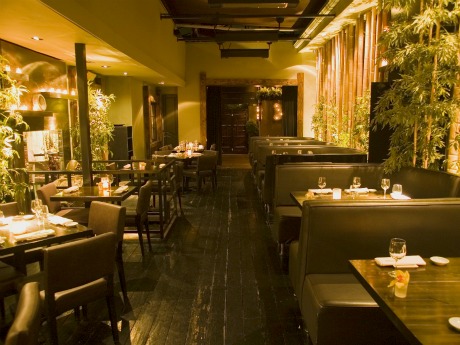 Koi, a pioneering venture from renowned restaurateur Nick Haque, is the perfect example of culinary and architectural synchronicity. "It made good business sense for me, sure.  But more importantly, it's something I love. I want people to feel welcome here, as though they are guests in our living room," states Nick.
Inventive Japanese Fusion Menu
Hugely popular are Koi's innovative sushi rolls that spotlight beautifully-prepared, clean flavors, showcasing the chef's signature flair. The extensive Sushi menu offers both traditional and contemporary items, and boasts some of the freshest fish in town including yellowtail, toro, octopus, snow crab and uni.
Items such as their must-try signature Crispy Rice with Spicy Tuna takes the classic spicy tuna roll version to a whole other level of sumptuousness. It features grilled, crispy rice topped with a thick layer of cool, savory tuna ($16). To further satiate your tastebuds, there's the Baked Crab Roll, with succulent fresh crabmeat wrapped in thin rice crepe paper, accented with sesame seeds, then baked to perfection ($8 – $10). Be sure to also try the Hamachi Fusion with Soy-Citrus and Truffle Essence ($20), Sautéed Shrimp on California Roll ($16); Baked Lobster Roll with Creamy Sauce ($20); and Koi Los Angeles' exclusive Rock N' Roll, which includes Tempura Soft Shell Crab, Spicy Tuna, California Roll topped with Toro and Gold Leaves ($30).
The dishes appeal to all senses and are artfully plated by Koi's skilled culinary team.
Delectable hot entrées are creative and varied, including Grilled Skirt Steak with Crispy Red Onions and Sesame Sauce ($28); Kobe Beef Filet Mignon "Toban-Yaki" with Asparagus and Mushroom ($48); and the restaurant's signature Miso-Bronzed Black Cod with a medley of Seasonal Vegetables ($25). Creamy Rock Shrimp Tempura ($18) is also a favorite among several delicate tempura dishes. The Lobster Tacos topped with Savory Mango Salsa and Yuzu Guacamole ($18); Grilled Lobster Tail served alongside Spicy Yuzu Au Jus and Herb Butter; and Peppercorn Filet Mignon with Shishito Mashed Potatoes ($38) are all impeccably delicious dishes found only at Koi Los Angeles.
Special Dishes for the Holidays
Koi Los Angeles Executive Chef Robb Lucas has created some new items for the upcoming holidays that promise to delight your palate!
And the holiday dessert a lot of people look forward to, Koi's Pumpkin Pie – Amaretti Crumble, Whipping Cream & Vanilla Ice Cream
Some new cocktail recipes for the holidays include the Autumn Mule – Pear Vodka, Apple Juice, Lime juice, Ginger Beer, which is available now, and the V Fizzle – Veev, Pom Juice, St. Germain, Champagne – available Dec 18th.
Desserts Worth Saving Room For
Although you may get carried away trying out all the signature sushi and hot menu items at Koi, save room for dessert. Desserts at Koi steer  toward traditional California favorites but with a flair, such as Vanilla Bean Chocolate Crème Brulee, molten Chocolate Cake, served with White Chocolate Sauce and house made Vanilla Ice Cream ($10),  the Koi Signature Cheesecake, an innovative and flavorful Japanese cheesecake served with Plum Wine Reduction and d Honey Roasted Pear ($10). They are not to be missed!
Creative Cocktails
Their sake list and cocktail menu are also crowd-wowwers. On weekends, the bar is three people deep waiting to sip on the latest cocktail creations like the Koi Saketini of vodka, sake and cucumbers, the Wasabi Praise of vodka, sake, lime juice, simple syrup and wasabi or the Koi Chai Tea with green tea vodka, agave and soda water. Another house specialty is the Berry Bliss, featuring gin, raw agave and pomegranate juice, topped with fresh raspberries. The well-thought out wine list is global, featuring selections primarily from California.
Wine bottles range from $35 to $9000, and glass pours are available from $11 to $20. A selection of Ports, Cognacs and Armagnacs are also available. The creative and tasty cocktails including Specialty, Classic, Tropical and Sake inspired blends provoke the adventurous side of one's palette.
Celebrity Fan Club
Since its opening, Koi Los Angeles has built an incredibly loyal following. Today's most admired celebrities, influencers, and athletes including Brad Pitt, Ashton Kutcher, Demi Moore, Madonna, Jennifer Lopez, Gisele Bündchen, Bruce Willis, Avril Lavigne, Jessica Simpson, Sean 'P. Diddy' Combs, Jack Nicholson, Reese Witherspoon, Ryan Phillippe, Mariah Carey, Christina Aguilera, George Clooney, Cameron Diaz, Jake Gyllenhaal, Ashley Greene, Joe Jonas, Eva Longoria, Denzel Washington, Liv Tyler, Tom Hanks, Jennifer Hudson, Ed Westwick, Penn Badgley, Jessica Biel, Usher, Jennifer Husdon, Paris Hilton, Kobe Bryant, David Beckham, and the cast of ABC's Dancing with the Stars among others, have become "regular" customers due to the exceptional service and dining experience that is provided at Koi Los Angeles.
Four Koi Restaurant Locations
In case you can't get a reservation in Los Angeles as it's busy most nights of the week, you can discover the Japanese fusion cuisine and celebrity spotting at other locations through the U.S and even in Thailand.  Koi has been such an enduring success in Los Angeles that they have branched out in three other locations including Las Vegas, Bangkok, and New York City.
For reservations, visit Open Table, Koi Restaurant Los Angeles.
Koi Los Angeles is located at 730 North La Cienega Boulevard, just north of Melrose Place, Los Angeles, CA 90069
Dinner is served at 6:00 p.m. nightly, and serves until 11:00 p.m. Monday through Wednesday; until 11:30 p.m. Thursday; until 12:00 a.m. Friday and Saturday; and until 10:00 p.m. on Sunday.
Valet parking is available.
For more information visit www.KoiRestaurant.com or call 310.659.9449 to make a reservation.