An overnight success story happens at very rare moments.  The timing and delivery has to be just right, the audience has to be ready, and the media has to be on your side.  However, the most important factor is the ability to put yourself out there and be noticed for what you love to do.  This is exactly what happened to John Jacobson!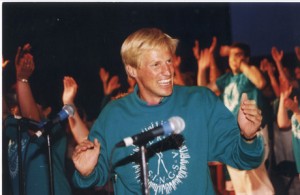 When John Jacobson's educational dance video, Planet Rock, went viral on YouTube, it only took two weeks for the video to accumulate over one million views.  From there it spawned a flood of spoof videos.  "I first knew about it when a friend called me," said Jacobson.  "I didn't give it much thought at all until I started getting calls from all over the world!  Videos from Belgium to China were being sent to me of students and adults working their hardest to perfect these dance moves.  These moves were created for 4th-5th graders and watching adults do them has just been awesome!"
It's been 30 years since Jacobson started his song and dance education journey.  From his early years of performance in high school and college to working as a performer for Disney, Jacobson wanted to spread the benefits of music and dance to the masses. He started as an instructor traveling to different schools leading concerts, sing and dance-a-thons as well as teaching musical curriculum.  "We would write shows that were curriculum based," said Jacobson.  "We did a show with 6th graders called 'Dig It' that was all about archaeology and ancient civilizations."
From there Jacobson created a highly popular program to help music teachers everywhere.  Reaching 9-10,000 schools, "Music Express Magazine is an affordable periodical that is made to give music teachers a strong curriculum," explained Jacobson.  "With music programs getting cut and money getting scarce to support them, this is a great tool that will give teachers access to all that they need for a great price.  Teachers can also go online to use step-by-step videos if they don't want to perform the moves themselves.  The program is geared towards K-6th grade and it's very user friendly using contemporary bands like Black Eyed Peas and even Glee."
Where there's music, there's a giving of joy!  America Sings! is a charitable nonprofit organization that Jacobson started around 25 years ago.  It has expanded its operations to produce festivals and special events all across the country with singers coming from all fifty states to attend.  "I was judging choir competitions and it was a lot of fun, but I had to constantly pick a winner and it began to seem more like an athletic competition than an expression of music," explained Jacobson.  "With America Sings! it's a combination of song and service."  When singers have completed their show, they then go to participate in a community service project to help charities in the cities where the events are held.  They have donated tons of goods to food banks, homeless shelters, soup kitchens, and programs for children who are sick, hospitalized, or in child care centers. 
John Jacobson loves to sing and dance, but his true passion is reaching out to children.  One statistic that caught his attention was that one out of three kids are overweight or obese.  "It's a tragedy that this is happening to our youth and it's our responsibility as adults to teach them to get up and move!" said Jacobson.  This created his idea for JJump Fitness 3 DVD series.  The video series is geared towards Preschool through Elementary aged kids.  The 3 DVD series teaches kids about flexibility, endurance and strength.  "The kids just dance along to the routines," explained Jacobson.  "It's a great and fun way for them to break up their day, get up and move and burn off some energy!"
John Jacobson became instantly famous because a few spoofs were made of his video on YouTube.  Is he angry?  No!  The attention has brought to light music education and the importance of song and dance.  "Kids just want to have fun and dance!" said Jacobson. "We, as adults, need to recognize this natural joy and make sure it's carried over into adulthood.  We need to rediscover the emotional release dance can bring!  So, let's get up and move!"
For more information about John Jacobson please visit:
http://www.johnjacobson.com
http://www.youtube.com/watch?v=dm7yAWpX1Mc