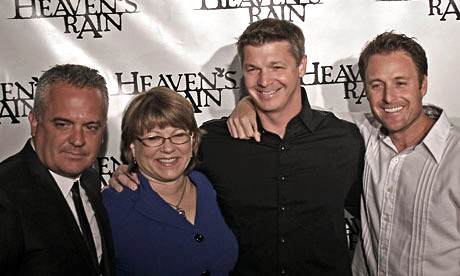 "Heaven's Rain," the new film based on the powerful true story of former Oklahoma State Senator Brooks Douglass' life, debuted in Hollywood at the Arclight Cinemas on Sept. 9 at a star-studded event.
Brooks Douglass' True Story
In October of 1979, when he was 16 years old, Brooks' parents (Richard and Marilyn) were brutally slain in their home by two drifters. The gunmen left Brooks and his sister Leslie to die, but the two found their way to a hospital and survived. For years, Brooks was consumed in bringing the killers to justice, and his life revolved around that exhausting quest.
Joining the Special Forces and working in the Oklahoma State Senate gave Brooks the ability to protect himself and make changes in the law that protect victims in crimes—something that before his time had been overlooked.
Crew of 'Heaven's Rain'
The film, written and produced by Brooks, captures his childhood with his loving family and examines the time of his life when he had to confront old demons and find closure with tragedy—a difficult and emotional task.
"Heaven's Rain" is co-written and directed by famed filmmaker Paul Brown whose previous credits include TV series "Quantum Leap" and tween favorite "Camp Rock." Brown has been nominated for three Emmys and three Golden Globes, as well as winning the Edgar and Ark Trust Award.
As well as writing and producing, Brooks also starred in the film playing his late father, Richard, an aspect that makes the movie that much more heartbreaking and true to life.
Cast of 'Heaven's Rain'
Mike Vogel ("Cloverfield," "Poseidon") portrays Brooks during his Senate years when his life also was crumbling around him due to dire financial situations and a broken marriage. It's also during this time that things come to an emotional head for him at McAlester's Oklahoma State Penitentiary.
During these years Brooks and sister Leslie—played by Taryn Manning ("8 Mile," "Crossroads")—had grown apart after enjoying a close childhood of fun and games in Brazil and then in Oklahoma. Richard was a Baptist Minster and spent time in Brazil on a mission with his family. These moments in "Heaven's Rain" are shown through young Brooks' (Nicholas Braico) eyes. When Brooks makes a mistake, his father never yells, only teaches right from wrong—a detail of Richard that stays with Brooks through his troubled life.
During "Heaven's Rain," Brooks is interviewed by a reporter, Nicole, and asked to dive deep into his memories and give her a story that differs from all of the other reports, including these special times in Brazil just between he and his father. Nicole (played by Erin Chambers of TV shows like "Days of Our Lives") continues to press Brooks and Leslie until pieces of their memories are unveiled in a striking but also cathartic way.
The rest of the cast is rounded out by Marilyn McIntyre ("Days of Our Lives"), Casey Sander ("Las Vegas"), Kelly Curran, Megan Paul and Taylor Pigeon.
Fans of 'Heaven's Rain'
On hand through the night were various celebrities and personalities all coming out to support the small budget flick with its world premiere in Los Angeles. The leader of this pack is Chris Harrison, host of "The Bachelor" and all of its spin-offs. Harrison has known Brooks for years and knew him while he was serving his time in the Oklahoma State Senate. Harrison also has a small voice cameo as a reporter in "Heaven's Rain" and has been promoting the film on his Twitter and wherever he can with pride.
Along with Harrison, MMA fighter Fabricio Werdum, Charlotte Ross ("Glee"), Cedric Sanders ("The Social Network"), Luke Kleintank ("Gossip Girl") and Erin Sanders ("Big Time Rush") joined in the festivities.
Smiling from ear to ear, Brooks hosted a brief Q&A after the film and standing ovation (began by Harrison) was completed. He thanked everyone for their support, including his wife and children, and discussed the casting as well as reliving the horrific moments of his life for the screen.
"Heaven's Rain" will open in select cities starting Sept. 17. For more information, visit www.heavensrainmovie.com.