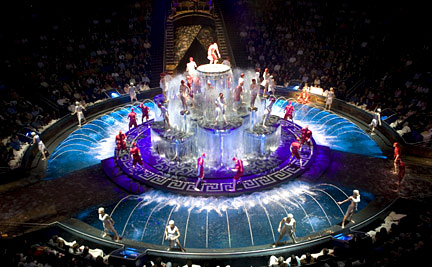 Adding an even more visually stunning element to the already spectacular Wynn Las Vegas, "Le Rêve" offers guests of the posh hotel and casino spectacular entertainment. Combining aerial acrobatics with extreme choreography, water, and a colorful cast, "Le Rêve" whisks you away into a whimsical aquatic fantasy adventure.
The Show
Opening in April of 2005, "Le Rêve" is made up of an international cast of at least 80 entertainers who perform amazing feats of athleticism. The breathtaking show sprinkles in comedy, dance and elaborate effects amidst the high-energy performances, which include a high-dive and synchronized swimmers doing the tango in red high heels.
The New Theatre Design
In order to properly showcase the incredible show they put on, the environment of the "Le Rêve" Theatre, has been completely remodeled providing a warmer atmosphere complete with the most luxurious seats on Las Vegas Boulevard. The intimate setting ensures no audience member is more than 12 rows from the stage, allowing guests to be truly engaged in the performance while letting their imaginations flow. To make this an even more spectacular experience, guests can partake in the VIP Indulgence Package which includes champagne bottle service and behind the scenes video monitors.
The Creative Team Behind the Marvel
Created by Franco Dragone, "Le Rêve" is chock full of innovative entertainment and visually stunning elements. The theater's interior was destined by Mark Fisher, world-renowned architect, and Roger Thomas, executive vice president of design for Wynn Resorts. Tony Award-winning lighting designers Jules Fisher and Peggy Eisenhauer, with the team from their company Third Eye Ltd, created an entirely new lighting design and Maksim Chmerkovskiy from "Dancing with the Stars", choreographed three dance scenes, including "Tango", "Paso Doble" and "Piece Montèe".
VIP Seating
For those craving the ultimate in luxury, the new VIP Indulgence Package offers an evening of extravagance with complimentary Perrier-Jouët champagne bottle service; chocolate-covered strawberries; generously-scaled loungeseating with plenty of leg room; and video monitors providing up-close imagery and behind-the-scenes glimpses during the show. Package holders experiencethe prestige of exclusive opportunities at Wynn Las Vegas with a "Privileged Access" pass for dining and entertainment on the day of the performance. TheVIP Indulgence Package is generously priced $179 per person plus tax and islimited to less than 100 seats per show. So worth it!
Tickets
To see "Le Rêve" the next time you're in Las Vegas, go to www.wynnlasvegas.com or call 702.770.WYNN to reserve your tickets, which run $99 for the Splash Zone, $125 for Premium Seating and $179 for the VIP Indulgence Package. The show goes live from 7:00 p.m. to 9:30 p.m. Sunday, Monday, Friday and Saturday. Please note the show goes dark on Tuesdays and Wednesdays.
LeReve Theatre at the Wynn
3131 Las Vegas Blvd. S
Las Vegas, NV 89109
(Toll-free): (888) 320-7110