Today's great products allow new parents to raise their toddlers with flair! Who says only celebrities like J-Lo, Halle Berry or Denise Richards can turn parenting into a fabulously glamorous adventure? Check out today's savvy and modern (but always practical) solutions to parenting problems and baby needs.
Teething Bling Jewelry by Smart Mom Jewelry
Great for babies who like to tug on jewelry, Teething Bling Jewelry carries pendants and bangles that look but are actually made from a food-safe, federally-approved, phthalate/lead/toxic free silicone – safe for babies to handle and chew. They're also the hot new thing right now – celebrities like Angela Bassett, Denise Richards, Tichina Arnold, Carnie Wison and Tori Spelling love them. Teething Bling Jewelry pendants were hand-selected for the Boom Room Room pre-Golden Globes event for A-list Moms and Dads. Let you and your baby be stars! Learn more at www.smartmomjewelry.com.
EmmaLu Designs Stylish Car Seat Covers

Say goodbye to those pesky juice or milk stains and potty and car sickness accidents while traveling in the car with your darling! EmmaLu Designs created functional yet fashionable car seat covers that are waterproof and easy to slip on or off the seat. EmmaLu Designs' Covers slip on right over the existing manufacturer's cover, saving you the trouble of removing the car seat from the car or the straps from the car seat. Learn more at www.emmaludesigns.com.
Wordsies Unique Infant and Toddler Shirts by Wordsies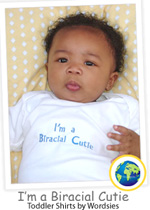 So you're a proud new parent? Take a stance and make a statement with toddler shirts from Wordsies! Wordsies designs toddler apparel and T-shirts for parents who have something to say to the world. Finally let everyone know what you've wanted to say all along – whether you dislike people touching your bundle of joy with unclean hands or, worse, comparing their babies! Learn more www.wordsies.com.
Full Body Hi-Chair Bib by Poi Wear
Tired, of scrounging the floor and scrubbing your baby's clothes for dropped food particles? Say hello to a full-body bib that covers both the lap and thighs for kids in a highchair! The Hi-Chair Bib is regular bib and then some, providing total coverage for children learning to self feed. Learn more at www.poiwear.com.
Quick Zip Crib Sheet by Clouds and Stars, Inc.
Introducing the world's easiest and quickest crib sheet: the QuickZip Sheet! QuickZip fits snugly around the crib mattress. Place the mattress in the zipper base, lay the flat mattress pad on the mattress and zip on the top. To remove, simply unzip the top sheet – no need to struggle with bumpers, the mattress, or tie and untie bumper ribbons. Changing your baby's dirty sheets has never been easier. Learn more at www.cloudsandstars.com.
Kicky Pants by Innovative Baby
The founders of Innovative Baby deeply believe that you and your children are best served with the highest quality products that enhance the experience of parenting. The Kicky Pants line is a baby apparel line with super-soft bamboo and cotton basics and coveralls, stuffed toy fruits, as well as newborn and maternity apparel. In addition, Kicky Pants also carries the Auto Mobile which turns your baby' favorite toy into a fun mobile for the car!  Learn more at www.kickypants.com.
KozyCarrier by KozyWare, LLC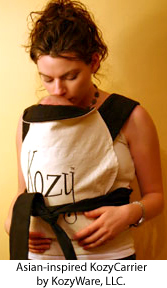 Treat yourself and your baby to this extremely versatile and comfortable Asian-inspired Mei Tai Baby Carrier. The KozyCarrier carries children from infancy to toddlerhood on the back, front, or hip. The Kozy was designed to make babies feel as safe and protected as possible when they are being held or carried: close to us, listening to our heart beats, and feeling the warmth of our skin. The Kozy is safe to use by all body types and sizes, including pregnant women, allows for discrete nursing. The Kozy has two straps over the shoulders and two straps around the waist for proper weight distribution. Tie to fasten. Sold at: www.kozycarrier.com.