A Home For the Holidays is an annual holiday benefit, produced by Steven Spielberg and Henry Winkler, to raise awareness of foster care. The event always includes top talents in America's entertainment industry, as well as some social and political figures. This holiday special works to shed light on the rewards of adoption, as a lack of foster care is a serious yet underreported social crisis in our nation today. A Home For the Holidays hopes to change this by bringing together average families, experienced on these issues, with celebrities who want to get involved.
It was a perfect occasion to start off the season of giving. The performances included Grammy Award-winning Sheryl Crow, R&B pop star Fergie, pop singer James Blunt, musical legend Carole King, sister pop group Karmina, and Grammy and ACM Award-winning superstar vocalist Reba McEntire. Several celebrities, including David Krumholtz (NUMB3RS), popular comedian and actor George Lopez, and Rene Russo ("Yours, Mine and Ours") also performed by sharing inspirational anecdotes about adoption. The celebrity presenters, for the most part, have their own personal experiences with adoption or are involved with similar children's issues.
Also included in the holiday event are the Dave Thomas Foundation for Adoption and the Children's Action Network. Dave Thomas is also the founder of Wendy's restaurant, now an active sponsor for the holiday special. A Home for the Holidays works as part of CAN's National Adoptions Campaign to spread awareness about the benefits of adoption and the opportunities to do so.
As thanks for their dedication and passionate efforts, presenters and performers received a plethora of gifts with something for everyone. Distinctive Assets, the official gifting company did an impressive job of bringing together a diversity of products for the holiday event. Known for lavish gift collections and interactive gift lounges at major Hollywood events such as the GRAMMY® Awards, Latin GRAMMY®s, HBO Comedy Festival, People's Choice, American Music Awards and Kids' Choice Awards, Distinctive Assets spearheaded the celebrity swag industry eight years ago and is thrilled to provide the Presenters and Performers of this fun, uplifting celebration some fabulous gifts! The diverse collection included gifts that would be attractive to children and adults, ranging from such brands as Elliott Lucca to Bratz. The assortment also included humanitarian driven products with important messages, such as the Don't Start Don't Smoke line..
The gifts included were appropriate for the holiday spirit of giving. Even if something was not right for you, there is no doubt it would be perfect for someone close to you.
The Suite by Distinctive Assets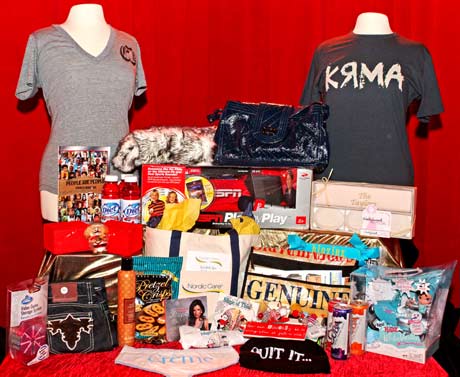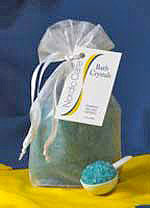 Nordic Care promoted their traditionally salon-only spa care line, focusing on treatments for the hands and feet. They gave each guest a large gift bag, complete with bath crystals, body scrub, body lotion, hand cream, a hand and foot mineral mask. Nordic Care is most often used by spas on their clients and is a high quality line of body care products. One employee of Distinctive Assets even commented that, after shaking hands with a departing guest, he noticed how soft the guest's hands were and had to comment. It was the Nordic care hand lotion she had used earlier. Nordic Care products can be purchased on their website www.nordiccare.com
Don't Start, Don't Smoke is an anti-smoking clothing label founded by an active member in the Concern Foundation and part of all proceeds from the company go to this foundation. Don't Start, Don't Smoke gave each guest a choice from several shirt styles in various sizes. Each shirt has the company's logo creatively placed, written, and designed. This company's message is important and today, something we all need to concern ourselves with. Fashion is seeing an influx of celebrities wearing t-shirts with messages to raise public awareness, and from their example, this trend is becoming more and more common among fashonites. Don't Start… products should be available for purchase online in the near future.
This winter, Bratz Kids introduces two exciting new models, perfect gifts for any young child. With their new Super Secret Ice Cream Making Snow Lodge everything is something else. The ski lodge doubles as an ice cream maker complete with sprinkles, gummies, and all the other necessities to make a yummy holiday Sunday. Their second product is an RC Snowmobile, a perfect gift for the sporty young girl who wants a iconic doll that does more than wear clothes well. www.bratz.com
Antik Denim had a booth at the suite as well, where they gave each guest their choice from several women's and men's jeans styles. The styles were blue and black boot cuts and flares for women, and blue jeans for men. However, as is implied by the name, the styles were much more than basic cut blue jeans. Each pair had a unique motif made of colorful jewels – the men's jeans were in fact the most impressive. Although, Antik Denim did not bring sizes for everyone in all styles, they arranged to send guests their pair of jeans directly to their home. www.revolveclothing.com
ESPN used Home For the Holidays to introduce their new holiday product as well, the ESPN Play-by-Play. Finally there is a karaoke game that applies specifically to boys – but there are definitely many girls who will love it too. This gift is a must for any young boy, or the inner boy in any man. The Play by Play allows its players to be their own sports announcer in a karaoke-esque manner, complete with typical sports sounds. And that's not all for this product. It also doubles a an MP3 player with the appropriate hook-ups. www.espnshop.com
Singer and songwriter, Janyse, introduced her new album, The Magic of Think, that provides a powerful message for children. After experiencing the effects for the Make a Wish Foundation during her time on the hit children's show, Ed, Edd, and Eddy, she was inspired to make her own difference in boosting the self-esteem of young children. She does this through song in her new CD, a perfect gift for shaping a child's first perceptions of themselves. She also gave out T-shirts with an illustration from her album, tote bags, and her last solo album. www.janyse.com
Carved Solutions was a fitting contribution to this suite, giving out gift boxes of carved candles and soaps, along with a $50 gift certificate for their online website. Created by a married couple out of Vermont, this personalized candle and soap line is the perfect gift for a large group, or for a special someone. Carved Solutions does individual gifts, corporate gifting parties, party favors, etc. These are not just any candles or soaps, but high-quality products, produced and distributed by real people. www.carvedsolutions.com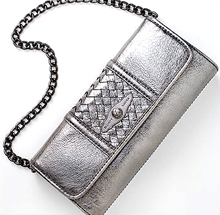 Elliott Lucca brought to the event an assortment of their new winter clutches, sequins and graphite colors producing a glowing light in their corner of the room. They also offered classic white and mocha colors, with deceptively simple designs displaying creative and subtle details. They thought of everything this year too. One new style is even sized to fit in the casual large purses that are so chic right now. Now women can go out casual, and then take out their Elliott Lucca bling when the time is right. Each guest was given their pick from the assortment of new Lucca clutches.
www.elliottlucca.com
This year's assortment also includes items from some of our favorite companies such as the Jimmyland Corporation, Rebagz™, Kiss my Zipz, Hollywood Fashion Tape, KRMA Clothing, GlowFur, Eclectic Clothing, Cibu, The Snack Factory, Cuba Beverages, Moet & Chandon, Sandra Magsamen, CasaQ, Game Chamber, Marc Edwards Skincare, Ocean Spray and Cre'me Beverly Hills!