On November 6th, singer Avril Lavigne took to the Whisky A-Go-Go's stage to promote her upcoming "Best Damn Tour." Planning to hit the North American road beginning in March, Avril and her band will make a stop in L.A on May 4th.
"I can't wait to get back out on the road! I have the most fun when I am performing for the fans. I think that energy comes through in my live show," Avril stated.
Performance at the Whisky
As part of her tour announcement, Avril played a short acoustic set for the press and her adoring fans. Noting that the audience had probably never heard "Girlfriend" acoustically before, Avril and her band sat in chairs onstage and strummed out the high-energy tune.
The band then segued into "Hot", a new single off her latest album, "Best Damn Thing," and ended her performance with a call back to her early days by singing "Sk8r Boi."
Fielding Questions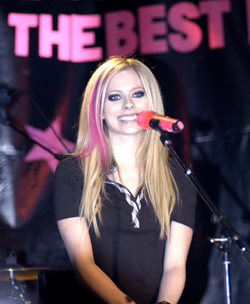 Before she entertained the crowd, Avril took some questions from the audience where she shared that being a role model comes with the territory of her job. "I feel like I'm a strong person and I stand up for what I believe in and if I have younger fans looking up to me than I'm honored," she humbly stated.
As far as having three albums worth of songs to choose from while creating her concert set, Avril shared, "It makes it so much easier and way better because I have more singles and of course, when you play the hits on stage that's the most exciting part of the show sometimes." With a wide range of tunes to choose from, Avril explained, "I have more to work with now. I just get to make the show more diverse."
Purchasing Tickets
Tickets to Avril's 2008 "Best Damn Tour," produced by Live Nation and featuring special guest Boys Like Girls, will go on sale November 17th and are available through Live Nation and Ticketmaster. Fans of Avril's can also go to the "fan club" section at www.avrillavigne.com to register for special access to presale tickets.
Avril in Town
Avril will play at the Honda Center in Anaheim on May 3rd and the Gibson Amphitheatre on May 4th.