Last night marked the end of "pinky swear," the Los Angeles Contemporary Dance Company's (LACDC) first evening length dance theatre piece. Co-directed by Kate Hutter (Artistic Director) and Kevin Williamson (company member), this piece is a fusion of improvisation, dialogue and original choreography intended to mirror our daily routines, complete with the typical impromptu events that keep us on our toes.
Cast members include Michael Crotty, Jamila Glass, Natalie Hurter, Nichol Mason, and Tiffany Sweat, along with Eric Mason composing and performing the music and Erin Powell as the lighting designer.
To emulate the randomness of a typical daily routine the dancers move quickly between emotions, both individually and with one another, shifting from passionate embraces and harmonious movements to aggression and full-fledged physical conflict. As an audience member one cannot help but feel involved. We can relate to these seemingly sporadic, yet realistic shifts in emotional content entwined with the dancers' own efforts to bring their spectators inside the performance.
The LACDC is still in its formative years but it is far more developed than such a short period of time would imply. It was founded by Michelle Mierz(Executive Director) and Kate Hutter, initially a business plan developed for an Arts Management class at USC. The plan was to create a non-profit dance company that would serve and be recognized by the greater Los Angeles area, and today it is a reality. It has become both a source of entertainment as well as an opportunity for artists of all disciplines to come together in the form of concert dance productions.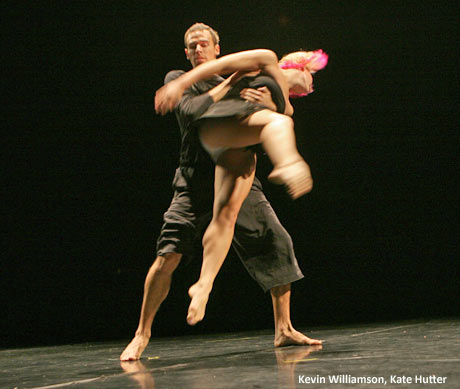 What makes this performance, and LACDC for that matter, unique is its dancers who come from all backgrounds and from whom the audience can feel their motivation and, in their youth, see all the potential this company has to offer. Kate Hutter, co-founder and co-director of "pinky swear" is a recent graduate of USC and Kevin Williamson, co-director, graduated from UCLA in 2004. Their choreography is cutting edge and the improvisation from all dancers shows a devotion to contemporary dance and a thirst for ever-changing techniques.
Although "pinky swear" has finished its performance for the time being LACDC has a packed schedule for the future. On November 10th they will be performing in Torrance, CA at the SOLA Contemporary Dance Festival at the James Armstrong Theatre, in December at the Holiday Celebration at the Dorothy Chandler Pavilion, and in February at the opening of the Broad Contemporary Art Museum at the LACMA (exact dates to come soon).
LACDC is a non-profit dance company in their first full season of production and have been residents of the Diavolo Dance Lab for just over a year now. To find out more about LACDC or to make a contribution to their project go to www.lacontemporarydance.org and be sure to catch them at one of their upcoming events.