The city of Los Angeles was a veritable who's who of the culinary world.
On September 29th, the 25th Anniversary American Wine & Food Festival was held on the Universal Studios' backlot from 6:00 – 11:00 p.m.
Forty celebrity chefs and 70 wine and spirit merchants participated. The event will benefited Los Angeles Meals on Wheels.
The annual event is a hot ticket with the last two year's festival selling out days in advance.
Featuring live bands, a silent auction, mouth-watering food and even a few additional surprises, this foodie lovers dream was open to the public and over 2,000 attendees expected.
Organized by the Puck-Lazaroff Charitable Foundation and presented by Lexus, the Wine & Food Festival featured such celebrated chefs as Nobu Matsuhisa of Matsuhisa and Nobu, Paul Bartolotta of Bartolotta Ristorante di Mare, David Walzog of SW Steakhouse, Michael Mina of Michael Mina, Todd English of Olives, Mark Peel of Campanile, Tom Collichio of Craftsteak, Julian Serrano of Picasso, and Slanted Door's Charles Phan, among others.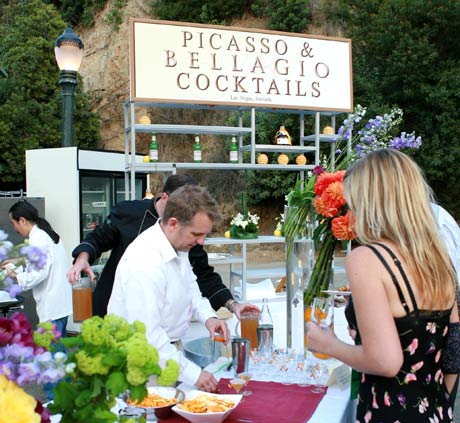 The Moët & Chandon Lounge

The Moët & Chandon Lounge was a surreal after-hours retreat for dancing, lounging, and savoring… it was the ultimate locale to see and be seen! Folks enjoyed the sensory experience of deliciously bubbling Moët & Chandon champagnes, including Moët & Chandon White Star, Moët & Chandon Rose, and Moët & Chandon Nectar Imperial, which was paired with a decadent dessert spread by an assortment of the country's top pastry chefs.
The focal point of the 25th Anniversary celebration, this dream-like lounge featured spectacular entertainment filled with aerialists, acrobats, and surprise performers. Live Blues music set the mood and folks danced the night away under the stars.
Participating Pastry Chefs Featured in the Moet & Chandon Lounge:
Florian Bellanger, Elizabeth Faulkner, Ian Flores, Martin Howard, Nicole Lindsay, Francois Payard, Sixto Pocasangre, Donald Wressell, and Sherry Yard.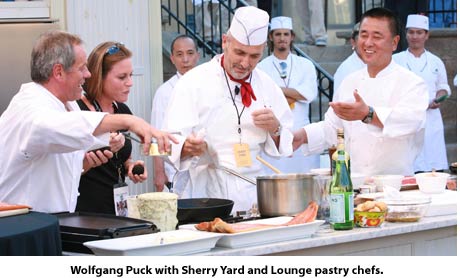 Auction
Hundreds of luxurious items were auctioned away! This year's auction included: an African Safari; a vacation getaway at the St. Regis in Bora Bora; hotel stays in Paris, London, New York, Thailand and Hawaii; rare, vintage and hard to find wines; private dinners at some of the world best restaurants; exquisite high-end jewelry; and CIP entertainment.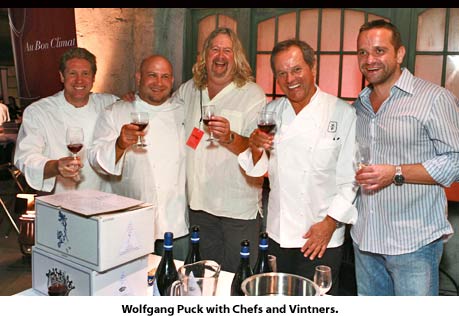 About the American Wine & Food Festival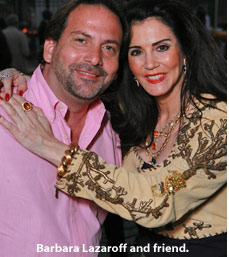 Since its inception in 1982, the Puck-Lazaroff Charitable Foundation has supported the American Wine & Food Festival, raising more than $13 million for the Los Angeles Chapters of Meals on Wheels. This organization serves thousands of meals each day to Los Angeles' homebound senior and disabled citizens.
As a result of their efforts on behalf of Meals on Wheels, the Austrian-born Puck, renowned for feeding Hollywood Glamour at the annual post-Oscar extravaganza, and leading restaurant designer Lazaroff, are also celebrated for their philanthropic spirit.
Participating Chefs:
Gino Angelini, Angelo Auriana, Paul Bartolotta, Matt Bencivenga, Thomas Boyce, David Burke, Mario Capone, Floyd Cardoz, Sam Choy, Tom Colicchio, Luis Diaz, Lissa Doumani, Todd English, Lee Hefter, Eric Klein, Stephan Lewandowski, Cameron Lewark, Paulo Luna, Rene Mata, Nobu Matsuhisa, Mark Miller, Michael Mina, Drew Nieporent, Frank Ostini, Mark Peel, Luciano Pellegrini, Charles Phan, Paul Prudhomme, Wolfgang Puck, Stephan Pyles, David Robins, Michael Romano, Ari Rosenson, Jimmy Schmidt, Matt Seeber, Piero Selvaggio, Julian Serrano, Lydia Shire, Nancy Silverton, Hiro Sone, Susan Spicer, Joachim Splichal, Cal Stamenov, Roger Stettler, Yuji Wakiya, David Walzog, Jasper White, and Alan Wong.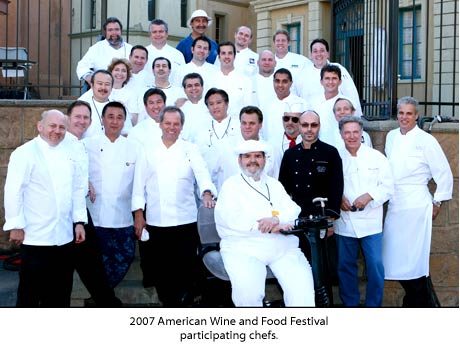 Participating Vintners:
Au Bon Climat Winery, Beckman Vineyards, Beringer Vineyards, Bernardus Winery, Bonaccorsi Wine Company, Bonny Doon Vineyard, Brassfield Estate Winery, Bridlewood Winery, Casa Lapostolle, Chandon Sparkling, Chappellet Winery, Cline Cellars, Cobblestone Vineyards, Domaine Chandon Still Wines, Domaine Drouhin Oregon, Ferrari-Carano Vineyards & Winery, Flowers Vineyards & Winery, Francis Coppola Winery, Frank Family Vineyards, Green Point Wines-Australia, Havens Wine Cellars, Hitching Post Wines, Hoage Vineyards, Iron Horse Vineyards, The Icon Wine Company, J & H Selbach, Jordan Wines, Justin Vineyards & Winery, Kalin Cellars, Krupp Brothers Estates, Kunin Wines, Lang & Reed Wine Company, Lancaster Estate, Laeticia Vineyard & Winery, L'Aventure Winery, Malibu Family Wines, Melville Winery, Merryvale Winery, Miner Family Wines, Newton Vineyard, Peju Province, Pine Ridge Winery, Pride Mountain Vineyards, Qupe Wine Cellars, Ramey Wine Cellars, Rosenthal Winery, Sebastiani Vineyards & Winery, Siduri Wines, Silver Oak Wine Cellars, Strange Wines, Summerland Winery, Terrazas de los Andes, Topanga Vineyards, Torres-Spain, Truchard Vineyards, Twomey Cellars, Vines on the Marycrest, and Zaca Mesa Winery.
Participating Spirit Purveyors:
Moet & Chandon Champagnes, Belvedere Vodka, Glenmorangie Single Highland Malt Scotch Whiskey, 10 Cane Rum, Baileys Irish Cream, Johnnie Walker Scotch, Pallini Limoncello, and Patron Tequila.
Event Sponsors:
Lexus, Moët & Chandon Champagnes, Belvedere Vodka, 10 Cane Rum, Glenmorangie Single Highland Malt Scotch Whiskey, MasterCard, American Airlines, Mansour Travel Company, Southern California Gas Company, Perrier, Wolfgang Puck Catering, Schwan's, Evans Hardy+Young, Acqua Panna, San Pellegrino, Southern Wine and Spirits of California, The Patron Spirits Company, Idaho Potato Commission, Peet's Coffee & Tea, Renaissance Hotel & Resorts, ITS Transportation, Jacob Maarse Pasadena, Republic Master Chefs, Los Angeles Magazine, Stacy's Pita Chips, Bristol Farms, Tsar Nicoulai Caviar, Barilla, Ruffino, La Brea Bakery, Clear Channel Outdoor, Acteva RSVP, Universal Studios, US Foodservice, Savor California, Baileys Irish Cream, Ito En Teas, Classic Party Rentals, Johnnie Walker Scotch, Pallini Limoncello, and GeyrhalterDesign.
Photos by Alex Berliner, copyright Berliner Studios/BRI Images
Read about Wolfgang Puck's Red Seven here…