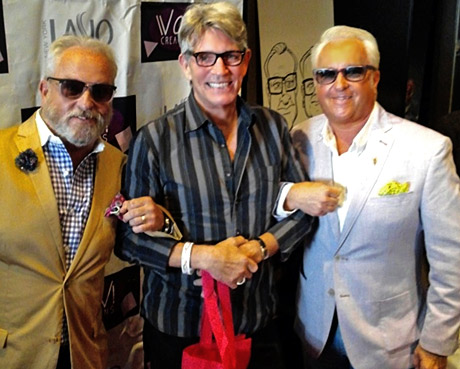 In honor of the 2016 Primetime EMMY Awards, WOW! Creations helped kick off the new season at the W Hotel in Hollywood with their annual Emmy Awards gift lounge. 
Their name aptly fits Mark and Matt Harris' events, as excitement is always brewing with celebrities, great brands and VIP media, celebrating and preparing for Hollywood awards shows. Some of the luminaries that attended include:
Etta Stavybska from DWTS, Kato Kaelin – TV personility, Eric Roberts – actor, Kevin Sorbo – actor, John O Hurly- author, actor,
Kate Linder – actress, Sam Richardson – actor, Veep, Peter McKenzie –  actor, Blackish, Bruce Rubinstein – producer, Sho Dice
Henry Tillman (Fighter), Isaac C. Singleton J, actor.
This Primetime Emmy gift suite was brimming with lot of great brands that traveled to Hollywood from all over the country, such as:
Optics By Parker is a hot brand! Not just trendy… but a trendsetter! The coolest designs and amazing prices. Sunglasses with that wow factor. You won't be able to choose just one… or two or three! Based in Newport Beach, California… Made in the USA! Opticsbyparker.com
Grace in LA Jeans
The best fitting jeans you can find! Designer jeans for women and girls, with a new line for men coming out. Stunning handcrafted jeans featuring modern washes, a lot of bling, vintage motifs and innovative embellishments. The designer/creator is a veteran of the industry, having designed jeans for major brands, and now for Grace Jeans.  graceinla.com
Dr. Shimeca Videau, doctor of Naturopathic Psychology, and her company, Videau Natural Health is an Alternative Medicine, Beauty and Grooming company that integrates Naturopathic medicine and Phyto-(plant-based) medicine therapeutic treatments to hair, skin and body. Created for both men and women, these high-quality products address many different skin issues in a completely natural and healthy way.  Very well done. videaunaturalhealth.com
Heelusions
An excellent new concept in women's shoe accessories, who's time past due! Just slip on these stretchy fabric design and protect against marring to the back of heels. Accessorize heels to fit any occasion, change the look with assorted gorgeous designs
Makes heels more comfortable too. Brilliant!  heelusions.com
Continue for more  Wow Creations' 2016 Primetime EMMY Awards WOW! Creations gift suite brands at the following links:
2016 Emmy Gift Lounge – Wow Creations Brands
Brands and Swag from the WOW! Creations 2016 Emmy Gift Suite
More Great Brands from the WOW! Creations 2016 Emmy Gift Lounge
The Swag from WOW! Creations EMMY Gift Lounge continues
Wait! Don´t forget to Subscribe for Free!
Main Feed | What is RSS?
Enter your E-mail below to Subscribe

*
No spam
|
Privacy Policy
We will not sell or distribute your e-mail address to anyone else.
Written by Jane Emery