GBK and Pilot Pen collaborated to host the 2016 Emmy Awards Luxury Lounge at the rooftop of the L'Ermitage in Beverly Hills before the Primetime EMMYs.  Attendees were pampered with luxury products and services from some of the most well-known brands in the world.
Pilot Pen invited established, notable overachievers to share the mantras that helped them script their success. Pilot showcased their unparalleled writing instruments. During the lounge, celebrities and Emmy award nominees had the opportunity to experience the Pilot G2, which is the number one best selling pen in the U.S. It is being highlighted through the ongoing G2 Overachievers Grant Initiative, which is a $50,000 grant which rewards overachievers for the incredible things they do to improve other people's each day.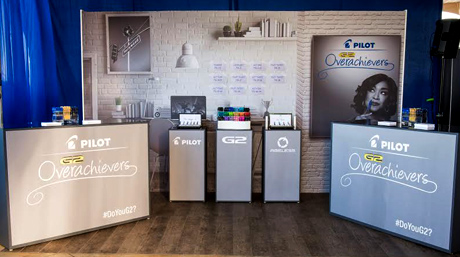 GBK attendees also had the opportunity to overachieve for their favorite charities by participating in Pilot's philanthropic social media campaign called 'Pilot Purpose.' Guests were invited to share what overachieving mantra helped them "script their own success", along with the name of their charity of choice, and share it on their personal social media pages using the hashtag #PilotPurpose. The celebrity with the most follower engagement, including likes, shares, and comments, will receive a $5,000 donation to their charity on behalf of Pilot. For more information visit: Pilot Pen
The Bread Basket Cake Company sculpted a delicious master cake in honor of the 2016 Emmy Awards and GBK / Pilot Pen's event. They provided gift certificates for an 8 inch star quality costume cake to attendees. For more information visit: Bread Basket Cake Co.
The American Friends of Magen David Adom shared their mission with attendees, they are the American Fundraising arm of Israel's national medical response agency and are a Red Cross affiliate as well. For more information visit: American Friends of Magen David Adom
The Artisan Group proudly showcased their immaculate line of handcrafted products to gift attendees to spread the word about their incredible artisans.
The Artisan Group® is a premier entertainment marketing organization. Their overall mission is to introduce Hollywood to the best of the handcrafted movement. They provide owners of artisan businesses the opportunity to introduce their products to celebrities, industry leaders, VIPs, and members of the press through participation in luxury celebrity gift lounges.
Being a member of  The Artisan Group has provided huge opportunities for artisans to be featured in many local, regional, and national media outlets. The Artisan Group has established a reputation for having some of the best artisans around which greatly benefits its members, and anyone who is exposed to their products! Members have been featured in Vogue, E! Online, Beauty News NYC and more! For more information visit: The Artisan Group.
Voo Vodka served and promoted to guests their eight times distilled vodka created in Detroit. This vodka has been distilled several more times than some of the most distilled vodka in the world including more than Ciroc Vodka and Tito's Vodka. For more information visit: Voo Vodka
Burke Williams Spa's incredible trained team offered massages to keep guests feeling amazing while gifting their incredible H2V skin care line which has several anti-aging products and massage oil which was highly demanded at the event.
Burke Williams' skin care line, H2V, is top of the line, just like their spas! Add their anti-aging serum to your daily regimen to take the spa aspect to your home. Keep their Spa Gloss in your tote to hydrate, shine, and plump your pout while fighting wrinkles!
They also gifted their Shankara Muscle Release which is muscle and joint body oil from their Tri-Dosha Collection. Its herbal magic will diminish aches and pains with just a few drops! Go natural with Shankara Muscle Release and your body will thank you! This miracle worker not only has anti-inflammatory properties, it also has the ability to increase circulation wherever it's applied. Indulge your muscles & joints with  Aloe Vera, Jojoba, Devils Claw, Boswellia, Birch, Lavender, Arnica, Vitamin E, Camphor, Cedarwood, Frankincense, Helichrysum, Blue Chamomile, Plai, Turmeric and Yarrow. You can also apply this to pulse points (temples for example) to enhance and support mental, emotional, and spiritual balance. It is ideal to use during meditation, yoga, or any other spiritual practice. To Shop their H2V product line click here. Visit: Burke Williams
Unite4:Good showcased their vision of getting people around the world active in spreading good. Unite4:Good heavily uses social media networking and marketing to spread the word about people doing social good. For more information visit: Unite4:Good
Allocacoc gifted their extremely efficient space-saving power cube which makes it possible to plug six of your gadgets into one outlet. For more information visit: Allocacoc
Swimline and Solstice Watersports gifted their iconic inflatable lounges and novelty floats. They are known to have produced the first large white and black swan inflatables. The white swan was made famous by Taylor Swift as she rocked it for her fans to see. For more information visit: Swimline and Solstice
MAVEA was gifted from their product line of efficient water filtration products. They have pitchers, carafes and a water bottle with a filter. Their line of products are now sold at Target and Bed Bath & Beyond. For more information visit: MAVEA
Zoan Ash fitted and pampered attendees in preparation for the Red Carpet during the Emmy Awards with their unique luxury gowns that are motivationally derived from Bangladesh. For more information visit: Zoan Ash
7 Charming Sisters gifted jewelry from their product line of affordable, trendy pieces. For more information visit: 7 Charming Sisters
Il Palato Italiano was the presenting Sponsor at GBK event and gifted attendees with an authentic italian dining experience at their home for up to 15 people. Their mission is to raise awareness of italian culinary arts through authentic italian products in addition to participation in cultural activities. For more information visit: Il Palato Italiano
LA's Dog Trainer is a famous dog trainer with extensive experience. LA's Dog Trainer gifted free admission to the precision timing/clicker workshop that will allow you to have a better relationship with your dog. LA's Dog Trainer offers a wide range of services to train your dog depending upon your needs. For more information, visit: LA's Dog Trainer
Canada Bliss Hat Company gifted celebrities their stunning, fashion-forward hand stitched hats made from high quality yarn. Each hat is crafted with precision and it takes around four hours to stitch. For more information visit Canada Bliss
Beauty Kitchen expert Heather Marianna gifted her highly demanded latest lineup of skin care products which were created in her Beauty Kitchen. Heather Marianna is an actress and spokesperson who has appeared in a variety of feature films and televison shows. She is also known for creating Beauty Kitchen, a show that teaches women how to create amazing spa products in their very own kitchens. Her extensive experience and knowledge allows her to continuously create incredible spa worthy products for use at home. For more information visit: Beauty Kitchen
Get Buste gifted attendees gift cards and samples from their new line of bras which are launching this upcoming winter. Their bras doesn't have any underwire in order to make the most comfortable bra around. For more information visit: Get Buste
Ike's Love & Sandwiches provided attendees with their mouth watering sandwiches which use dutch crunch bread in addition to gift certificates which can be used at any location. Ikes is continuing to expand to promising markets near college campuses such as UCSB, and UCLA and by other popular areas throughout California. Their huge menu of sandwiches will completely alter your perspective regarding what combinations are not only possible, but delicious at Ike's. For more information visit: Ike's Love & Sandwiches 
Wrapped in a Cloud gifted guests their robes and blankets which not only feel like you're touching a cloud but they can also be customized for any event. Whether it is for graduation, a wedding, or other special event they can customize your robe. For more information visit: Wrapped in a Cloud
Gift Wrap My Face provided attendees a chance to customize their gift wraps with a picture of them or any other personalized custom picture!  For more information visit: Gift Wrap My Face
VivaYouth gifted guests $1,000 towards any plastic surgery treatment within their network of incredible plastic surgeons. VivaYouth also has a philanthropic side as they work with people who simple cannot afford plastic surgery but seriously need help. For more information visit: VivaYouth
Maison Louis Latour and Heitz Wine Cellars provided guests with amazing wine. Heitz Wine Cellar's 2005 Cabernet Sauvignon from Martha's Vineyard was incredible.
GuiltySoles gifted their elegant line of shoes which are offered through their online shoe membership. GuiltyShoes constantly collaborates with fashion experts in order to craft fashion-forward shoes for any occasion. For more information visit: GuiltySoles
Hastens LA gifted celebrities with some of their luxury bedding. Hastens has been around since 1852! For more information visit: Hastens LA
Bedford Dental Group is based out of Beverly Hills and gifted attendees a complimentary cleaning or at home whitening kit which retails for $1,100.  For more information call: (310) 278-0600
For the Love of Baths gifted an assortment of their artisan crafted soaps and candles which have inspirational quotes. Their soaps and candles are gluten free, contain no parabens, no Phthalates and no sls and is only tested on friends and family! For more information visit: For the Love of Baths
Belmond La Samanna in St. Martin gifted an incredible vacation package with panoramic oceanfront views, high end restaurants and exquisite spa treatments at their service. For more information  visit: Belmond La Samanna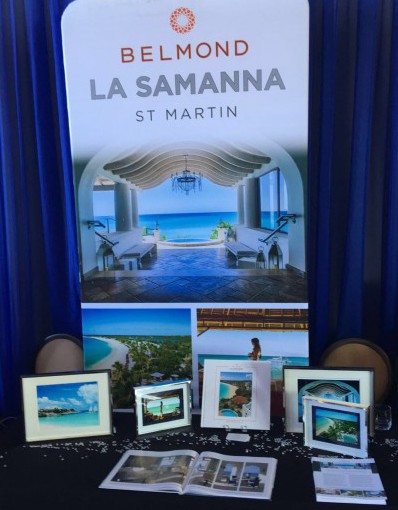 GBK is a luxury lifestyle gifting and special events company who specializes in entertainment marketing integration. Founded in 2000 by CEO Gavin Keilly, GBK consists of five divisions, notably GBK Celebrity Gifting, GBK Special Events, GBK Weddings, GBK Charitable Consulting and GBK Marketing/Public Relations. GBK is very established and well-known in the entertainment industry for their unparalleled gifting lounge environments and experiences. GBK offers clients integrated, intelligent marketing services. For more information on Gavin B. Keilly or GBK, visit GBK.