We're all looking to improve our quality of life. Physical well-being is imperative if you are going to be able to function at your most dynamic. We discovered a very dynamic product that is based on science and has a noticeably positive effect on the body. Active Edge products incorporate cutting-edge technology to deliver electromagnetic frequencies through wearable materials which can help improve general health and mobility.
The technology has been around for decades but was never commercially available before now. Whether you're looking to relieve pain and inflammation, increase your energy level or just get a better night's sleep, Active Edge gives you the results you're after. Best of all its safe and affordable.
Activate Edge products are constructed from proprietary materials which deliver low-frequency electromagnetic waves to the wearer's body. It is a drug-free approach to wellness that is as easy as putting on a shirt or bracelet. Our products have been tested and proven safe by US and international standards.
Pulsed electromagnetic field therapy (PEMFT) has long been used to correct magnetic imbalances which contribute to pain and inflammation. These treatments have been proven safe and effective. With Active Edge, you get the benefits of electromagnetic therapy without the expensive visit to the doctor. PEMFT machines are used to heal broken bones and wounds, treat tissue swelling and improve circulation. Until now these treatments were only available for use under the direction of a physician. Active Edge is helping to make this proven therapy option available to the public.
Medical experts participating in clinical trials involving 2500 subjects saw evidence that Active Edge products activate the sympathetic nervous system when in contact with the skin. This results in increased blood flow and oxygen intake and decreased inflammation, helping the body function at a higher level. Testing conducted by Department of Defense produced similar results. This technology can contribute to an array of benefits including improved physical performance, reduced inflammation, and better sleep.
Anti-inflammation
In the course of our clinical trials, medical experts used thermal imagining to find how effective Active Edge products were in treating inflammation. People participating in the trial experienced less pain, and increased endurance and mobility, suggesting our products may help people suffering from chronic diseases such as arthritis, Fibromyalgia, and Parkinson's. Results may vary according to medical conditions and it may take some people longer to see improvement than others.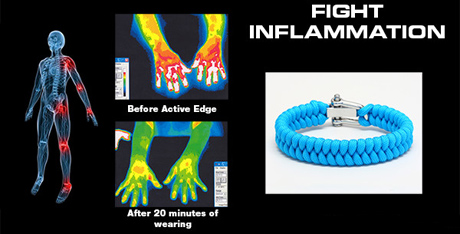 Performance
Anyone interested in improving their balance, range of motion, and overall performance, can see remarkable results when wearing our products. Active Edge products can be worn continuously, or only while the wearer is exercising, training or performing everyday tasks. In clinical trials, 90% of people wearing Active Edge products experienced improvement in balance, endurance, flexibility and strength
Sleep
Sleep, especially REM sleep, restores our bodies and keeps us alert. Active Edge products have been shown to not only improve sleep quality, but also relieve soreness, stiffness, and pain in the back and neck. Wearing an Active Edge sleep shirt to bed can help you drift off to sleep quicker and leave you feeling refreshed in the morning.
They also support our Military. From their website:
"Tough Gear, Inc., parent company of Active Edge™ Gear and Survival Straps®, is dedicated to supporting U.S. Military personnel and their families. Our products are all made in America, and 10% of your purchase price on the Special Ops Shirt will go to the Navy SEAL Foundation. Join us, as we support America's heroes!"
Disclaimer
Active Wear products are not recommended for children, pregnant women, or people with pacemakers, defibrillators, and other electronic devices as the possible effects on people in these categories have not yet been fully evaluated.