Tex Mex, Cali Mex — why not Medi (as in, Mediterranean) Mex? Panini Cosmopolitan Café makes this flavorful combination of ingredients and culture into a reality in Westwood with delicious, affordable dishes in a bright, stylish setting.
When you sit down at the Panini Cosmopolitan Café, you're ushered into an atmosphere — from the aromas to the ambiance — that transports you right to the luxurious shores of the Mediterranean. Dig into the dishes, and you'll swear you're on vacation at a faraway beach resort.
What is Medi Mex cuisine? At the Panini Cosmopolitan Café, that means fresh ingredients, daring tastes, and new preparations, all at affordable prices. The crew at the Panini Cosmopolitan Café combines the best Mediterranean and Mexican influences — along with the bounty of top-notch local touches — to create mouth-watering meals. It's a wonder no one else has come up with the combo before, considering there's so much to love from both cuisines.
Still wondering how the Panini Cosmopolitan Café might work? You might want to start with small dishes from either culture: guacamole, empanadas, quesadillas, or ceviche from Mexico or, alternately, Mediterranean specialties such as hummus, tzatziki, babaganoosh, or dolmadas, all served with warm pita bread, just to get a sample of the flavors you might expect. They're all palate pleasers, but any of them might become your favorite (or favorites), as you let the essence sink in.
The Panini Cosmopolitan Café has lighter, casual fare, as well as generous entrees. Salads, paninis, pitas, and baguette wraps are all on the menu, featuring all the trademarks of the Panini Cosmopolitan Café: robust ingredients, fresh meat and seafood, and authentic seasoning to echo all the best aspects of Mexican and Mediterranean dining.
Fun fact: The Caesar salad was indeed invented in Mexico, so of course, it's on the menu at the Panini Cosmopolitan Café. But you'll also find a Mediterranean salad (with kalamata olives and feta cheese), to name just one more option. The pita/baguette wraps and grilled paninis come with similar selections, such as saucisse (a Mediterranean hot dog), a Mediterranean hamburger, charbroiled chicken, or barbecue carnitas.
Tacos and burritos are well represented at the Panini Cosmopolitan Café, with a full complement of fillings: whitefish, chicken, carnitas, salmon, mahi mahi, steak, shrimp, lobster, and grilled vegetables. The Panini Cosmopolitan Café honors the spirit of Cabo at the grill too, with a long list of charbroiled and seared seafood platters.
The Mexican selections are balanced out by several Mediterranean dishes, including scrumptious kabobs and vegetarian-friendly entrees. The caramelized carnitas, Puerto Nuevo Lobster tacos, stuffed eggplant, and freshly marinated charbroiled kabobs come highly recommended, but you'll likely pick out a top choice of your own.
As if that isn't enough to satisfy your palate, Panini Cosmopolitan features two popular desserts that finished your meal off nicely.
Finally, top off your meal with hand-muddled cocktails, topped with handcrafted organic agave sweet and sour mix, as well as fresh fruit:
The house margarita and pomegranate mojito lean toward Mexican dishes, but the mimosas, house sangria, Cosmopolitan Greyhound, and Pomegranate Martini can accompany any dish. For stronger palettes, try out the multiple tequilas, chosen specifically to complement the menu. An extensive line of red and white wines, as well as bottled beer, fills out the drinks menu
The food is only part of the Panini Cosmopolitan Café formula. The restaurant envelopes its guests in the relaxed sophistication of the dining room leading to a stylishly trendy bar, all wrapped up in comfortable furnishings, muted lighting, and a palette of soft whites and earth tones.
In the bar, you'll find convenient tables and large-screen TV playing global videos. Outside, a water fountain and white drapes decorate the patio, a la a Cabo cabana.
Business partners Moe Ghazi, Mike Mokhtare (general manager), and Kevin Klein (director of operations) bring a wide range of accomplishments and comprehensive knowledge in food and entertainment. The team has based Panini Cosmopolitan Café on two straightforward principles: (1) Delicious, healthy food doesn't have to be expensive, and (2) when you go on vacation, you're happier, you laugh more, and you worry less. Panini Cosmopolitan Café delivers on both fronts, with affordable, inviting food in a room that will instantly lift your spirits.
A part of the industry for 25 years, Moe Ghazi has had a hand in numerous trend-setting successful restaurants and late-night lounge ventures, including Mosun Sushi, Club M, Cafe Panini, Ten Asian Bistro, Tentation Ultra Lounge and Momo's Margarita Bar and Taleo Mexican Grill. The menu at Panini Cosmopolitan Cafe includes the best recipes and creations from his previous ventures.
Another veteran of the food industry, Mike Mokhtare is the co-founder of Kusha, Inc. and president and of Wholesome Choice Markets. He's especially familiar with natural foods from around the world and promises to deliver the best-quality food products that give customers optimum value.
Kevin Klein has amassed more than 20 years of entrepreneur experience at the Four Seasons Hotel & Resorts and Delmonico's Seafood Grille, to name two. His strengths are in strategic business development, operational excellence in the restaurant, and hospitality industry — thus, supplying the business know-how to back up the team's culinary chops.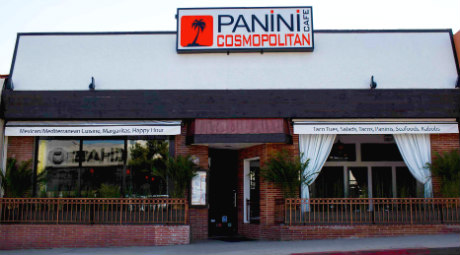 Panini Cosmopolitan Café is open seven days a week for lunch and dinner from 11 a.m. to 11 p.m., and brunch is served from 10 a.m. to 2 p.m. on weekends. Guests are encouraged to drop by for happy hour, daily from 3 p.m. to 6 p.m., and Taco Tuesday is on every week from 4 p.m. to 11 p.m. Panini Cosmopolitan Café also does catering and takeout. Valet parking is available for guests after 6 p.m.
Panini Cosmopolitan Café promises an experience "from the coast of Cabo to the sunny Mediterranean islands." When you can't book a trip to these international hot spots, the flavors and ambience of this Westwood address offer temporary relief. Put away the passport, but pick up a knife and fork to get a taste of the exotic at the Panini Cosmopolitan Café.
Panini Cosmopolitan Café
www.PaniniCosmopolitan.com
1553 Westwood Blvd., Los Angeles, CA 90024
Phone: 310-477-0089
_______________________________________________________________________________________________________