Tuesdays at Philippe by Philippe Chow in West Hollywood is a favorite of celebrities LA people-in-the-know. Philippe, part of the world-renown Chinese cuisine Chow Family invites you to experience his award-winning cuisine and Chow's Signature cocktails at Happy Hour prices all night long on Tuesdays.
Begining on March 27th, specially-priced menu features delectable drinks and amazing appetizers for $7. That's  delicious cuisine for a great price all night Tuesdays from 6 p.m. until midnight, and will run for a limited time. Come to beautiful West Hollywood for critically-acclaimed Chinese cuisine in a luxuriant environment, which can be the perfect after work/pre-club restaurant to end a work day or start a night of fun!
Philippe brings his award-winning secret recipes from his famous flag ship New York restaurant to fabulous West Hollywood. Hurry in for this LA-insider tip for this extraordinary deal on Tuesdays while it lasts.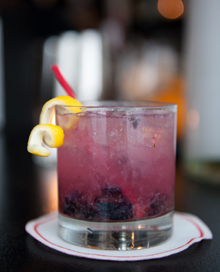 Cocktails for $7 dollars:
Midnight Mojito: made with pear plum vodka, mint blueberries, lime and club soda.
Philipptini: made with Kai Lychee Vodka, lychee syrup, Chambord and pineapple.
Lychee Martini: made with Kai Lychee Vodka, lychee and syrup.
Golden Grape: made with Absolut Raspberry Vodka, Peach schnapps and cranberry.
Red Dragon: made with Counjour Cognac, Peach Schnapps and Champagne.
Buddha's Belly: made with El Mayor Tequila, Thai Chili, simple syrup and lemonade.
Chinese Summer: made with Pearl Cucumber Vodka, Canton Ginger Liqueur, mint, simple syrup and lemon.
Xante's Inferno: made with Xante, strawberries, simple syrup, lemon juice and mint.
Appetizers for $7 dollars: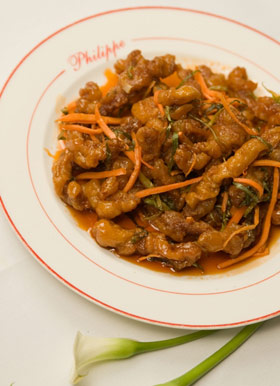 Chicken Satay: Succulent chicken skewers prepared in chef Chow's famous cream sauce.
Beijing Chicken: Beijing chicken with walnuts, in sweet brown sauce.
Chicken Lettuce Wraps: Crisp lettuce wrapped around chicken with plum sauce.
Green Prawns: Green prawns with cashew nuts, water chestnuts, peppers, and black mushrooms.
Sea Bass: Drunken sea bass in white wine sauce.
Chef Philippe presents a haute Chinese menu with signature dishes including Chicken Satay, Crispy Beef, Peking Duck, Peking Chicken, and Green Prawns.
Philippe has garnered such recent praise as Best in Chinese Food by Zagat 2010 and named Best of the Best (2007) by New York Magazine's Adam Platt (for the signature Peking Duck). Philippe by Philippe Chow is backed by celebrity partners Jerome "The Bus" Bettis (Former Pittsburgh Steelers Super Bowl Champion and NBC personality), Chauncey Billups (New York Knicks), Alonzo Mourning (Former Miami Heat), and Al Harrington (Denver Nuggets).
Philippe has an impressive list of celebrity fans including Barack Obama, Al Gore, Bill Clinton, Lady Gaga, Mick Jagger, Paul McCartney, Rupert Murdoch, Rihanna, Jay Z, Beyonce, and many others, and is a popular dining spot for noteworthy heads of state and sports, fashion, music, and media icons.
Get your fill of creative cuisine and inventive cocktails at these great Happy Hour prices on Tuesdays at Philippe by Philippe Chow.
For Reservations:   (323) 951-1100
8284 Melrose Avenue
West Hollywood, CA 90046
Wait! Don´t forget to Subscribe for Free!
Main Feed | What is RSS?
Enter your E-mail below to Subscribe

*
No spam
|
Privacy Policy
We will not sell or distribute your e-mail address to anyone else.
Written by Staff Writer