Marcolin is a luxury collection of world-class eye wear. Created in 1961 by Giovanni Marcolin Coffen, Marcolin is a leader in the luxury eyewear market for over 45 years.
Marcolin designed his frame company around the virtues of quality, design and fashion, taking a "global" approach to the market, presenting "an international style, and retaining a capability to understand developments in style amongst different segments of the public".
As Marcolin is continually making a contribution to the world-wide success of Italian style with a blend of visual satisfaction and quality, they offer a growing number of highly desired and non-competing licensed and proprietary eyewear collections.
Recently, brand publicist William Buckley visited the west coast and shared the latest eyewear collections with both sunglasses and eye glasses for spring 2011.
Roberto Cavalli
Roberto Cavalli is an iconic, revolutionary designer, who's name is synonymous with luxury, world-class style, and links the worlds of art, fashion and painting. An undisputed phenomenon, Roberto Cavalli is a mainstay in the who's who of the most famous international designers. This, of course, carries over into his eyewear line, such as the 2011 Spring collection:

Just Cavalli Eyewear
Just Cavalli Eyewear collection, produced by Marcolin S.p.A., is a sunglasses collection that consists of rims using different materials and different colors for both sexes who love to be trendy. The line consists of sunglasses and an ophthalmic collection. The logo, clearly visible on both collections, is presented with original material and color couplings. Youthful and dynamic, embellished with a touch of romanticism and exuberance, are the new sunglasses that make up the new Just Cavalli Eyewear collection. There are ten models in the collection, with which the use of diverse and contrasting materials becomes a game that fully reflects the youthful soul of the brand.

Tom Ford
Tom Ford is among the most highly respected and successful designers today. The winner of numerous design awards, his rise in fashion began in 1994 when he became Creative Director of Gucci. His innovative and provocative designs set the tone for an entirely new direction in the world of luxury goods his trademark combination of sensuality and mystique.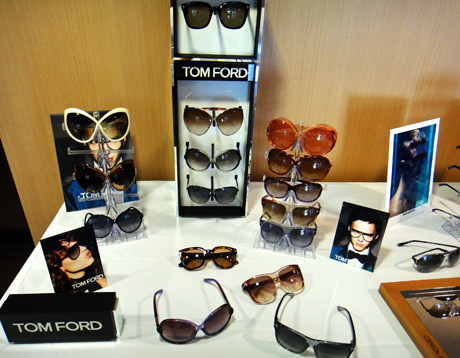 Tod's
This brand is known for it's shoes for decades, and is a favorite. Tod's presents its new optical line. For the production of its eyewear Collection Tod's has chosen the Marcolin Group. Tod's is a favorite among celebrities and the elite. The new Tod's sunglasses are recognizable, very classy, unique and exclusive; a prestigious line that conveys timeless elegance for men and women. Made in the best Italian tradition, the brand is destined to become a style icon.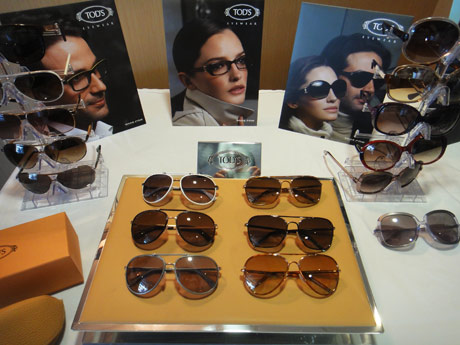 DSquared² Eyewear
DSquared² is a highly popular fashion brand since 1984, based on the Dsquared Philosophy with the purpose of luxury. The brand is sophisticated, chic and sexy, and bridges the words of music and fashion, with fans from Lenny Kravitz, Justin Timberlake and more.
In March 2009, DSquared signed a five-year contract with Marcolin to produce and sell sunglasses and prescription frames worldwide, with Dsquared logo. The whole eyewear collection is characterized by deep and strong lines, for an aggressive and trendy style.
Kenneth Cole New York
Kenneth Cole New York style is for the "personally and professionally accomplished, mature, intelligent person with a globally-minded point of view." Kenneth Cole New York is elegant, urban, stylish eyewear to reflect their sophisticated personality. It takes its design cues directly from Kenneth Cole New York accessories such as belts, handbags and jewelry. The eyewear collection features contemporary crystal tones in multi-laminations craft the luminous handmade zyl. The metal treatments in the collection range from brushed to satin to deep shiny tones, which create a warm and rich feeling throughout the collection.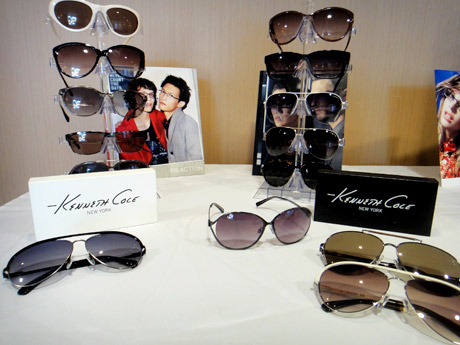 Kenneth Cole Reaction collection is designed for the trendy, intelligent individual. Kenneth Cole's designer aesthetic is infused in the Kenneth Cole Reaction brand. The overall look of the collection fashion-forward shapes, perfectly balanced with fresh plastic colors and rich metal tones.
Swarovski
The Swarovski collection celebrates the "beauty of changing light" through it's unparalleled faceted-cut fine crystals. Because high precision is essential to Swarovski, the company decided to team up with Marcolin to launch its eyewear line. The Swarovski Eyewear collection is a unique expression of innovation in a contemporary luxury product," says Maurizio Marcolin, Style & Licensing Officer of the Marcolin Group.
Sharing a drive for design and perfection, Swarovski and Marcolin have created forms that are both fashionable and timeless. "Swarovski stands for the highest quality cut crystal all over the world and is an incredible inspiration for designers in fashion, jewelry, accessories and even interior design. In January 2011, the sunglasses collection launches with 12 styles. As some styles are available in several colors, the collection features a total of 45 pairs of glamorous, elegant and refined sunglasses. Crystal has worked its magic on each and every pair, with effects ranging from subtle hints to strong sparkling statements.
Mont Blanc
For nearly one hundred years the name Mont Blanc specializes in the art of writing. The timeless design of the Montblanc collection has been expanded to include exquisite eyewear. Mont Blanc lends the same exacting demands for quality design, tradition and master craftsmanship to its eyewear line. Montblanc is an international brand with operations in more than 70 countries.
John Galliano
Designer John Galliano is considered one of the most influential designers of our time. 'Sunglasses are the ultimate accessory as well as the ultimate alibi. They are the status symbol that conceals the private gaze, and exposes only the glossy image you want to project. I wanted to create new glamour, and new shades, for my muses to play their part in." John Galliano. His line is also distributed by Marcolin.
CoverGirl Eyewear
CoverGirl, well-known as they are the number one selling cosmetics brand in the U.S., is a brand that women know and trust. CoverGirl Eyewear extends that "easy, breezy, beautiful" image to its eyewear by offering fashionable styles, featuring an array of stylish colors, trendy shapes, spring hinges, and moderate pricing. The CoverGirl Eyewear collection has consistently been among the top-selling brands in the Marcolin portfolio since its launch in 2001.
Timberland
Timberland began in 1973, as "Timberland®" was the brand name for the original waterproof leather boot, a revoluntionary concept in its time. Over the last 33 years, it has expanded its brand, which now includes eyewear. Timberland® Eyewear is designed for a purpose-driven life. The attention to detail in each and every Timberland® frame illustrates the dedication to quality and craftsmanship for which the Timberland® brand name is known.
Wait! Don´t forget to Subscribe for Free!
Main Feed | What is RSS?
Enter your E-mail below to Subscribe

*
No spam
|
Privacy Policy
We will not sell or distribute your e-mail address to anyone else.
Written by Jane Emery