More than gifts and entertainment were provided for guests who attended Haven 360, HFM Media and A-List Communications' Awards Week celebrity experience venue. During a three night event running from March 3rd to the 5th at the Andaz West Hollywood Hotel, guests got the opportunity to sample and even take home some of Johndrow Vineyards fine wine. Owner, David Johndrow, was on hand to satisfy his mission to help celebrity wine lovers "find your happy place."
Celebrities attending both the daytime events as well as the evening celebrations, excitedly tried Johndrow's Clarity White, Cabernet and Reserve while also indulging in many gifts. These included spa treatments, a charity photo shoot for The Creative Coalition, and gifts from sonic toothbrushes and sunglasses to suitcases, as well as the nightly receptions on the hotel rooftop.
Among those who had a taste of JV Wines during the day included Phillip Bloch, Ryan Cabrera, Audrina Patridge, Alan Cumming, Erin Cummings, Kathy Joosten, Richard Kind, Joe Mantegna, Gilles Marini, Mario, Dash Mishok, Olympic Silver Medalist Jared "Speedy" Peterson, Evan Ross, Russell Simmons, Steven Webber, Brian White, Jesse Williams, Ian Gomez, Spirit Award Winner and Oscar winner, "Precious" screenwriter Geoffrey Fletcher, and Oscar nominee for "A Serious Man" Sari Lennick.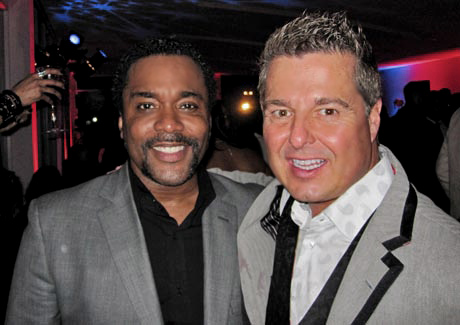 And at night: Evan Handler, Dennis Haysbert, Serena Williams, plus many more. Actress Hayden Panatierre admitted to preferring JV Clarity after tasting the full Johndrow Vineyards collection which consisted of JV Clarity, JV Cab, and JV Red, Reserve and Forum. Spirit and Image Award-winning and Academy Award-nominated director Lee Daniels was also in attendance.
The Events
The exclusive awards week experience exclusively catered to the Oscar, Independent Spirit Award, and other Awards Season nominees and winners with three nighttime gala receptions.
Haven and JV Vineyards hosted the official pre-party for the Oscar-winning documentary "The Cove", attended by director Louie Psihoyos, writer Mark Monroe, and producers Paula DuPré Pesman, Fisher Stevens, and Brook Aitken.
At the party for Lee Daniels and black Hollywood held Thursday night, Comedian Eddie Griffin thanked JV Wines when he shushed the crowd during his speech to say, "the people that paid for the booze at this party want you to hear what they are saying up on stage here." Johndrow quipped, "I'll take that as a compliment."
The Creative Coalition
Along with Premiere.com, The Creative Coalition hosted the HAVEN360 Editorial Photo Studio & Gallery during the daytime hours where Oscar contenders and attendees were photographed for the website and for the Art & Soul project by well-known photographer, Brian Smith. The Art & Soul book series features portraits of many stars such as Taraji P. Henson, David Hyde Pierce, Zooey Deschanel, Kerry Washington, Gina Gershon, and Alyssa Milano alongside their personal message on the arts and arts funding. The books are distributed on Capitol Hill to encourage policymakers to make arts in schools and the National Endowment of the Arts a top priority.
Johndrow Vineyards
David Johndrow is the founder and self-proclaimed wine fanatic who leads one of the hottest new boutique wineries in Napa. His wine has a strong following among the Hollywood elite. Sundance Film Festival, ESPY's and Academy Awards parties have included his wines to accommodate guests. Specializing in Cabernet Sauvignon and a Sauvignon Blanc blend, Johndrow Vineyards wines are a representation of future winemaking. Find Johndrow Wines at www.johndrowvineyards.com
Wait! Don´t forget to Subscribe for Free!
Main Feed | What is RSS?
Enter your E-mail below to Subscribe

*
No spam
|
Privacy Policy
We will not sell or distribute your e-mail address to anyone else.
Written by Michelle Mitchell