It's not every day Justin Timberlake's golfing prowess gets auctioned off, but this night, 18 rounds of golf with Timberlake and golf pro Butch Harmon (Tiger Woods' coach) were up for bid, along with a walk on the red carpet with Jessica Biel at the premier of her film Easy Virtue, skydiving with a Navy Seal and sculpting bodies with a trainer to the stars. The auction was held at the Make The Difference Network's holiday party to benefit Childrens Hospital Los Angeles and is part of an on-going online auction open through December 18, 2008.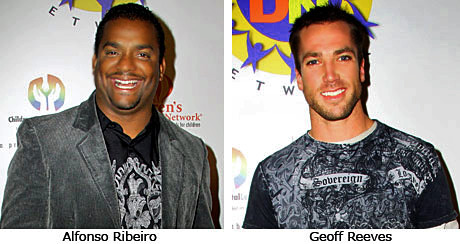 Holiday Party at Social Hollywood with Charitable Flair
The Biel Family's Make The Difference Network hosted the holiday party at Social Hollywood, an event complex housed in the reclaimed historic landmark, The Hollywood Athletic Club. The celebrity-filled evening was produced by In 2 It Media with the purpose of raising money for Childrens Hospital Los Angeles. Shane Sparks, Garcelle Beauvais-Nilon, Alfonso Ribiero, Geoff Reeves, Michael Pena, Nick Swarsdon, David Koechner, Malinda Williams, Current TV's Max and Jason, Candice Cane, Ken Davitian, tennis pro Vince Spadea and US figure skaters Derrick Delmore and Evan Lysacek were among the stars took part and partied to support Childrens Hospital Los Angeles. The exciting evening was made possible by Costco Wholesale, who has been actively involved in raising millions of dollars for the hospital over the years.
Make The Difference Network
Jessica Biel and her father, Jon Biel, started the Make The Difference Network (MTDN), a social cause network that connects nonprofit organizations with potential donors and increases awareness for nonprofit organizations. The mission of MTDN is to democratize giving by increasing the visibility of thousands of nonprofit organizations and empowering potential donors to search, select and fund these organizations' specific "wishes" and then see the results of their giving. Biel was inspired to create the network after meeting a 23-year-old fan who had spent 15 years in a wheelchair due to the devastating effects of muscular dystrophy. She realized she wanted to make a difference and put her fame to good use. To read Biel's story or learn about about the organization, visit www.mtdn.com.
Bidding for a Christmas Wish
The highlight of the evening was the live auction, which raised over $75,000 for Childrens Hospital Los Angeles. The guest of honor, 13 year-old Tianna Li, represented the hospital. She spoke touchingly on behalf of the children and families involved, and expressed their tremendous appreciation for the evening's mission.
Biel and Amy Balsam of In 2 It Media received energetic and sometimes silly assistance from auction co-hosts, Grammy- and Emmy award-winner Justin Timberlake, and actor / funnyman Kevin James. The crowd went wild as Timberlake and James got into a bidding war onstage, outbidding each other for a limited edition print of the photo Devil Proof by Andy Katz. The print was eventually awarded to a generous high-bidder in the room for $17,000. Timberlake sweetened his golfing packaging by including a signed set of Callaway clubs and a dinner with himself.
Biel's own special auction package was in high demand. Partygoers and Biel's fans online bid against each other for the honor of walking the red carpet with Biel at the premiere of her film Easy Virtue, catching the screening and attending the after party. The winner also would receive a gorgeous MZ Wallace handbag.
The goal of all the frenzied bidding was to raise funds to grant Childrens Hospital Los Angeles its three holiday wishes: An art and music therapy program for patients in the Bone Marrow Transplant, Cystic Fibrosis, Rehabilitation, Hemodialysis and Neonatal and Infant Critical Care units; to help sponsor the Teen Impact Retreat for patients suffering from cancer and blood diseases; and to purchase an infant/neonatal ventilator in the Neonatal and Infant Critical Care Unit (NICCU) in Childrens Hospital Los Angeles' new hospital building.
You Can Bid, Too
The online auction of one-of-a-kind celebrity experiences and signed memorabilia went live December 8 and runs through December 18. It is hosted by hosted by Make The Difference Network and Auction Cause. See the complete list of items for auction, or place at bid yourself for this noble cause at www.ebay.com/mtdn.
Great Holiday Party for a Cause
Guests enjoyed gourmet hors d'oeuvres and delicious desserts prepared by Citrus at Social Hollywood with mouth-watering red velvet, chocolate and vanilla cakes by Cake & Art. The custom cakes featured the Childrens Hospital Los Angeles and Make The Difference Network logos, and a special cupcake-shaped cake was presented in honor of the cupcakes that Biel had decorated with children of Childrens Hospital Los Angeles the week before the event.
The open bar and custom cocktails were generously provided by Krol Vodka, Budweiser, Boru Vodka, TY-KU, Patrida Tequila, Lichido, Nuvo and Karma California Brut wine. The unique venue itself was transformed into a "Winter Wonderland" by Francy Flowers' beautiful floral arrangements, which complemented the snowflake and blue light theme.
DJ Vice kept the dance floor grooving and partygoers were treated to a performance by multi-platinum recording artist Alex Band of The Calling as he sang the band's hit song Wherever You Will Go and covered U2's One. So You Think You Can Dance finalist Twitch lit up the stage with a special dance presentation and mesmerized the crowd with his touching tale of meeting the children at Childrens Hospital Los Angeles and relaying how they had inspired him. The avant-garde troupe StiltWorld's jaw-dropping performance of Tall Tango, a sexy number on stilts, was accompanied by Flamenco Hip Hop guitarist Tio and DJ Zo.
Childrens Hospital Los Angeles

Founded in 1901, Childrens Hospital Los Angeles has treated the most seriously ill and injured children in the Los Angeles region for over a century. The hospital services 93,000 patients a year and is acknowledged throughout the United States and around the world for its leadership in pediatric and adolescent health. For more information or to help those in need, visit www.childrenshospitalla.org.