Formerly known as Corsa Cucina, the Italian eatery Stratta has opened in the Wynn Las Vegas. Offering a casual, yet electric atmosphere, Stratta is the latest premier restaurant offering by famed chef Alessandro Stratta.
Coming to the Wynn Las Vegas (where Alessandro is also the executive chef of their 5-star restaurant Alex) from Renoir at the Mirage Hotel and Casino, Alessandro stated, "I am delighted to have such consistent success at Wynn. "Their commitment to excellence is unparalleled in this industry and I am so fortunate to be part of the team. Having the opportunity to work with two unique restaurants has allowed me to grow as a chef and cook the food that I have always wanted to."
Stratta The Chef
Alessandro Stratta is a fifth generation culinary artist and has lived in the finest hotels around the world. After working in some of those hotel kitchens, Stratta discovered his passion for the profession and enrolled in the California Culinary Academy. While in school he was given the opportunity to work in the kitchen of San Francisco's Stanford Court Hotel under the supervision of Pastry Chef Jim Dodge.
Upon graduation with high honors, Stratta went on to work under Chef Alain Ducasse at the opening of the Louis XV at the Hotel de Paris in Monaco. After two years honing his craft in the Louis XV kitchen, Alessandro returned to the states to work with Daniel Boulad at New York's Le Cirque restaurant.
After these life changing and career building experiences, Stratta was chosen to head Mary Elaine's, which is a gourmet restaurant in the world class Phoenician Resort in Scottsdale, AZ. Under his direction, Mary Elaine's was named a "Top Dining Destination" by the James Beard Foundation.
Stratta eventually made his way to Vegas because, "A real opportunity exists to provide people with a fine dining experience. There is a certain excitement in this city not found anywhere else. People come here to have fun and celebrate, and there is no better way to showcase a restaurant."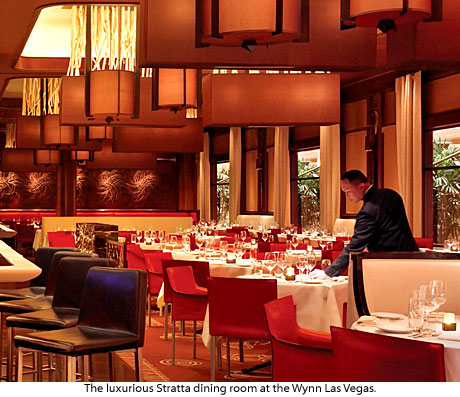 Awards and Accolades
No stranger to success, Stratta has received numerous honors for his culinary skills.
*Stratta was named America's top hotel chef for his mastery at Mary Elaine's.
*Under Stratta's direction, Renoir at the Mirage received Mobil's Five-Star rating and maintained its AAA Five-Diamond award status, as well as earned a top culinary rating from Zagat Guide.
*His eatery Alex at the Wynn Las Vegas was selected as one of the best new restaurants in America by Esquire magazine in 2005.
*Alex was recognized by AAA as a Five-Diamond restaurant three years in a row.
*Mobil deemed Alex one of only three Five-Star restaurants in Las Vegas.
*Alex was recently awarded two stars in the 2008 Las Vegas Michelin Guide and is one of only fourteen restaurants to receive that honor in North America.
Stratta the Restaurant
This casual eatery boasts Stratta's mastery of classic Italian-American fare offering homemade pastas, wood oven pizzas and rustic meat dishes. His approachable and familiar ingredient-focused Italian comfort food can be enjoyed in Stratta's welcoming, fun and stylish setting.
The chef himself describes the food at Stratta as, "very soulful and very representative of what I consider to be the best of regional Italian cooking." Comparing Stratta to Alex, Alessandro says, "Alex is uptown and Stratta is downtown – it's a bustling restaurant with a totally different vibe. I want Stratta to be simply about good food and fun."
Experience Stratta For Yourself
Open nightly from 5:30 p.m. – 11:00 p.m., Stratta is located in the Wynn Las Vegas at 3131 Las Vegas Boulevard South, directly across from the Box Office.
For more information please visit www.wynnlasvegas.com.
Wait! Don´t forget to Subscribe for Free!
Main Feed | What is RSS?
Enter your E-mail below to Subscribe

*
No spam
|
Privacy Policy
We will not sell or distribute your e-mail address to anyone else.
Written by Staff Writer