The Beach on Sunset, the new restaurant/lounge, which celebrated it's grand opening on the Sunset Strip on Wednesday night may prove to be Hollywood's newest hotspot.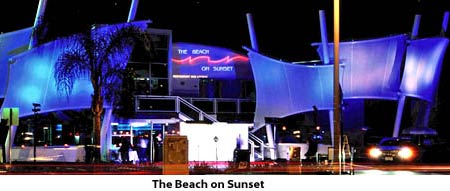 The Sunset Strip has always been a popular choice for anyone looking for a night of dancing, drinking or enjoying live music, so it's no surprise that film producer and nightlife entrepreneur, Steve Marlton, would
choose this famed location to unveil his spacious yet serene restaurant and lounge.
Jesse McCartney kicked off the opening night celebration, performing a full set on the second story of the swank lounge. Jesse didn't disappoint anyone who may have come out especially to see him, keeping the place packed as the enthusiastic crowd danced the night away. DJ Steve Akoi later took over, continuing to keep the energy going with patrons that were sure to party until the wee hours of the night.
With a sail-like architectural tensile fabric entry, the lounge houses a two-story interior.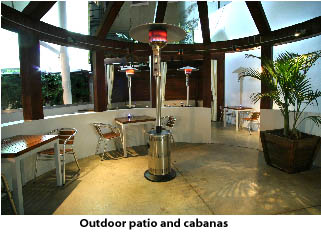 The contemporary décor, glass and steal accents along with teak wood, create a fabulous seaside ambiance. The first floor, reminiscent of a luxurious beach house with long tables and cozy booths, is the main cocktail/dining lounge, while the upper level provides a more intimate atmosphere, also converting into a private lounge for special events.
Two patios allow you plenty of space to enjoy the evening outside, overlooking the famed strip and the beautiful Los Angeles skyline, while the outdoor cabanas give the option of some privacy if you'd like to draw the curtains closed.
It's not only the modern furnishings that might make you feel like you're on the beach, but five unique cocktails serve to do that as well. The specialty drinks,
all with appropriately themed names and ranging from 21 ounces to a huge 60 ounce serving, have been concocted with the summery beach essence in mind. So whether you order a Tidal Wave, Rum Keg, Shark Attack, Fog Cutter or Wipe Out, expect a tasty drink that you just might be sipping on all throughout the night!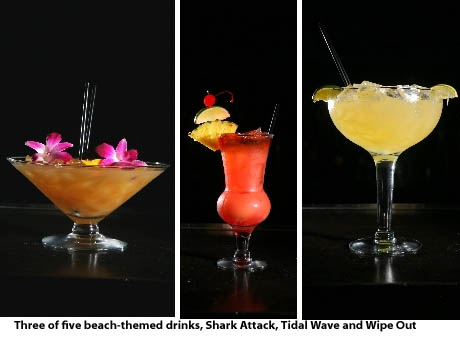 Averaging at only $16 a plate, the menu features modern and international items by executive chef, Michael Brown. Featured items include paella risotto cakes; baked crimini mushrooms; rock shrimp quesadillas; blackened filet mignon tacos; jumbo lump crab cake; shanghai BBQ wings as well as the sturdy staples such as macaroni and cheese.
You can enjoy a dining experience Monday- Thursday from 4pm to midnight, Fridays from 4:00 p.m. to 1:30 a.m. or you can take advantage of their weekend brunch specials as they open at 9:00 a.m. on Saturdays and Sundays and close at 1:30 a.m.
Reservations are available, though not mandatory. So if you feel like hitting up the strip, walk right in at 8240 Sunset Blvd. The restaurant offers valet parking for $10 or you can choose to find street parking when available.
For special events, you can contact Jean-Pierre at 310- 927-0202.
Wait! Don´t forget to Subscribe for Free!
Main Feed | What is RSS?
Enter your E-mail below to Subscribe

*
No spam
|
Privacy Policy
We will not sell or distribute your e-mail address to anyone else.
Written by Staff Writer