A great tasting, healthy alternative to soft drinks, TeaZazz Sparkling Tea is the perfect marriage of "better-for-you" tea with the sparkling fun of soda. Offering a diet-friendly 20-25 calories per serving, TeaZazz delivers the health benefits associated with antioxidants found in tea with exceptional taste that does not rely on the high fructose corn syrup commonly found in soft drinks.
You've heard of antioxidants, the cancer-fighting, age-defying, heart-healthy elements commonly found in tea. Now you can get them in every bottle of TeaZazz, which comes in four delicious varieties: Original, Green Tea Lemon, Peach and Green Tea Mint.? So, go ahead and put down that diet cola and treat your body, heart and taste buds to a refreshing bottle of TeaZazz.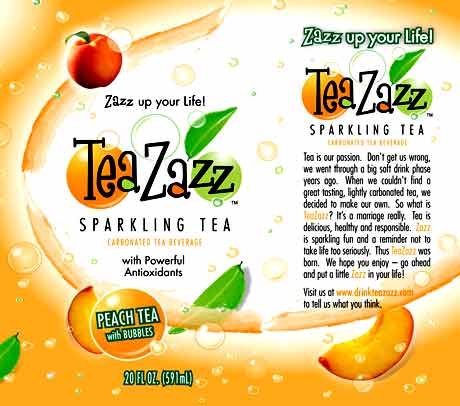 You could say TeaZazz brings bubbly refreshment to the ready to drink tea category, or that TeaZazz brings health and wellness to the sugar-water soft drink industry.? Either way, you would be right.? Born right here in sunny Los Angeles, TeaZazz is about bringing health, hydration, fun and happiness to beverage consumers everywhere. TeaZazz is available in 20 oz. Bottles and be found at your local grocer.? For more information, please visit www.drinkteazazz.com.
?
Wait! Don´t forget to Subscribe for Free!
Main Feed | What is RSS?
Enter your E-mail below to Subscribe

*
No spam
|
Privacy Policy
We will not sell or distribute your e-mail address to anyone else.
Written by Staff Writer