Much more than a fad, Pashminas have become a mainstay of every fashionable woman's wardrobe, and since 2003, The Pashmina Store has been the go-to source for the best-quality pashmina and pashmina-blend scarves, wraps, shawls, and blankets. In addition to providing the finest examples of pashminas available, The Pashmina Store also comes through with fair prices and superb customer service. You won't want to buy your pashminas anywhere else.
Charlene Martina is the driving force behind The Pashmina Store. While on an extensive tour of Southeast Asia in 2000, Charlene visited an area in Nepal known for creating high-quality pashminas. Although this world traveler and lover of fashion was familiar with these chic, useful accents, seeing the exquisite production process with her own eyes both inspired and enlightened her, and she realized the special qualities of the pashmina.
Charlene stayed in Nepal for a while, even traveling to Kashmir and meeting different artisans. She listened as they talked about their methods for creating such fine pashminas and picked up the secrets they had passed down through the generations. When Charlene returned to the States, she brought her passion, knowledge, and contacts, and she began importing these top-quality items to give to friends and family.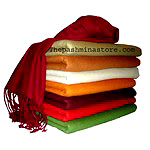 Word spread, and before long, specialty retail shops, select mail-order catalogs, and fashion-oriented Internet outlets, picked up on Charlene's pashminas. Still, this level of success was not enough for Charlene.
She noticed that these stores and shops were marking up the pashminas to exorbitant levels that most people could not afford. At those prices, most consumers would be lucky to buy just one pashmina, which conflicted with Charlene's desire to bring top-notch pashminas to as many people as possible. Of course, she meant the real thing too – not the lower-grade scarves made from viscose or other materials.
This revelation led to The Pashmina Store, fulfilling Charlene's vision of an affordable, quality pashmina outlet. By cutting out the middleman, Charlene is able to offer reasonable prices and exquisite customer service. The public has certainly discovered The Pashmina Store; business has grown to the point where The Pashmina Store now ships to Australia, the United Kingdom, and many countries in Europe.
In addition to its namesake accessory, The Pashmina Store also carries the finest cashmere products. Sumptuous cashmere blankets and throws are available, as well as cashmere scarves for men. As with the pashminas, The Pashmina Store stocks only the finest-quality cashmere from Nepal.
You've seen them, and you probably even own one, but be honest: Is the pashmina on your shoulders anything like the scarves, shawls, and wraps you'll find at The Pashmina Store? Unless your pashmina is from the best-quality Nepalese source, the answer is no. Fortunately, you can bring home one – or more – of Charlene Martina's handpicked pashminas and find out what sets these items apart from the rest. Best of all, you won't break the bank in the process. The Pashmina Store