Plush Puffs Gourmet Marshmallows
Plush Puffs All Natural Gourmet Marshmallows are the crème de la crème of marshmallows. Always homemade and intensely flavored, Chef Ann Hickey Williams has created the ultimate in confectionary delights. Plush Puffs are very versatile and can be used to make everything from Pumpkin Praline marshmallow nachos to Festive Marshmallow Fruit kabobs or to simply serve up the perfect cup of Peppi-Mint hot chocolate. Plush Puffs come in 12 yummy gourmet flavors like Caramel Swirl, Maple Pecan, Orange Honey and, of course, Peppi-Mint. Look online for the full assortment of scrumptious flavors as well as delicious recipes from Williams. www.plushpuffs.com
Curious Cookie
Kevin and Terry Clyne of New Jersey have created the ultimate cookie. The difference is top quality ingredients. Compared to a 21st century Mrs. Fields, Curious Cookie's label should make you take note. Made with ingredients traditionally found in 5-star restaurants
(Plugra butter and Pure Madagascar Bourbon Vanilla) these natural, organic cookies are unbelievably decadent for a pre-package product.
They come in an assortment of unique and traditional flavor combinations like Ginger Cranberry, Lemon Chocolate, Sugar 'N Spice and Chocolate Chip. Gluten-free and sugar-free/low carb options are also available. Go online to select the perfect gift from their beautifully wrapped gift baskets and cookie boxes. All cookies come individually wrapped and, curiously enough, have a three month shelf life. The secret? Raisin juice! www.curiouscookie.com
CocoaBella Chocolates
Hand-select a custom box of chocolates for someone special. CocoaBella Chocolates will let you select from their decadent assortment of chocolates to build a gift that's as individual as the person receiving it.
Introduce them to the "chocolate lifestyle" for a holiday filled with hot chocolate, fondue, bonbons, truffles and more from CocoaBella. The quality is unmatched; founder Michael Freeman has located the world's best chocolate makers and returned with delicious goods from 16 international artisans.
CocoaBella's assortments are enough to make you skip straight to dessert. Wine lovers will find a special collection that complements the full flavors of their favorite vintage. The truffle selection features only the most luscious, soft-centered bites available, while the exotic collection combines flavors you'd never associate with chocolate: strawberry, thyme, tangerine, and red chili, for starters. But don't worry–those with more traditional tastes can opt for the old standbys. Buy a pre-sorted box or make your own!
To read our article on CocoaBella, click here. www.cocoabella.com
BasketHeaven.com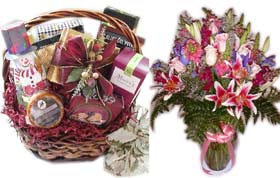 At Basket Heaven, you'll find a gift for everyone on your list. Their vast selection is only rivaled by the superb quality of their products. From salty to sweet, there is a basket to satisfy anyone's taste buds. You can choose from a selection of pre-designed baskets, or you can let your imagination run free, as you can choose to customize your own basket.
All baskets include unique gourmet products, including such goodies as Beverly Hills Cashew Clusters (large pieces covered in dark, milk and white chocolate), California Orange Slices Half Dipped in Chocolate, Uncle Eddies Chocolate Chip Cookies, and Sybil's Outrageous Brownies. With Basket Heaven, spreading holiday cheer was never easier.
They also offer beautiful floral arrangements. They are the gift basket company to the stars. Find out who has received their fabulous baskets. www.basketheaven.com
Based in Beverly Hills, call 1.888.2 Pamper ~ 888.272.6737
Candycane Cocoa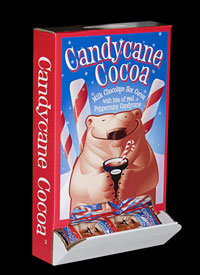 Have a miniature foodie on your hands? Warm your child's spirits (and their bellies) with the traditional holiday treat: Hot chocolate. Candycane Cocoa is a great wintertime treat for the kids, and the added peppermint flavor adds a little to spark to the traditional hot chocolate.
If you can remember using a peppermint candy cane like a straw to sip your cup of cocoa, you'll understand the appeal of Candycane Cocoa from Stephen's Gourmet Hot Cocoa. Stephen's Gourmet Hot Cocoa is known for its rich and delicious tasting cocoa and other hot beverages in a variety of flavors and other indulgent foods. Their Candycane Cocoa is a milk chocolate flavor with bits of real peppermint candy cane. It makes a great stocking stuffer and is sure to become your family's favorite holiday tradition.
www.indulgentfoods.com
Wait! Don´t forget to Subscribe for Free!
Main Feed | What is RSS?
Enter your E-mail below to Subscribe

*
No spam
|
Privacy Policy
We will not sell or distribute your e-mail address to anyone else.
Written by Kyra Lausmann