It was a pink carpet, that lead to pink ribbons that lead to ?Shopping for a Cure?- In honor of Breast Cancer Awareness Month, the Popsy Botique colored itself pink for their launch party, and donated 10% of all proceeds to the Susan G. Koman Breast Cancer Foundation.
The party was animated with DJ rhythms, and Janice Dickenson Agency models dressed in the newest Popsy Styles.? Upon entering guests immersed themselves in the atmosphere, joined the pink, with a pink ribbons, pink cocktails, and almond Champaign from the Wilson Creek Winery in Temecula. Gift bags continued the pink adornment with gifts such as Tweezerman?s Think Pink Tweezers, TIGI?s Health Goddess, Plumeria Lotion Glow Candles, Maria Sharapova Perfume and Go Girl Energy Drinks.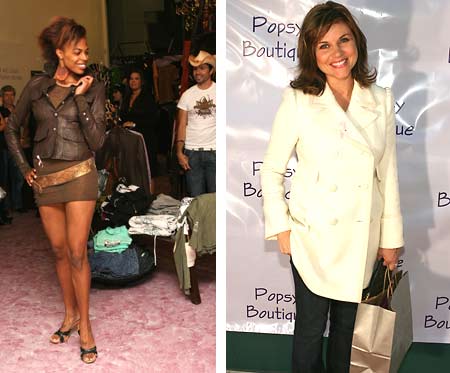 It?s a slice of Hollywood in The Valley, and a slice of Hollywood celebrity came to the Valley to shop and show their support. Stars included Stuart Kinzey and Michelle Zahn from the new Lifetime television show ?Off? The Leash,??? Renee Intlekofen who is doing a show called ?Project Myworld? which you can find on Myspace and will be coming soon to Direct TV, and finally Tiffani Amber Thiessen who came with husband Brady Smith. Many designers like Ra Chen-Drake of Custom Made by Jesus, and Nikki Lund of Eccentric Symphony also came to shop and support.
The concept of Popsy is the creation of owners Irina Milman and Novella Spann. The idea began as a simple conversation, but only three months later the idea came to life. The two differ in everything from their fashion preferences to their backgrounds to their personalities, but for these two edgy mothers, their diversity is their blessing and advantage in making a provocative shopping experience, the Popsy experience.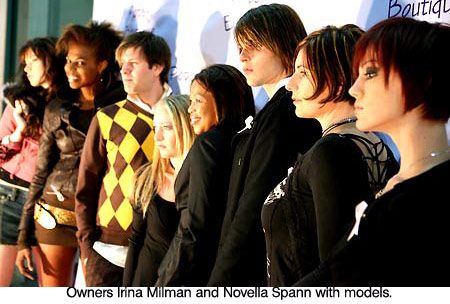 Pink sponged concrete floors, dark wood, high ceilings, and an enormous custom made chandelier come together to give Popsy boutique a chic and alternative atmosphere. But, Popsy gets its charater by carrying hard to find private labels and local new artists. The clothing is high quality, offbeat and mostly hand made, guaranteeing that what you find here will be something you won?t see someone else wearing. Moreover Popsy Boutique has the ?Valley exclusivity? for designers Guy Baxter, Brown Label, Custom Made by Jesus and Artful Dodger.
Each item being unique, it is not surprising that some of the clothing has a story behind it?s creation, but designer Artful Dodger stands apart from the others in that every garment is a story. The designer from Scotland shows stories of gruesome gang wars of 19th century Britain. They detail is extraordinary; you could entertain yourself for hours finding all the tiny severed hands and knives.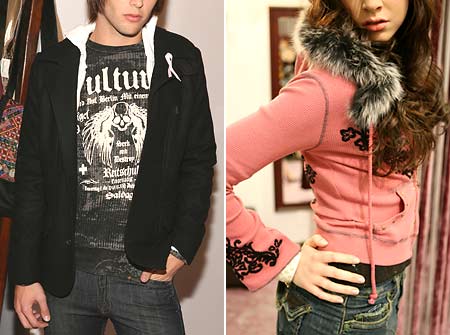 One of the most ubiquitous trends was clothing and accessories adorned with Swarovski Crystals. One such accessory, the Paci Posh Swarovski Crystal was big hit amongst guests including actress Tiffani Amber Thiessen who bought the Pacifier for a friend. Other designers using the Crystals include Salvage, and Christian Audgier.
The Popsy experience is truly unique. It is completely diverse, yet unified in unified by the authenticity of character in each item. The owners perhaps describe it best? Popsy is ?completely diverse, simple and classic. It's a boutique which makes the poetry of fashion stronger, sexier and provocative. It symbolizes you.?
Owners Irina Milman and Novella Spann are determined to make Popsy Boutique a one-of-a-kind shopping experience.? Almost every furnishing in Popsy is custom made and designed, from the hand painted floor to the dark wood counters.? The massive chandelier adorning Popsy?s entrance was designed by Irina herself.?
Both Novella and Irina come together from completely different backgrounds, pasts and cultures with the same vision:? To bring a diverse, classy and provocative shopping experience to the Valley.? That experience is Popsy.
Popsy Boutique, 17200 Ventura Blvd, Encino. (In the Encino Town Center)
Gift bags sponsors:
Tweezerman Pink Ribbon Tweezers, TIGI Health Goddess, Maria Sharapova Perfume, Lotion Glow Candles, Chenice Beverly Hills Gift Certificate, X-Rated Vodka, Wilson Creek Winery,?Stirrings Liquor Mixers, Izze Soda. Go Girl Energy Drinks, Salon Michele Gift Certificate. Lollipops Caf? ? one free smoothie, Heiress Salon Gift Certificate, One day pass to Knuckles Gym
Popsy Labels included?Monarchy, Brown Label, Stitches, Tree, Dianne Von Furstenberg, Religion, Buddhist Punk, Plein Sud, Siwy, Vintage China, A&G, Ben Sherman, Christian Audgier, Grail, Raw 7, Artful Dodger, Guy Baxter, Black Halo, One Life, Taverniti, United Clothing, Rachel Weisman Accessories, Funky Junk Belts, Young Fabulous & Broke,Eccentric Symphony, Truth by Your Grace, Salvage, Harajuku Lovers, Soul Revival, Custom Made by Jesus, California Born Jeans, My Tribe, Urban Spirit, Royal Plush, Hockman & Fuller, Disney Couture Jewelry, CC Skye, Paci Posh, Knot 4 Nothing
Wait! Don´t forget to Subscribe for Free!
Main Feed | What is RSS?
Enter your E-mail below to Subscribe

*
No spam
|
Privacy Policy
We will not sell or distribute your e-mail address to anyone else.
Written by Maia Paris