For one week only, you can check out the wildly popular Refueling Station by Daily Harvest pop-up, which has been a huge hit in New York City. The Refueling Station by Daily Harvest is free and open to the public from January 17 – 23rd at Westfield Century City in Los Angeles from 11:00AM-8:00PM daily.
Daily Harvest came up with a fun and creative 'food oasis' for busy people who may not have the time in their busy schedule to eat good food that will keep them energized throughout the day.
The pop-up's chic take on a retro gas station is a physical manifestation of their mission to take care of food, so food can take care of you.
Pop-up elements include:
* Free Daily Harvest samples, including smoothies from the Full-Service Pumps, cookies from the ATM, and full-sized breakfast bowls, harvest bowls + smoothies from the Car Wash
*The opportunity to purchase Daily Harvest cups offline – with 50+ recipes to choose from such as Ginger and Greens, Acai and Cherry, Chocolate and Blueberry – customers can take frozen cups to-go to have ready in their freezer whenever hunger strikes.
*The 'Cado Car is Daily Harvest's Superfood spin on the nostalgic coin ride.
The pop-up will also offer engaging programming like an on-site nutritionist, swag giveaways and other surprises!
Visit bit.ly/DHNUTRITIONIST to book a session to chat with their nutritionist.
The goal of the pop-up is to learn from and interact with Daily Harvest customers offline. Daily Harvest co-creates every craveable recipe directly with their customers. They are constantly speaking with consumers online to iterate recipes and offerings based on their asks, preferences and feedback.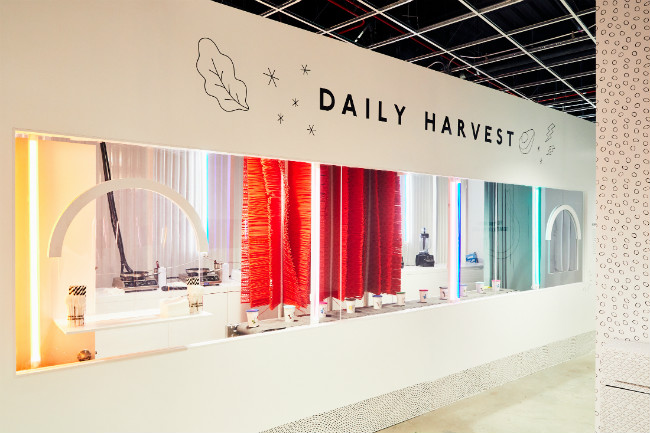 To learn more, visit daily-harvest.com and follow @dailyharvest.
Location:
Westfield Century City 10250 Santa Monica Blvd. Located on the 2nd Floor, near Eataly, on the Santa Monica Blvd side of the mall.