With Valentine's Day just around the corner, there will be many people planning a romantic surprise for their partners. Often, couples tend to go out for a meal on Valentine's night but with so many other couples doing the same thing, it can really take away from the intimacy and romance of the occasion.

If you want to enjoy a romantic meal with your partner on Valentine's Day, one solution is to create a wonderful home-cooked meal and a romantic setting where you can enjoy it. This is not only a lot cheaper than going to a restaurant but also means you won't have to be surrounded with other couples when you are trying to enjoy some romantic time together.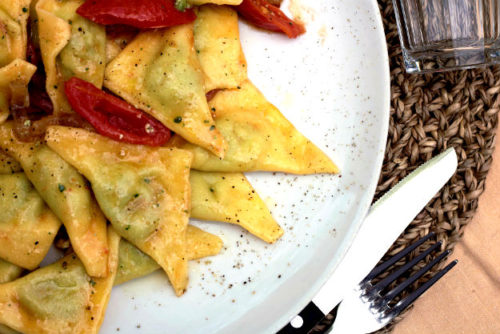 Some Tips to Help

If you want to create a wonderful romantic and special setting and meal for Valentine's there are a few tips that can help you. First off, think about the food you are going to cook. You want to spend time with your loved one not rushing in and out of the kitchen, so choose dishes that are simple and quick to cook but also tasty and can be beautifully presented. Also, make sure you choose a good wine to complement the dish you are preparing – you can learn more about wine pairings with ease online. In addition, treat your loved one to a refreshing grapefruit cocktail or two to kick the evening off.
Another thing you need to think about is where you will have the dinner. If the weather is pleasant in your part of the world, you could set up a table outside – even if the weather isn't all that good, you can use a patio heater to create warmth. This way you can enjoy dining al fresco and decorate the area with fairy lights and other beautiful outdoor décor to add some magic and enchantment. If you have the meal indoors, opt for candlelight and soft music to create a great setting for your romantic dinner.

One other thing to do is think about what to wear. You should treat the night as though you are going out, so take the opportunity to dress up rather than sitting there in your jeans and a t-shirt. This will help to add to the romance and feel of the occasion. Making an effort in terms of what you both wear will help to make the night feel even more special.

A Great Way to Wine and Dine Your Valentine

A romantic meal prepared and cooked with your own hands and served in your own home is the perfect way to wine and dine your valentine. You don't have to worry about paying sky-high prices at restaurants and you won't have to concern yourself about being squeezed into a tiny space alongside dozens of other couples. Instead, you can enjoy a more relaxed atmosphere, an intimate setting and atmosphere, and the chance to enjoy some quality time together on what is a special night for most couples.