If diamonds are girl's best friend, then shoes must surely be a close second. If you are a shoe aficionado, you're always on the lookout for that eye-catching, must-have style by the latest rising-star designer. The only problem for women that have a beautiful collection of shoes is that they end up staying in your closet because the shoes themselves are too uncomfortable to sustain wearing wearing for very long. Unless they are designed by a women designer who is not afraid to break tradition!
This past week, Jaclyn Jones USA luxury women's shoes previewed their fall line along with a display of the summer line of shoes designed by Jaclyn Jones at the Perfect Pop-up at Platt Jewelry Boutique and The Kit Vintage in West Hollywood.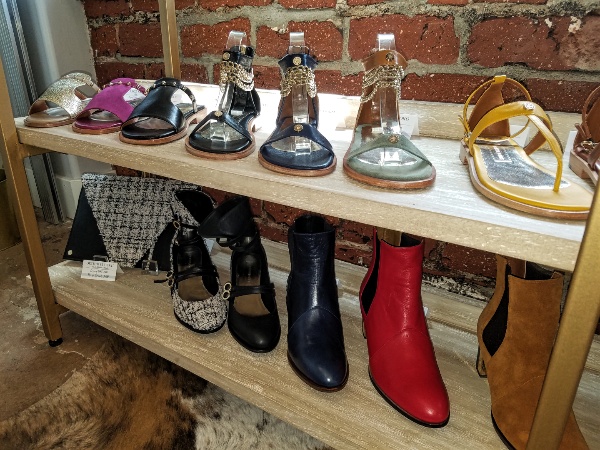 I had the opportunity to meet with and chat with Jaclyn Jones to find out more from the designer behind the beautiful collection I was looking at. The very first question I posed to her was that while I am looking at a gorgeous shoe collection, are they comfortable?
The answer I got gave me hope. Jaclyn explained to me that across the industry, shoes traditionally have a minimal amount of padding and that is the industry standard. Period! So Jaclyn made it her mission to find a way to make her shoes comfortable too. Although it was difficult to find somewhere that would produce anything different from the norm, after a sustained effort, she did and she can proudly say that her shoes have a built-in 4 millimeter foam insert (the industry standard is 2 millimeters) which makes a big difference in the comfort of the shoe.
What's so refreshing is that Jacklyn creates her own personal interpretations of fashion. She describes her brand as "classic lux with a flare" — elements of classic looks merged with modern design. Her unique designs include exclusively-designed custom-printed leather, custom hardware, her signature heel plate and more. Her custom buttons feature the California poppy reflecting her California-based business.
"Entirely handcrafted in USA with the highest quality materials from around the world, each couture piece is beaming with the attention to detail that each woman deserves."
Check out more of her styles and shop the collection at jaclynjonesusa.com
Kit Vintage offers special occasion vintage dresses, vintage bridal & event pieces from the 1930's to the 1990's, all in excellent condition. Platt Boutique Jewelry sells a variety of stunning vintage jewelry. They're located at 7427 Beverly Blvd., Los Angeles, CA 90036 323.746.5789 KitVintage.com
During this exclusive pop up, Yeliana Nikolskaya, FPN, RN, MSN of Beauty Religion Aesthetic Dermatology was administering beauty treatments. They offer Botox, facial injections, skin tightening lasers and so much more. Book online: BeautyReligion.com or call 310.299.6416