Diners throughout Southern California will soon discover what all of the fuss is about as one of the state's culinary institutions launches an expansion. San Pedro Fish Market has a reputation as one the most popular destinations in all of California, with millions served, making it literally California's busiest dining destination. They specialize in high quality seafood prepared to your liking, with their signature spices. For over 60 years, this family-owned-and-operated market and restaurant has thrived on the LA waterfront. Now, the restaurant is opening a second location, the San Pedro Fish Market Grille, at the Palos Verdes Peninsula Center.
The Mastermind
The man responsible for this culinary juggernaut is Mike Ungaro. In addition to being a successful restauranteur, Ungaro has a hit docu-series on his hands. "Kings of Fi$h," has garnered over 40 million views and a Webby nomination. The new season will focus on the challenges Mike and his family make as they prepare to open three restaurants over the next three months.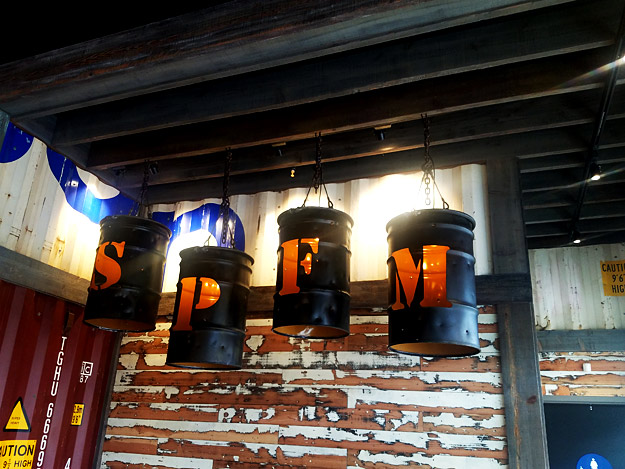 These barrels were manufactured from actual barrels used for various purposes on the San Pedro Waterfront. Check out this episode of Kings of Fi$h to see more!
How It All Began
San Pedro Fish Market story begins over 60 years ago on the waterfront of the Los Angeles Harbor. Cousins Tommy (the founder) and his cousin Henry were only teenagers when they were given the responsibility of running the fish market. They developed innovations that would eventually become the basis of the number one restaurant in California.
Ready-to-eat Seafood
First, a live seafood section was added which allowed customers to not only select their own lobster and crab but have it steamed fresh while they waited. Next came the signature smoked fish recipe, which made their smoked halibut, salmon, cod, tuna, swordfish and other offerings huge favorites among seafood aficionados. The "World Famous Shrimp Tray" followed on the heels of these early triumphs.
Building on a Winning Formula
The new San Pedro Fish Market Grille replicates the formula that made the original a dining destination. Customers can expect the same fresh seafood, one of a kind flavors and the signature "World Famous Fish Tray" along with a few exciting twists. You can get your fish prepared any way you want it, including incorporating it into a fresh salad or a tasty taco. To wash down your entree there is a wide selection of beer, wine, craft sodas, and the restaurant's renowned Michelada.
Creating Buzz
Whether it's being featured on "Food Beast" or being included in the "Top 10 Most Instagrammed Restaurants in America 2017", (Food and Wine Magazine) the San Pedro Fish Market and the Ungaro family know how to generate buzz. That is why they attract not only LA patrons but also celebrities from across the globe, such as executive chef and media personality Tati Polo.
Whether you're a longtime customer of the San Pedro Fish Market or you've always wanted to try, you'll find plenty to love about the food and format at the new San Pedro Fish Market Grille.
They are located at 3 Peninsula Center, Rolling Hills Estates, CA 90274
Phone: (310)265-2260
info@spfishgrille.com