The "zoom zoom" kid in Mazda's vintage car commercials would be proud of what the automaker has become. Witness the Mazda CX-9 Grand Touring, a stylish crossover SUV with the features and comforts that drivers yearn for, at a price below that of comparable luxury vehicles. You won't mind driving long distances in the CX-9; in fact, you might start stretching out your trips just to enjoy the ride even more.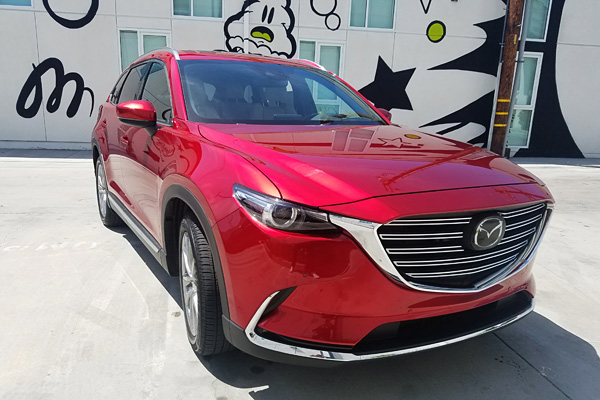 That Look
Viewed head-on, the Mazda CX-9 Grand Touring might remind you of a certain European car manufacturer that enjoys a reputation for safety and longevity. Come inside, and you'll find an interior that measures up to any well-regarded automaker. Seats and armrests feel good, and the materials look luxe. Of course, you get the option of leather upholstery, as are Bose audio, rosewood interior trim accents, LED headlights, and LED interior lights, depending on your choice of trim. Up front, you get a 7-inch infotainment screen with Bluetooth connectivity.
The Roominess and Space
The Mazda CX-9 Grand Touring includes three rows of seats. The driver and front-row passenger get spacious, adjustable seats, but the real winners may be sitting in the second row, where you can enjoy lots of leg room. The second-row seats even recline! The third row is likely best reserved for children, but even with the third row in use, the Mazda CX-9 Grand Tourer offers 14.4 cubic feet of cargo room. Fold them down, and the volume increases to 38.2 cubic feet, in case you're planning to hit the big-box stores or a home-improvement outlet.
Pleasurable Road Trips
But if picking up hardware isn't your idea of weekend plans, and instead you'd rather – say – head out to the desert to check out a massive music festival, you could do a lot worse than the Mazda CX-9 Grand Touring as a ride. The drive was smooth and enjoyable, thanks to the CX-9's superior handling and connection options. Not only that, the whole gang could fit in comfortably.
High Tech Features
The Mazda CX-9 Grand Touring is brimming with features. As standard, you get blind-spot monitors with rear cross-traffic alert and low-speed automatic emergency braking on all trims, along with 18-inch wheels and power everything. But the details – such as ambient lighting to help you find your way around controls — may stand out the most for some drivers.
Top Safety Pick
In terms of safety, the Mazda CX-9 is named a Top Safety Pick by the IIHS, and it comes with the requisite allotment of airbags for all passengers, traction and stability control, and a rearview camera. Newly introduced as standard, a brake-based torque vectoring control system to help prevent crashes by assisting in maneuverability can now be found on all CX-9s.
The 2018 Mazda CX-9 comes in at an EPA-rated 20 mpg city, 26 highway, 23 combined. That's good enough for a 6 out of 10 on our fuel-efficiency scale. In front-wheel drive, the CX-9 clocks in at an EPA-reported 22/28/24 mpg, which are good numbers for this class of vehicle.
All the Desired Upgrades – Your Choice
The Mazda CX-9 starts at a price of $32,130, but the Touring trim in this review brings the price to $35,900, thanks to the addition of leather upholstery, an upgraded 8.0-inch screen for infotainment, a power liftgate, power-adjustable front seats, 20-inch wheels, adaptive cruise control, dual-pane sunroof, parking sensors, a head-up display, heated first- and second-row seats, heated steering wheel, and adaptive headlights. Whichever model you choose, you can expect a plush, luxurious ride in an elegant and attractive package.
Follow them on social media!
Twitter
Instagram
Facebook
#DriveMazda