The 2018 Toyota RAV4 XLE shows how far the RAV4 has come since its debut. The vehicle that broke ground as a compact SUV has now been joined by many competitors in what is now often known as the crossover market. What hasn't changed: The 2018 Toyota RAV4 XLE is still a ton of fun, with plenty of room for passengers and cargo, much of Toyota's high-tech features, a distinct profile, a comfortable, smooth ride, great handling and an affordable price tag, to boot.
There's plenty to like about the latest RAV4, including the addition of a new shade to the available choices: Ruby Flame Pearl. This classic red shade with a slight mauve undertone will turn heads, but is far from garish or gaudy. Instead, it only adds to the vibrant attitude long associated with the driving the RAV4.
Comfort and High Tech
Less superficially, the 2018 Toyota RAV4 XLE delivers in terms of passenger room and comfort. You can seat five in this car, and you now even get the option of heated seats.  The seats are extremely comfortable. Even the basic model offers Bluetooth integration, a USB port, and a 6.1-inch touchscreen info-taintment system that can be paired to a smartphone for on-screen navigation. It even reads aloud your text messages!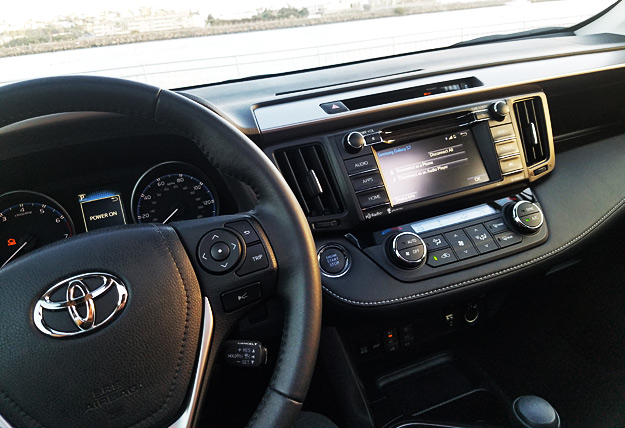 If you haul a lot of goods, you'll especially appreciate the low-loading point in the trunk – no straining to lift your boxes and bags in and out of the car. Just the touch of your fingers and the trunk automatically opens.
Safety First!
More important, riders and cargo alike can look forward to a safe trip, as the 2018 Toyota RAV4 XLE has garnered top safety scores from both the IIHS and the federal government. The 2018 Toyota RAV4 XLE comes with all the mandated airbags, along with a rearview camera, forward-collision warnings, automatic emergency braking, automatic high-beam headlights, and adaptive cruise control. For extra measures, you can add on a surround-view camera system that offers a bird's-eye view of the RAV4's surroundings, along with blind-spot monitors and rear cross-traffic alerts.
Great Gas Milage
The 2018 Toyota RAV4 XLE offers solid fuel economy, and it comes in a hybrid edition for those seeking additional savings at the gas station. Even the all-wheel-drive version of the RAV4 doesn't sacrifice much in terms of fuel efficiency, at an estimated 22/28/25 mpg.
Best Toyota RAV4 Ever!
Whether you're packing up the car to run errands with friends and family or to get away on a weekend road trip, the 2018 Toyota RAV4 XLE offers the comfort, dependability, safety, and economy you want. There's a reason the RAV4 is such a popular vehicle, and by the looks of the 2018 edition, it will likely stay on top.
Follow them on social media! 
Twitter: @Toyota
Facebook: @Toyota
Instagram: @ToyotaUSA
#DriveToyota #LetsGoPlaces Toyota.com