If a luxury yet affordable exotic vacation or a tropical destination wedding is what you're looking for, you might want to consider the Centara Grand Beach Resort & Villas in Ao Nang, Krabi, Thailand.  Whatever your travel goals are–whether a luxury vacation or destination wedding, everything you are looking for is found on this stunning, secluded luxury resort on the water.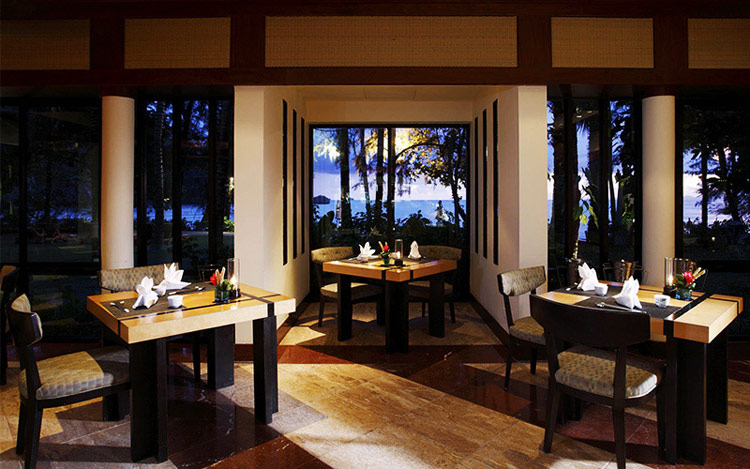 Nestled between limestone cliffs on a private bay, the Centara Grand Beach Resort & Villas in southern Thailand is fronted by a quiet sandy beach and sparkling ocean. You would never know the bustling beach city of Ao Nang is just a bay — or a 15 minute walk along the 'monkey trail' shortcut — away.
For Romance or Relaxing Family Vacation
Whether you come seeking tranquility and romance, family holiday, or a business retreat, the resort is spacious enough to accommodate all.
Have a cocktail by the beach and watch the breathtaking sunset at the Centara Grand Beach Resort & Villas' "On the Rocks" beachside restaurant and grill. Take a long stroll on the white sand beach, holding hands and feeling the warm water at your feet.
Sit in your own private 'for two' hot tub on a balcony overlooking the ocean, sipping champagne. Lounge on beach, watching the sun paint the evening sky with brilliant colors.
You can swim in the huge sparkling pool, or get some much-needed private time while your kids play at the Kids' Club and E-Zone. Enjoy the warm inviting ocean with swimming, sailing, kayaking, or snorkeling, or just keep in shape while on vacation with fitness classes. There's even a PADi Dive Center. Your first hour of activities every day is free. You can keep busy…or not.  Maybe you want to simply lay by the pool or ocean and read a book. Sometimes we all just need to chill. The choice is yours.
If you want to try new cuisine, the authentic Japanese restaurant Hagi or the seafood and home-style Thai Suan Bua might just fit your needs. Don't forget to begin your day with the fantastic breakfast buffet at Lotus Court Restaurant (which also serves lunch and dinner).
Then after supper, chill at the Deep Blu bar and lounge, relax and surf the internet in the cool and comfortable library, or indulge in an amazing massage, facial or body scrub at SPA Cenvaree.
There is no shortage of things to do and places to eat for individuals, couples or families. Who knows…you might even meet a few new friends.
Romantic Tropical Destination Wedding
Where else can you say your vows on a gorgeous beach or in a beautiful garden by the ocean without ruining your budget? With airfare prices always dipping, the beautiful Centara Grand Beach Resort & Villas in Krabi is a fantastic and more affordable destination wedding spot for both you and your guests. You get the beautiful wedding of your dreams; your guests get a memorable vacation at an exotic spot.
The resort has no shortage of gorgeous areas to have your wedding or renewal of vows ceremony, as well as the reception: Beachfront, garden, Royal Villa, Thai sala or even indoors.
For extended family attending a wedding, the oversized family villas are a perfect stay. For the couple, the romantic deluxe room has a bed facing with a view toward the ocean and a cozy hot tub on a private patio. The rooms are staggered within the upward sloping landscape so everything feels very private.
Photography and videography that capture your special day are also available. Imagine your wedding photos with one of the world's most stunning sunsets as a backdrop. It's certainly worth imagining.
Activities
With one complimentary hour of activity a day, you get to try SPA Cenvaree. You'll almost want to stay longer just to fit everything in: increase your flexibility with yoga, build your strength with Pilates, or bring home new skills by learning Muay Thai. In addition to the classes offered, activities also include kayaking, paddle boarding, snorkeling, diving, etc. There are no motorized sport vehicles in the bay, so it is quiet and a safe place to experience something new. Of course, there is a nicely equipped gym if you prefer a more standard workout.
Stroll around the grounds and discover new sights. There are ponds, a gorgeous waterfall, old school Thai foot massage stones inlaid in the ground, and of course the 'monkey trail' over to Ao Nang should you want to get up-close-and-personal with some friendly monkeys (or get a little hike in).
Modern Accommodations in a Thai Style
The rooms are built on an upward slope ending up toward the cliff walls. The green and brown colors of the buildings are designed to blend into the natural surroundings. All rooms are all larger than average, with big bathrooms, great showers and huge bathtubs. Sleep well on the high-quality mattresses (no super hard mattresses here) to the sounds of nature around you.
The inside of the rooms and villas are modern but with a distinct Thai style, making them cozy and functional. The little extra details include free water bottles, hot water kettle, large closets, desk with chair, wifi, makeup chair in the bathroom, robes, flip flops, upscale toiletries, a blow dryer, and lots of different lighting options.
All of the Centara Grand Beach Resort & Villas rooms are spacious and have furnished balconies or terrace so you can enjoy the outdoors. Some room options even feature a private Jacuzzi or pool. How's that for nifty?
Note that they don't use plastic bags at the resort; they provide a large cloth beach bag for your use instead. Occasionally a monkey will visit the resort, and the monkeys have learned over time—as people walk over the 'monkey trail' carrying food in plastic bags—that food does indeed often come packaged that way. They want to keep your things safe. While we didn't see any monkeys while we were there, we could have walked just a little bit up the monkey trail and been rewarded for our efforts.
The Little Extras
The Centara Grand Resort has put a lot of thought into what their guests need. They have a professional photographer that can capture your vacation, wedding or renewal of vows on film. Your holiday cards may never be boring again. Their activities program is well-thought out and offers variety. They have a member's club on-site that you can join for the duration of your stay. This membership offers an exclusive lounge with five meals a day, and concierge service. The lounge also has desks and free wifi.
Getting There
The resort has a speedboat that runs on a regular schedule from a pier in Ao Nang to their private pier (a floating jetty, but don't let that put you off. The staff is there to help you if you need it, and it's not very difficult to walk on, depending on weather). The closest airport to Ao Nang is Krabi International Airport, a short flight from Bangkok or a direct flight from many other Southeast Asia cities.
Thailand is a beautiful, inexpensive and peaceful country that's worth a visit. If you want to stay away from the busy tourist areas like Phuket and Koh Samui, this private resort in Ao Nang might be just the ticket. It's definitely something to consider if you have a destination wedding in mind.
The memories you make here will be like no other, and will last forever.
Contact:
Centara Grand Beach Resort & Villas Krabi
Reservation Centre
Phone: +66 (0) 7563 7789
Website: www.centarahotelsresorts.com/centaragrand/ckbr
Email: ckbr@chr.co.th