As guests left the Secret Room 2016 Golden Globes Style Lounge, celebrities, VIPs and select media were presented with additional swag in a huge LL BEAN tote bag, chock full of delightful brands and items from the gift bag sponsors, including: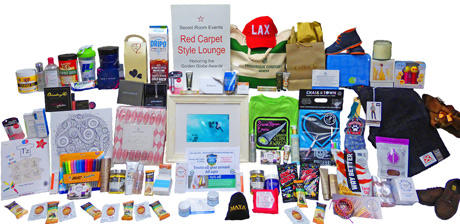 CelleClé is an exquisite, elevated link of skincare that "reignites cellular communication to enable your skin to better adapt to environmental changes, which in turn helps skin cells respond better. CelleClé Skincare Systems provide science-sophisticated, age-defying solutions for all skin types and conditions affected by the sensitizing and  aging effects of modern lifestyles, urbanization, technology induced damage and the ever-changing environment.
Today's skin issues such as "tech-neck", "text-neck", "toasted skin syndrome" and other signature effects of pollution and various sources of radiation are met with modern solutions, by harmonizing the skin's coexistence with our changing surroundings, both outdoor and indoor. CelleClé Skincare System aids the skin in selecting the appropriate responses to those changes and stressors."
More Great Skincare Products from the America, France, Japan, England and Australia!
Serumtologie Pure Whipped Chiffon Moisturizer for a hydrated and radiant complexion. Organic jojoba oil, shea butter and olive fruite oil and gotu kola and horsetail extract are the special ingredients.
Bioderma is the first Moisture-generating concentrate with Aquagemium; a Bioderma innovation, this patented biological complex stimulates the skin's cellular capabilities.
serumtologie® serum-22 Anti Aging Moisturizer provides an essential anti-aging treatment through the delivery of a form of Vitamin C in a highly effective concentration that is more stable and with less chance of skin irritation than the typical L-Ascorbic acid.
Auspect Skin care with Hydra Shield SPF 17. Australian owned and made in the USA.
Panier Des Sans en Provence Eau De Toilette Absolue in a beautiful Rose Geranium scent.
MCCOY Co. ltd Non-F Slimming Gel. Bio tech breakthrough utilizing minerals and nano technology to decrease  body fat percentage and improve basal metabolism. Read about this amazing product in our article here…
Lait Demaquillant refreshing makeup remover with active marine active/ seaweed extract ingredients from Marseille France.
Savon Vegetal relaxing lavender vegetable soap made with natural essential oil. Made in France.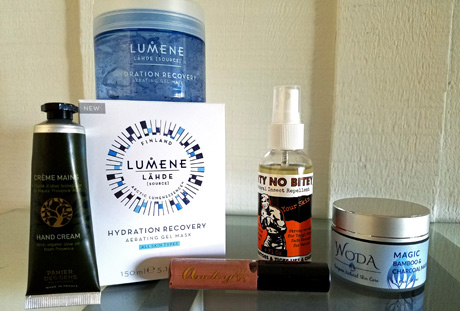 Panier Des Sens en Provence: From the south of France, Panier Des Sens cosmetics are inspired by natural resources and Mediterranean know-how.
Lumene Hydration Recovery Aerating Gel Mask from Finland. Formulated with a naturally derived ingredients including Arctic spring water and potent Birch sap, Lumene harnesses high concentrations of rare nutrients and potent antioxidants.
Aneley Cosmetics provided organic lip gloss and silver Mineral Eyez Eye Shimmer Bling.
Mighty No-Bitey 100% Natural Insect Repellent. Protect yourself and your kids from mosquitoes and ticks. Even safe for babies; Made with very effective essential oils. No DEET!
Woda Magic Bamboo and Charcoal mask. European natural skin care. Deep cleansing and exfoliating.Mer
ChapStick® Total Hydration, in Merlot moisture + tint.
Storm Rejuvenate Pro Instant wrinkle Lift serum. A must in everyone's skin care cache! Made in England
Click here for more brands in the Secret Room Style Lounge for the 2016 Golden Globes!
And Swag for Kids in the Secret Room Gift Suite Bag for the Golden Globes
_____________________________________________________________________