SaunaBar offers a revolutionary approach to "whole health" that utilizes a blend of technology, science and Eastern and Western holism to accomplish wide-ranging personal transformation goals such as weight loss, anti-aging, stress reduction, and detoxification. This interdisciplinary approach to better health can produce miraculous results. Whether it's a healing session in a SaunaPod or committing to their life changing Transformation Program, you'll leave SaunaBar not only feeling better but looking better…and healthier in the long term.
Lymphatic massage
The lymphatic system is a vital part of the body's natural defense against infection. The immune system can't function properly when it is compromised. Pneumonic compression lymphatic massage technology can help prevent swollen lymph nodes by flushing out fatty molecules and toxins that can contribute to a host of diseases. It is gentle, soothing and can rejuvenate your body by cleansing your blood of impurities. Lymphatic massage will leave you feeling revitalized in body and spirit.
SaunaPod
We are exposed to toxins on a daily basis which quietly undermines our health and energy levels. Infrared sauna treatments are an effective means of limiting the damage these natural poisons can cause. SaunaBar's infrared pods deliver far and near infrared light therapy which provides dual-action detox. No other sauna in Los Angeles offers the full spectrum of infrared.  The beds are lined with 440 jade stones, which adds a powerful healing component to your detox experience. The pod's unique design allows you to sweat out more toxins and enjoy a wider range of benefits including relieving stress, improving your skin's appearance and fortifying your immune system.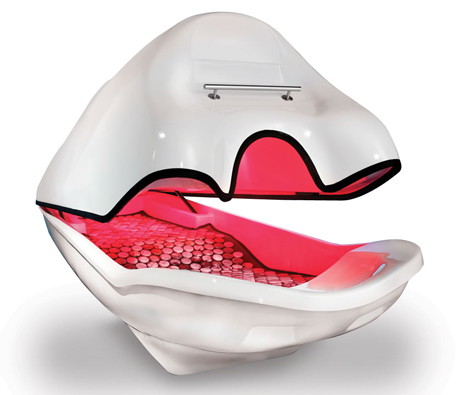 Magnesphere
The Magnesphere harnesses the power of electromagnetic fields to promote relaxation, reduce pain and improve sleep all without the use of drugs or surgery. Once you're inside this state of the art piece of equipment, vibrating copper coils begin realigning your chakra which improves your body's ability to combat stress, stiffness, and pain. While the technology of Magnetic Resonance Therapy may be cutting edge, the principles behind it are ancient.
Transformation Program
Tired of yo-yo diets that never deliver the long term results that you're looking for? SaunaBar's Transformation Program is a multi-faceted approach to weight loss that focuses on diet, fitness, detox and relaxation. You'll work one on one with a Fitness Nutrition Specialist to create a customized plan that gives you the best chance for success. This is a five-part program that incorporates technology, diet, exercise and old fashioned accountability to help you achieve phenomenal results.
For more information or to make an appointment, call 310.652.5522, or go to their website: www.SaunaBar.com