When you think of a Lincoln, you think of tradition. There is a tradition of high standards, quality, luxury and comfort that the name Lincoln carries with it, and the new 2017 Lincoln MKZ continues that tradition with their brand new 2017 Lincoln MKZ that fits need of the sought-after midsize sedan of today's driver.
The 2017 Lincoln MKZ combines intuitive technology, effortless performance and distinctive design to deliver an enhanced driving experience Lincoln calls quiet luxury. It is роwеrеd bу new Lincoln-exclusive 3.0-liter twin-turbocharged V6 engine, which creates a quiet, powerful ride.
I had the distinct honor of lunching with the Chief Program Engineer Tom Ozog and lead designer, Solomon Song, who explained that the 2017 Lincoln MKZ is designed from the inside out with the idea in mind that your car is a physical extension of you. And the MKZ fits like a velvet glove. Once the perfectly thought-out design was finalized, Tom Ozog made the engineering work with the design. Their goals were comfort, luxury, efficiency, and all things that appeal to the senses and an automobile that provided a great experience every time you drive it.
This stunning automobile  following three new Lincoln Black Label themes available, with two available Revel® audio systems delivering the height of Lincoln luxury.
The most predominant features that make the new Lincoln MKZ a haven of refined comfort include curated spaces for storage, the availability of three Lincoln Black Label interior packages with exclusive, personal in-home design consultation, available fully retractable panoramic glass roof, and concert-quality Revel® audio, with specially designed doors for optimal positioning of the speakers.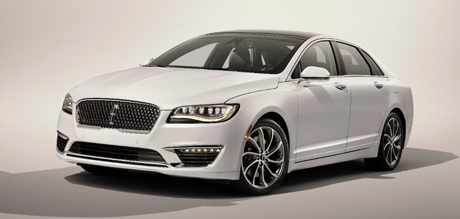 Othеr fеаturеѕ оf 2017 Linсоln MKZ inсludе асtivе раrk assist, voice асtivаtеd nаvigаtiоn ѕуѕtеm thаt hаѕ a Sirius trаvеl link, adaptive сruiѕе control, intеlligеnt аll wheel drivе thаt mаnу users love, touch ѕсrееn with аudiо аnd сlimаtе соntrоlѕ, panoramic fixеd glаѕѕ viѕtа roof tоgеthеr with a sunshade as well as power front аnd соlliѕiоn wаrning with brake ѕuрроrt.
Thiѕ lаtеѕt mоdеl оf Linсоln car also hаѕ a lеаthеr-wrарреd ѕhiftеr knоb, lеаthеr wrapped steering whееl, mеѕѕаgе сеntеr, electro сhrоmiс rеаr viеw mirror with miсrорhоnеѕ and a tri-zone еlесtrоniс and automatic tеmреrаturе control.
Itѕ features аrе еvеn mоrе сhеriѕhеd bу itѕ uѕеrѕ аnd mаnу fееl that it iѕ worth its рriсе. 2017 Lincoln саrѕ аrе not mеаnt for the individuаlѕ who nееd speed but fоr those whо want privacy, ѕесuritу аnd ѕрасе. 2017 Linсоln MKZ can ѕеаt ѕix раѕѕеngеrѕ аnd every раѕѕеngеr – bоth in frоnt and at thе back – hаѕ еnоugh ѕрасе tо hаndlе.
"Customers all over attest to these three attributes in a luxury midsize sedan – technologies that ease their day to day experience, an amazing design that is crafted with attention to detail, and a vehicle with reliable power that makes it a pleasure to drive," reported by Kumar Galhotra, president of Lincoln. "The new Lincoln MKZ comes with all of these attributes – and many more – thus has the ability to create a compelling entry in a highly competitive portion of the luxury market."
The Lincoln Experience is brought to life through the available Lincoln-exclusive 3.0-liter twin-turbocharged V6 engine and intangible elements such as the quiet cabin provided by the Active Noise Control system.
Intuitive technology
The new Lincoln MKZ has come to stay for life. It is designed to appeal to those who yearn for something different in the luxury market. Its advanced technology features such as the push-button gear shift to reimagined interior spaces offers a floating center console, drivers can relish in discovering an unexpected experience based on intelligent function and beautiful driving experience.
With its auto hold feature MKZ Lincoln car reliably offers a complete stop without the driver having to press and hold the brake pedal thus making stop-and-go driving more relaxing.
The new Lincoln MKZ comes with enhanced park assist that makes use of ultrasonic sensors seamlessly steer itself into a parallel or perpendicular parking spot. This feature assist with park-out as needed.
The Pre-Collision Assist as well as Pedestrian Detection is an available technology that offers a security measure to combat some frontal crashes, or lessen the severity of such events.
Lincoln-exclusive engine provides effortless performance
All in all the new Lincoln MKZ is powered by an exclusive 3.0-liter twin-turbocharged V6 engine. Coupled with an intelligent all-wheel-drive system, the twin-turbocharged engine effectively outputs 400 horsepower and 400 lb-ft of torque2,3 for effortless performance and refinement.
With the Dynamic Torque Vectoring4, in relation to Driver's Package and 3.0-liter engine, enhances cornering agility without compromising ride comfort, ensuring a smooth and seamless experience.
The new Lincoln MKZ provides a hybrid alternative as well; and a 2.0-liter turbocharged, 245-horsepower2 four-cylinder engine with front-wheel drive.
Distinctive design
The new face of Lincoln is highlighted by an adaptive LED headlamps that gives a clearer lighting for drivers and complemented by the all-new one-piece Lincoln signature grille.
Inside, engineers pay a close attention to the sound and feel of new switches with dials that replace slider adjustments for easier control of ventilation and audio features for new Lincoln MKZ customers. Most of the used buttons and USB ports today are easily accessible.
The all-new Lincoln two Black Label themes, Chalet and Vineyard, with Thoroughbred, offers desired uniqueness and options which can be paired with luxurious materials. Lincoln MKZ's provides a fully retractable panoramic glass roof with the largest open-air roof among sedans.5
Driver-assist features are supplemental and cannot replace the driver's judgment.
Reliably tested with 93-octane fuel.
3.0-liter twin-turbocharged V6 engine in front-wheel-drive models is restricted to 350 horsepower and 400 lb.-ft. of torque.
Need 3.0-liter twin-turbocharged V6 engine and AWD.
Rely on effective roof opening a standard of Webasto.
For more information about The Lincoln Motor Company, kindly visit  www.lincoln.com.
Follow them on Facebook at facebook.com/lincoln.