For the entire month of April, The Oaks at Ojai gives homage to the Pixie tangerine, the very special, sweet, seedless, easy-to-peel orange orbs that are special to only Ojai Valley, California.
Pixie tangerines have become as celebrated as the quaint town's "Pink Moment" and The Oaks at Ojai  embraces the tangerine for the month of April 2016 with spa-wide Pixie-infused offerings, sights and scents, culinary, spa treatments and packages.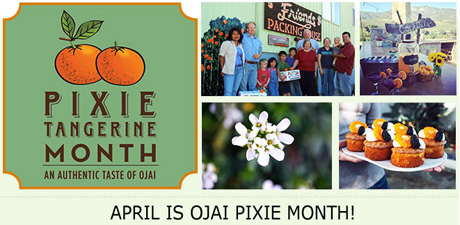 The moment a guest arrives, there will be the unmistakable "scents" that something is different. Staff dressed in tangerine colored t-shirts and a bowl overflowing with Pixies in the lobby welcome guests to The Oaks.
Pixie infused water will be served in the Libbey Lounge throughout the month and baskets of Pixies throughout the property.  In fact, in 2015, Oaks guests devoured more than 7,000 pixies during Pixie month!
Other Pixie offerings include:
Pixie tangerine seasonal scrub is a full body scrub utilizing tangerine essential oils along with fresh tangerines being squeezed into products table-side. A tangerine scrub exfoliates and the tangerine body lotion hydrates the skin.  Guests leave with a Pixie to go
Pixie scrub-making classes will be offered as an afternoon program once or twice during the month so guests can make their own bottle of scrub to take home and enjoy
Pixie pedicure, includes fresh Pixie juice added to the sugar scrub used on the feet and lower legs. A selection of tangerine colored lacquers is available along with many other colors. Guests leave with a Pixie to go
Green Tangerine Dream cleansing drink with Pixie juice served daily. This dream of a drink includes tangerines, celery, cucumber, spinach, lemon, ginger root, grapes and fresh mint
Chef Christine Denney will conduct Pixie cooking demos on April 7, 16, 21 and 30 with items including Chocolate mouse infused with Pixie and all things Pixie
Guests will enjoy special menu items and cooking demos, including Pixie salads, a Pixie cupcake with Pixie marmalade topping as a dessert, Roasted Pixie Sweet Potatoes, , Brussels Sprouts with Pixies and Balsamic Vinegar, Gluten Free Pixie Cups, Pixie infused Dark Chocolate Spa Bark, and Dark Chocolate Mousse and Pixie Popsicles
Retail Discounts: The Oaks' popular Nest retail outlet offers 10 percent off on any tangerine colored items
Giveaways: Pixie bumper stickers, afull size bottle of Pixie body lotion, a Tangerine Oaks tee shirt, and more throughout the month
Pixie Bingo: Most Fridays in April will feature Pixie questions
The Pixie package, a five-night package will include a complimentary seasonal Pixie scrub spa treatment, and the weekly All About Town history strolls will include facts about Pixies
About The Oaks at Ojai
The Oaks at Ojai is an affordable fitness destination spa that includes overnight accommodations, three delicious and calorie-conscious meals a day designed to promote weight loss, choice of 15 fitness classes per day and evening entertainment and seminars.
The Oaks offers 46 guest rooms, including private rooms and courtyard suites, double lodge rooms and double cottage rooms.  A charming 1920s hotel-turned-spa in the peaceful town of Ojai, The Oaks offers a variety of activities that allows guests to choose how to work out and take off excess pounds.
Activities range from hiking, art tours, and in-line skating to guided kayaking tours, belly dancing, yoga ropes, and qi gong, in addition to other fitness classes.
A full menu of relaxing and therapeutic spa services is available as well as private consultations with a variety of health experts. The Oaks at Ojai is located at 122 East Ojai Avenue (Ojai's main street).
For more information, please visit www.oaksspa.com or become a fan on Facebook, Twitter  Pinterest and Instagram.