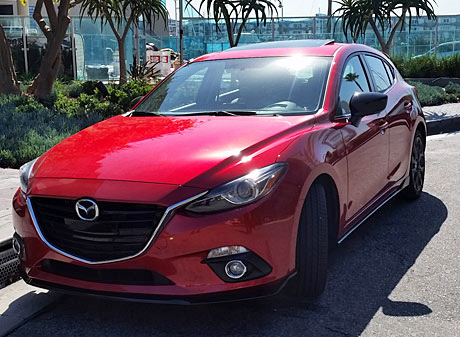 Take a quick glance at the 2016 Mazda Mazda3 s Grand Touring 5-door, and you'll likely see a small car, albeit one with sportier styling than is typical for similar-sized vehicles. But get behind the wheel and rev up the engine, and you'll notice the difference between the Mazda3 and its peers: This one is awfully fun to drive.
In addition, the interior of the Mazda3 is finished with impressive materials in a sophisticated layout, and the infotainment system is top-notch. On the downside, as a small sedan, the backseat in the Mazda3 can feel a bit pinched for passengers, and as a 5-door, the hatchback may not be able to hold all of your box-store purchases. Then again, the drawbacks are to be expected for a vehicle of this size.
The appeal of the 2016 Mazda Mazda3 s Grand Touring 5-door is easy to identify: It's a looker, with an attractive mix of sweeping curves and crisp edges. Frankly, it might be sexiest, sportiest hatchback on the road. Depending on which model you choose, you can opt for add-ons such as leather upholstery and a moonroof, in case the standard trim isn't classy enough for you.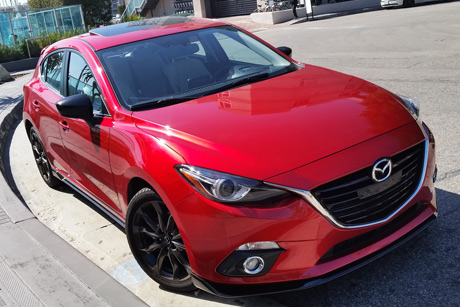 The 2016 Mazda Mazda3 s Grand Touring 5-door may not be the fastest car in its class, but it mixes power and handling in such a way to satisfy your need for a kick and control as you take a tight turn. The Mazda3 is available in either 6-speed manual or 6-speed automatic, should you have a preference for a transmission type.
This might be a good time to bring up two of the more significant complaints about the Mazda3. The pumped-up performance takes a toll in terms of bumps and noise in the interior cabin. Also, you can either have tall people in the front or tall people in the back; put them in both spots, and someone will walk away with a hitch in their step from having to pull their legs in so tight.
Otherwise, the Mazda3 shines in so many other areas. The Mazda Connect infotainment system offers a big, bright touch screen that's quick, with easy-to-navigate menus. It includes Bluetooth with music-streaming capability, HD Radio, and access to satellite radio, Internet radio, and selected social media platforms. In addition, Mazda Connect can sync with text messages, for delivery and reply. One important note: When the Mazda3 is moving, touch does not work on the touch screen, but you can still access it via voice commands and the Command Controller. This is an example of Mazda's commitment of distraction-free driving.
Further on the safety tip, the Mazda3 does well by the IIHS, and you'll find six airbags on every model. In the front seat, passengers get front and side bags, while side-curtain bags line the full length of the cabin. The Mazda3 also includes systems for camera- and radar-based assistance on the road, such as adaptive cruise control, a blind-spot monitoring system, lane-departure warning alert, a forward-obstruction warning system, and an automatic emergency braking system.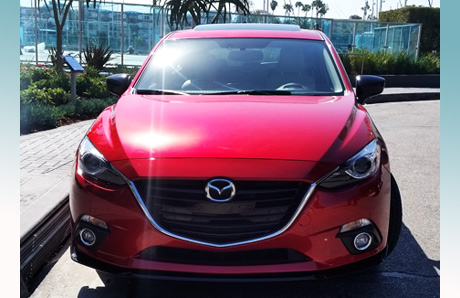 The 2016 Mazda Mazda3 s Grand Touring 5-door hits a happy medium between sporty, sexy, and sensible, at a base price of $17,000. Full disclosure: The Grand Touring 5-door runs closer to $26,000, but it delivers great value for the price and performance. If you need a lot of room either for passengers or for lots of cargo, the Mazda3 is not for you, and another compact will probably better meet your needs. But for those with little baggage and a need for speed, the Mazda3 is waiting for you, engine ready.