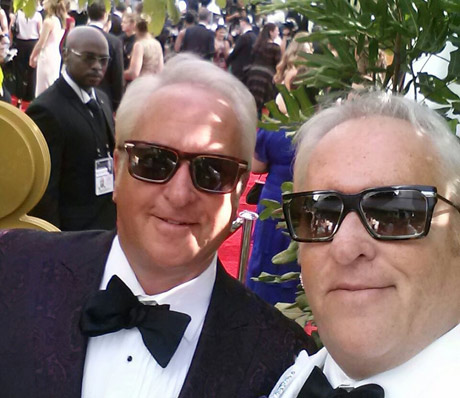 The WOW! Creations 2016 annual Lifestyle Gifting Suite took place in celebration of the 88th Annual Academy Awards. "The Kings of Swag", Matt and Mark Harris, held the glamorous celebrity lounge on the rooftop penthouse at the Luxe Hotel on Rodeo Drive in Beverly Hills.
Celebrities, VIPs and media indulged as excitement built for the Oscar weekend. The WOW! Creations luxurious lounge featured vendors from across the globe, who came to showcase their brands and products to celebrities, media and Hollywood VIPs. The lucky guests walked away with thousands of dollars of unique and exciting swag.
Sara Collette has found the formula for delicious, figure friendly cookies. By harnessing the power of the coconut, Sarah has been able to create a gluten-free treat that is moist, with a velvety texture and full of flavor. They are low carb, contain no sugar, gluten, soy, or dairy…and they're paleo!
These amazing treats come in Original Chocolate Chip, Orange Cranberry Almond, and Double Chocolate Macadamia Nut. To obtain these delicious Sarah's Skinny Sweets treats you can go to a local Southern California Whole Foods, or visit www.sarahsskinnysweets.com.
Twisted J is a new stylish, incredible fashion brand that prides itself on comfort. Twisted J gifted an array of their soft T-shirts and sweatshirts made from the highest quality of material. Their new website debuted on March 1st 2016. www.getalittletwisted.com
Unique is a luxury energy beverage that is redefining expectations of the energy drink industry. Unique is sugar free, zero calories and is made with green tea, reishi mushroom extract, and B-vitamins. With 80 milligrams of caffeine, Unique is the most effective energy drink when it comes to energy and health. www.uniqueenergydrink.com
Gunner and Jake's Gourmet Pickles and Peppers offers a wide selection of gourmet pickled Foods and other specialty items never seen on the market before. Truly a connoisseur's goldmine: Gourmet Stuffed Jalapenos, Gourmet Dill Pickles, Gourmet Dilly Green Beans, Gourmet Pickled Hungarian Peppers, Gourmet Pickled Okra, Gourmet Pickled Asparagus,  and many more! gunnar-jakes-llc.myshopify.com
Dr. Shannon Davis, with her experience as a physical therapist and mother of two, has created the innovative Little Balance Box. This box is a table with floating feet to be responsive during transitions from kneeling to standing. This table acts as a play, eating, and reading area with maximum stability, by allowing children to use their hands or forearms to move and control the table in any direction to help develop balance. www.littlebalancebox.com
Created locally in the City of Industry, Grace in LA brings handcrafted american denim with bling to the luxury market. Once of the best fits in a jean you can find! Grace in LA gifted a beautiful variety of designer denim in jeans and shorts. www.graceinla.com
DTT Luxe designs gorgeous handcrafted jewelry that appeals to all ages, including designs for both men and women. DTT prides itself on creating handcrafted, unique and exquisite pieces of jewelry that "will turn heads without breaking the bank." You can have custom-made pieces with your company logo.  dttbylgreen.com Check out what celebrites were gifted with images HERE
Charlene Brown, Celebrity Hairstylist was onsite and in town for Oscar week, booked with appointments for Oscar events. For bookings of editorial/personal photoshoots, fashion shows, red carpet events, glam-team-hair, makeup, and nails.
Striving to provide quality and authentic products and services to the market, founder Tammy Leemon has made it her mission to create relaxing and calm beautification products to the world. Reve Calme gifted spray products and an unique blend of bath salts that Tammy created to help you relax and sleep more soundly. www.revecalme.us
Dangerous! We discovered our favorite Peppermint Patties we've ever tasted. They truly are "The BEST Peppermint Patty in the World". Try them yourself and you will be hooked. Baysidechocolates.com
Brevena shared their Intensive Foot and Heel repair with purified oat beta-glucan for soft, beautiful feet. They began as a technology that healed burned and wounded skin 20 years ago and it evolved into a profound skincare breakthrough.
Along with their high performing beauty products, Zotos offers education in the beauty industry to help the world have more style. This passion for inspiring stylists around the globe has led Zotos to discover their power to create remarkable results with just the right artistry and right products. www.zotos.com
Jon Fitisemanu, AKA DJ Runaway spun the cool sounds that made guests cruise through the day. DJ Runaway offers Professional Mobile Disc Jockey service in the Southern California area since 1995. Specializing in weddings, private parties and school/church dances. djrunaway.com
Teascapes gifted wonderful blends of brewed tea such as Spring Break, Fireside Chats and Beach Memories. the mission of teascapes is to allow people to experience the way of stepping away from the stresses of the day to Teascape into relaxation and zen. www.enjoyteascapes.com
Avjet offers new and used executive business jets for sale. They also lease jets for private flight services, including aircraft management, large-cabin, private jet charter and jet completions. AVJet.com
Cindy Nekim presented her new perfume, First Femme Fragrance. Very feminine yet exudes a powerful sense.
Churned Creamery offers freshly churned, hand crafted ice cream served directly from the barrel. At the lifestyle gifting suite churned creamery were giving out tastes of their hand crafted ice cream, in chocolate bourbon, tequila, pistachio and vanilla. Made with real ingredients and alcohol, ice cream has never been so fun. www.churnedcreamery.com
CyroMax is a patented, science-based cold therapy system that utilizes non-toxic, latex-free materials and is useable for up to 8 hours. The system works by absorbing heat and pain without inhibiting the body's natural healing processes. CyroMax features small, rounded, frozen water filled capsules arranged in rows and separated spaces to allow for body conforming applications. www.cryomax.com
Founders Monique and Allie, had a mission to create high fashion activewear for a high octane lifestyle that keeps women looking sexy and fit. Mo n' Al was created as a fashion house that enables a one-stop shop for high fashion activewear with effortless sex appeal. Mo n' Al is a local LA company based out of Calabasas, Monique and Allie gifted a soft, comfortable, sexy tank top with their brand on it. www.moandal.com
Young Living Essential Oils were helping guests customize their own essential oil spritzers based on oil preference and their new NingXia Red whole body supplement. The Ningxia Red is made from wolfberry, plum, aronia, cherry, blueberry, pomegranate juices, extracts and filled with superfoods to support overall wellness. The benefits of this drink are normal cellular function, support for energy levels, and normal eye health. www.youngliving.com
Wee Souls is a grassroots non profit wellness sanctuary for children all over the US. Bringing awareness of yoga, meditation, nutrition, energy healing and the arts to the youth with classes on-site as well as multimedia opportunities to share with the world! Wee Souls are currently fundraising to launch their first location in Las Vegas. Help them bring peace and tolerance to our future generations at www.weesouls.org.
Body Wipe Company were showcasing an assortment of their body wipe goods. Guests were gifted samples of their Shower Wipes and Tat Towels. Tat Towels are designed to moisturize and enhance older tattoos to make them look fresh again. www.bodywipecompany.com
Whiskey Magazine has named Four Roses Bourbon, American Whiskey Distiller of the Year in 2011, 2012, 2013, and 2015. Established in 1888, Four Roses Bourbon has mastered 10 handcrafted recipes of bourbon and then mingle them together to create their great brands of authenticity and heritage. Four Roses feature three brands, their single barrel, small batch, and yellow. Each with their own distinctive blends and uses for Bourbon Connoisseurs. www.fourrosesbourbon.com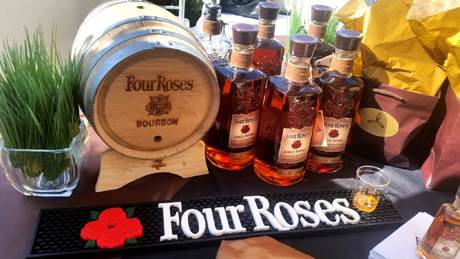 Neon energy drink ingredients are 100% All Natural and contain a glowing blend that is black light sensitive because of an ingredient called Quinine which is derived from the bark of a tree. Neon energy drink ingredients include green tea extract, strawberry juice, cranberry juice, vitamin B6, vitamin b12, folate, and cyanocobalamin. Neon was also showcasing there new nutritional supplement in two flavors. www.ownit.neonenergyclub.com
Celebs sampled Ogden's Own Distillery premium liqueur and Spirits. Ogden's own distillery have a great delicious spin on classic spirits. Featuring a vanilla Five Wives Sinful Vodka with its variety of natural flavors, Award-winning Underground, handcrafted herbal spirit, and recently released Porter's Fire Cinnamon Whiskey Liqueur that contains a beautiful combination of smooth canadian whiskey, heat of cinnamon, and a splash of vanilla for optimal flavor. Check out all the flavors and stories behind these delicious spirits at www.ogdensown.com.
Naam Is innovating the way people use and create wigs. Using technology they will scan the dimensions of the customer's head, then use 3D printing in order to recreate the customers scalp to make the base of the wig. Then once the customer picks out the hairstyle, Naam will conveniently create and customize the wig they wanted. It is a quick, easy, and more accurate way to get the hairpiece you want.
For over half a century Burkart Organics have been growing organic fruit on their farm in Dinuba, California. At the Lifestyle gifting suite, they were showcasing their certified organic, preservative-free Tangerine, Vanilla Bean Marmalade, with fresh stone fruit grown from their farm. Burkart Organics gifted summertime dried stone fruit, including apricots, persimmons, and jujubes. Fresh fruit products are seasonal, while dried fruit and fruit preserves are year round. Ask them what they have available at www.bukartorganics.com.
Eve and Nico presented a sampling of Crafts and home decor they import from the most exotic counties from around the world, which helps their local economy. A real win win! EveandNico.com

WOW! Creations established in 2004, is a Los Angeles-based prestigious public relations agency that offers a full range of marketing services for clients. Founders Matt and Mark Harris have hosted sensational gift lounges and designed swag bags for celebrity-filled events such as the Academy Awards, MTV Video Music Awards, Emmy Awards, Miss Universe Pageant, Miss America, the Sundance Film Festival and many more. To find out how you can be involved in a future celebrity gifting suite, go to www.wowcreationsmedia.com.
At a Glance – Brands at the WOW! Creations Oscar gift lounge included:
Matchmaker
Essentially Living Healthy
DTT Luxe
Charlene Brown Celebrity Hair Stylist
TeaScapes
AVJets
Gracie in LA Jeans
Brevena
Neon
Yhali Lip
Reve Calm
Mo & Al
Gunner
Little Balance Box
First Class Fashion
Life Wear Technologies
Zotos
Paper Shower
Lily
Eve and Nico
Twisted J Apparel
Las Vegas Shoe Shine Girl
DB Bourbon
Casa Mexico Tequila
Chreamistry
Sarah's Cookies
Blast Gum