Alyson Dutch, one of the nation's top consumer product PR mavens, presented the Consumer Product Event "Left Coast Holiday Gift Guide," with an exclusive group of products for press who are gathering content for their annual holiday gift guide editorials and new product pages. Some of the brands onhand included Rachel Zoe Box of Style Cosmetics, Fine Art, Eco Couture, Handmade Luxe Bags and more.
This media salon connects reporters to curate products and the entrepreneurs who created them. What a great opportunity for brands to connect with the most influential media.  Consumer Product Events was developed to save marketers the costs of a year-long PR retainer and to help reporters easily gather all the products and interviews they need for their annual news cycles.
See all the Products and Brands included in the showcase, which includes:
Valleau Apparel, Anam Caras, KleanSpa, Not Ketchup, Pod Tune, Bohlux, Snack It Forward, Deborah Lindquist, Brave Chick, O.R.G. Skincare, SHE Beverage, Slime, ShoeCandy by Kara Mac and more.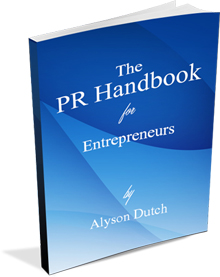 Alyson Dutch is author of the PR Handbook for Entrepreneurs –
www.PRHandbookForEntrepreneurs.coms was established in 2009.
Held at Loews Santa Monica Beach Hotel, "Holiday Gift Guide Gear" is one of five Consumer Product Events this year where products are introduced directly to reporters and whose exhibitors are provided with the press contacts to do their own PR.
This year's upcoming events include: "Baby, Kids & Toys" on September 2nd and "Valentine's Day Gift Guide" on October 7th both in New York City.
Consumer Product Events connects consumer packaged goods with the press who are looking to report about them. Created by a PR veteran whose clients have included everything from Champagne Mumm and Mrs. Fields Cookies to the Swatch Boardercross Tour and red carpet events with Elton John, Sting, and Michael Douglas –they are matchmakers for products and reporters. The most highly targeted PR investment available, our events cover over 15 industry categories and expose products to the most influential reporters in just one day.
Click here to go to the website for more info to see how you can be involved: Consumer Product Events