The Secret Room Events presented their annual Golden Globes Style Lounge at the lavish SLS Hotel in Beverly Hills on in honor of the upcoming Golden Globe Awards on Sunday.
Secret Room Events is known for producing exclusive events surrounding major celebrity awards shows, movie premieres, product launches and private entertainment industry related events and was voted "best gift suite" by Huffington Post magazine. This private, invite-only event entertained and honored talent, stylists, and musicians, along with the media in order to bring awareness to the events charity sponsor Farm Sanctuary.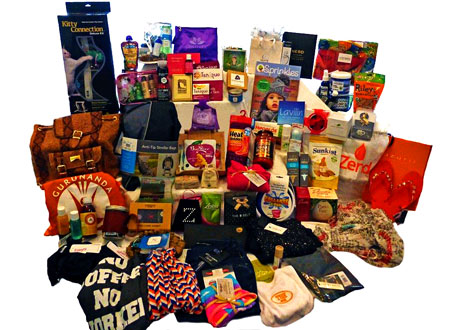 Farm Sanctuary is a non-profit organization that frowns upon factory farms and stockyards that imposes inhumane and unethical procedures to farm animals. Farm Sanctuary is on a mission to elicit a shift on how society views and treats farm animals, protect farm animals from cruelty and promote compassionate vegan living. They have three sanctuaries where they house and care for rescued farm animals in Watkins Glen, New York, Northern California (Orland), and the Los Angeles Area.
Farm Sanctuary is the nation's largest and most effective farm animal rescue and protection organization, and is avid in reaching out to legislators and businesses to bring institutional reforms. To learn more about this morally stimulating charity visit www.farmsanctuary.org
Farm Sanctuary President and Co-Founder Gene Baur states "Farm animals are smart, emotional animals just like the dogs and cats we share our lives with, and they deserve to be treated with the same respect and compassion." several of this year's award nominees such as Joaquin Phoenix, Jessica Chastain, Woody Harrelson, and Allison Janney are vegan themselves and have spoken out in support of farm animal protection and the Farm Sanctuary vision.
Hope For Paws is a non-profit organization dedicated to aid in the care for neglected and abused animals. Audrey and Eldad Hagar have been fostering hundreds of animals in their home for the past eight years and created a worldwide network through their Facebook page to help our suffering furry friends. The Hagar's have a vision of a harmonious world where animals and humans can sufficient lives alike. To learn more about or donate to the Hope for Paws cause visit www.Hopeforpaws.org.
Some of the stellar attendees included:
Adina Porter Nominated TV show "True Blood", Ashley Argota "The Fosters" Nominated TV show, Jason Ritter "Parenthood", Jenji Kohan Nominated for the "Orange is the New Black", Josh Brener Nominated for "Silicon Valley", Mark Feuerstein "Royal Pains", Mekhi Phifer "Divergent", Neil McDonough "Suits", Omar Dorsey nominated for "Selma", Beau Casper, Ronit Elkabetz "Best Actress" & Shlomi lkabetz" Best director" Nominated for 'Gett: The trial of Viviane Amsalem.
Platinum Sponsors included Big Slice Apples, Moxie Jean, and Derma e Cosmetics.
Big Slice Apples are a new healthy on the go snack that will revolutionize how you snack. Wholesome cooked kettle apples come in 16 different flavors while being Non-GMO and gluten-free you can take health wherever you go. www.BigSliceApples.com
Moxie Jean was voted the #1 site for online resale, starting off with reselling baby clothing to help communities save money and the environment. Founder and CEO Sharon Schneider boast that Moxie Jean has "Great clothes from your favorite brands and designers, in the sizes you need, when you need them. When you're done, we'd love to help you pass them on to another family." To join the environmental friendly exchange visit www.Moxiejean.com.
Derma e® brings you the finest healthiest ingredients to elicit the finest and healthiest skin for the world to shine. Derma e has a variety of formulas to fit your personal skin type. Each Derma e formula is paraben-free, phthalate-free, GMO-free, gluten-free, sodium lauryl sulfate-free, petrolatum-free, mineral oil-free and dye-free to give you healthy beautiful skin. www.dermae.com
Trinfinity 8 Rejuvenation Technology is an anxiety and stress reducing system created by clinical psychologist Dr. Kathy J. Forti that uses soothing music, relaxing visuals, and spiritual crystals to input frequencies into your DNA that promotes relaxation. This Bio-Energetic device that transmits streams of coded data through your computer's USB port. From there a digital translator decide sends out information to the body through their hand-held quartz transmitter rods. These rods produce a subtle energy effect which aids in skin hydration, warmth, and to attain a deep meditative calm. It increases awareness while helping individuals attain a state of "self-balance" while working to restore all vitality. One to two 30-60 minute sessions per week is ideal. Their unique technology has over 5,000 bio-energetic rejuvenation formulas and also a quantum interface which magnifies user intent. For more information please visit www.trinfinity8.com
A fav! MicroTouch – All-In-One Groomer, gifted celebrities the MicroTouch 'Switchblade'. Perfect for full-body head-to-toe grooming, for that perfect 'man-scaped' look! Included are full size and micro precision trimming heads to make it easy to get barbershop grooming at home. Brett Favre is a fan! www.MicroTouchGrooming.com.
Golden Girls Jeans were hot! It is a jean that is very fashion forward, comfortable and can be worn by any woman. The specialized fabric contours to any shape beautifully and size body and is designed to be worn at any age. It has been created as a pull on pant without that pull on look. www.GoldenGirlsClothing.com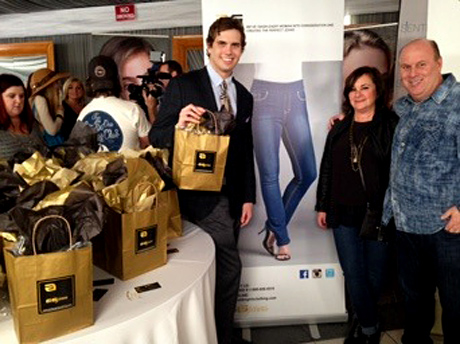 b
Guests and talent where gifted from a wide range of luxurious products such as the B-Belt which is a trendy accessory that takes away the frustration of carrying around a handbag everywhere you go.  The B-Belt comes with three hidden pockets to concise your wardrobe and is adjustable to fit around your waist or hips. To get your B Belt in any of their variety of size and styles visit www.thebbelt.com.
The Stella Carakasi collection features designs for real women with silhouettes that flatter, and innovative design details. It is a line influenced by European architecture and boasted by its affordable luxury, visit www.stellacarakasi.com to expand your wardrobe today.
Chasensully is an online retailer offering moderate contemporary women's clothing at an affordable price. Chasensully also sells handbags, jewelry and scarves with a unique and worldly appeal get yours today at www.chasensully.com.
Phil & Teds is a world leader in world's leading inventors, designers and marketers of juvenile products. They are also affiliated with Mountain Buggy and Mokopuna which also sale state of the art juvenile products. www.philandteds.com .
Bain de Terre is the only paraben-free hair care product with the power of nature that has a highly effective range of color-safe hair care & styling products that offer significant reparative benefits for every hair type. www.baindeterre.com
Zend empowers companies to innovate faster. The Zend Server equips development and operations teams with the infrastructure and insight needed to accelerate application releases, and provides PHP applications with capabilities that allow high levels of performance, both on premise and in the cloud. www.zend.com
Jennifer Reeves designs founder Jennifer Reeves was inspired by the natural brilliance of her world region of Australia. Jennifer is avid on supplementing the world with authentic jewelry made from the most elegant organic materials on earth. www.jreevesdesigns.com
Younique was created by brother and Sister Derek Maxfield and Melanie Huscroft in order to empower women to be beautiful internally and externally through high quality products without putting a dent in your wallet. www.youniqueproducts.com
RX Clinical Cosmeceuticals is a cosmetic company on a mission to beautify the world inspired by nature in order to preserve nature. Rx clinical devoted to not testing their products on animals, including only the most natural ingredients in their products and promoting skin health awareness to the world. www.rxclinical.net
DelGrosso Foods is a family owned company making authentic old-world Italian Immigrant pasta sauce since 1914. Since then Delgrosso foods have expanded into a plethora of meal making sauces while holding on to the family values that started it all. www.delgrossofoods.com
Devine Gallery founder Susan Devine has developed a loyal kin and reputation as an authentic Southern California artist. Susan being a southern California native includes in her repertoire, iconic landmark scenes of Southern California, La Jolla and Mexico. www.devinegallery.com
Body & Soul natural haircare offers a wide selection of personalized hair care, skin and cosmetic services, luxuriant and innovative spa treatments for both men and women. Their service is excellent and they carry a large selection of name brand hair and skin care products for both men and women, featuring our own proprietary product, Charlene's Butter Balm. www.bodysoulbeauty.com
Belli Vita helps capture the most precious memories of a women's life with their blown glass or hand painted porcelain pregnancy bowls. Belli Vita's amazing technique allows you to capture a visual memory in a highly artistic manner, documenting the exact shape of your belly and possibly the position of your baby. www.bellivita.com
Sente Inc has formulated a medical grade, hypoallergenic, fragrance free product that is perfect for your practice and patients. They have integrated science with their beauty products; I highly recommend their beauty line. People of all ages and skin types who want to improve the tone, texture, and overall appearance of their skin should use their Dermal Repair Cream. www.sentelabs.com
Snack it forward is a snacking movement with the mission to create and deliver delicious premium healthier snacks as well as to promote sharing which will improve our nation's overall health. Sunkist Fruit 2.0 has 100% real shelf stable and crunch fruit that can be enjoyed on the go. Sunkist has also come out with their Sunkist Blends which are a fusion of natural and yummy ingredients including nuts and dried fruit; this is truly a gourmet trail mix. www.snackitforward.com
Tanique is an established salon in the Bergen county, NJ area offering UV Tanning, Sunless Tanning, and Light Concept Nail Services. Renown for customer service Tanique always puts the customer first. Whether you are getting a base tan for vacation, sunless tan for an event, or your nails done for yourself, Tanique will help you get the results you need. www.tanique.com
Colourburst.com is a printing company that is passionate about guiding its clients to create what they envision through great customer service and reassurance of what is produced in every stage of development. www.colourburst.com
Ioma distinguishes itself as a pioneering, respectful, and exacting brand by offering luxurious personalized skincare kits made with active ingredients at maximum concentrates in order to create measurable results with total certainty. www.ioma-paris.com
Sleep Belt is a PTPA Winner and Champion of the Center for baby wearing studies. Sleep belt is a hands free skin-to-skin support system and nap wrap that gives your baby sound sleep while allowing you to use your hands in whatever you need! www.sleepbelt.ca
Heat Holders are natural socks that are over 7x warmer than regular cotton socks and 3x warmer than ordinary thermal socks. They are the efficient choice in keeping your feet cold free than heated, electric, or battery operated socks due to the lack of electricity needed applications. To keep your feet from ever freezing again visit www.heatholders.com.
GuruNanda is oil pulling cleansing system that aids in ridding the body of the toxins we encounter in everyday life. GuruNanda is a 4 step PURE system that uses Perspiration, Urination, Respiration, and Excretion to relieve the body of toxin buildup. www.gurunanda.com/oil-pulling
Kathy Fielder is a trendsetter designer that embodies family values and quality lifestyle through her handcrafted domestically manufactured products. www.kathyfielder.com
Many great brands were included in the takeaway celebrities gift bag, and included s wide selection of goods from:
Demes
Farrwest
Baby paper
Nubru Coffee
Nerd Skincare
Green soap Inc
Eveden.com
Container Store
From Phoenix with Love
Magna Fashions
Wondrous Crystals
Bagito /Reusable Solutions
Chloe Wine collections
Hipoglos
Diane Addison Candles
Marina Cottage Soap co Inc.
Lola Blue
Kortica
The Best Deodorant in the World
Pedisavers
Icelandic Glacial
Sprinkles Magazine
MD Complete
Mobile Bay Collection
Judi Cakes
Conscious Step
Wellin Hand Action Remedies
Zashadu
CollapseAPail.com
Nummy Tum Tum
Lavilin
Evian Facial Spray
Focus Haircare
Onestepahead.com
Wicked Bonbon
Riley's Pet Products –Riley's organic
Babette
Uzurii Luxury Footwear
Innovation Pet
Ranch Organics
Scent shop
Clifbar
Signature Little Ones Inc
Lil' Green Girls
Leota
Innovus Pharmaceuticals
Zipsessory-zipsessory.com
Letarte Swimwear
Focus Haircarer
More Information on Secret Room Events: www.secretroomevents.com
Secret Room Events is known for hosting one of the best gifting lounges for a variety of celebrities and VIPs. The company specializes in presenting luxurious gifts directly to celebrities. The marketing experience enables vendors to interact and get exposure through media and some of Hollywood's biggest stars. In addition to the experience, guests of Secret Room Events always get gifted a special hand delivered nominee basket with some of the best products on the market today.