The originators of the gifting suites craze 15 years ago, the LA-based entertainment marketing company Distinctive Assets, once again produced the annual Official talent gift bags and backstage gift lounge for the 56th Annual GRAMMY Awards®. This year's sponsor was MTG, makers of innovative beauty tools, along with Max Martin luxury shoes.
The legendary show's presenters and performers visited the lounge over the 3-day rehearsal period leading up to the The Grammy Awards and were gifted fabulous swag as a way to honor them. Brands across the country as well as from around the world, got a chance to get celebrity exposure for their products, not to mention great media attention.
"To be a small part of Music's Biggest Night® is a total thrill and honor," says Distinctive Assets' founder Lash Fary.  "It is particularly gratifying that our gift distribution at the GRAMMY®s is viewed by the industry as the crown jewel of celebrity gift lounges and has become a perk anticipated by talent."
The Distinctive Assets Grammy was beautifully decorated as always; this time, natural elements utilizing reclaimed, recycled, repurposed and eco-friendly furnishings with lush foliage and hinting of Southeast Asian accents, provided by Revamp & Revive and Bo Tree.
Other Lounge gifts included fabulous brands such as (click to read about them and view images): Gibson Brands, Fabi Fabi phone cases fusing jewelry + mobile accessories along with Fabian cufflinks, iHome Bluetooth portable FM stereo boomboxes, Gramovox – the world's first Bluetooth Gramophone, MiP by WowWee, ZB Savoy Gentleman's Gift Box (bowtie + necktie + pocket square), BioXgenic Nutritional Supplements, the hottest designer sunglasses from SOLSTICE Sunglasses, a year's supply of 5 Gum, SIS by Simone I. Smith crystal candy pendants, Odoyo PowerShell recharging cases, Non F Energy Cream by McCoy, and a Las Vegas Ultimate Entertainment Package including tickets to the city's hottest shows and gift certificates to be used at Vegas' best restaurants. (Click to view)
Additionally, back by popular demand, each Lounge guest will have the opportunity to win a special gift via the GRAMMY Gift Lounge Sweepstakes.
To view the great Vendors/Brands and celebrities that attended, click:
Official Grammy Lounge Featured Great Brands and Innovative Products by Distinctive Assets for Grammy Stars
The Fabulous Brands at the Official Backstage Grammy Gift Lounge by Distinctive Assets
More Great Brands at the Distinctive Assets 2014 Annual Grammys Official Backstage Gift Lounge
Talent will also walk away with a pre-assembled GRAMMY Gift Bag (Click here to read about these great brands in depth!) which will represent a diverse portfolio of brands ranging from unique to useful.  The gift selection will include items from: Defiant Whisky, Claire's/Make-a-Wish Foundation, Yankee Candle, SOLEBANDZ, Windex Touch-Up Cleaner, JBL Headphones, Blossom Blends, Conillin Chocolates, Healthy Life Seasons featuring Go*Lo Foods, Electrokidz by WowWee, PEOPLE Yearbook, Music Connection, Paperblanks Journals, LOADED: The Story of a Ghost, BioXgenic, Norwegian Cruise Line, Imanta Resorts, The BrewsKey, "Feel the Music" by Ron Kennedy Roecker, Nick Graham, Mama J Vox Box, UrgentRx, Heather Lounsbury's Live Natural Live Well, David Forman Project, Dosha Pops, Sole Goddess, Tervis tumblers, Innies, Lance Christopher Hair Design, NEET sleeve, CamiWraps, Banana Republic Sunglasses, Narrative Clip, Hydroxycut Gummies + Protein Bars + Lean Protein Shakes, Polar Loop, NightBird Recording Studios at the Sunset Marquis Hotel, senz˚ umbrellas, Dapper Classics and Kohler Moxie Showerhead + Wireless Speaker.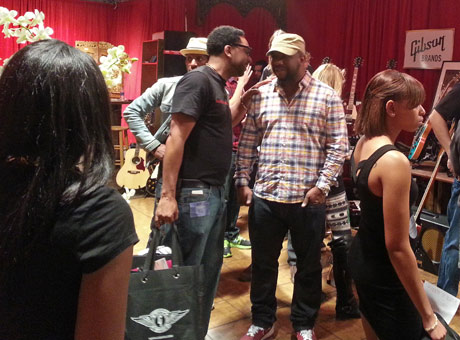 Distinctive Assets
Established in 1999, Distinctive Assets not only produces the Gift Bags and Backstage Gift Lounges for many major award shows but also provides product placement, product introduction, event production, public relations and branding opportunities within the entertainment industry and beyond. www.distinctiveassets.com
And even those who aren't GRAMMY presenters or performers will be treated to a goody bag of their own when they attend the GRAMMY Celebration — The Recording Academy®'s official After Party.
www.DistinctiveAssets.com