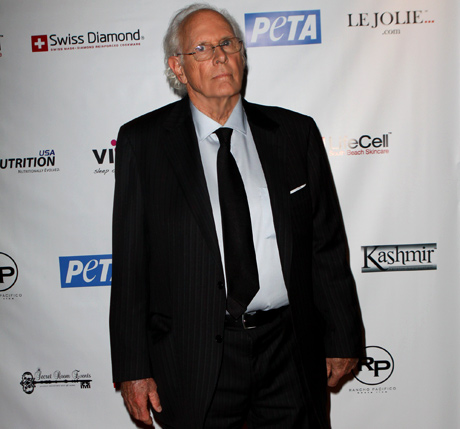 Secret Room Events honored the nominees and presenters with this year's Secret Room Style Lounge for the 2014 Golden Globe Awards. This year, PETA was featured as their charity of choice, which was held at the SLS Hotel in Beverly Hills.
Animal rights charity PETA (People for the Ethical Treatment of Animals) is the largest charity supporting animals in the world with over 3 million members and supporters. PETA work on a number of other issues including cruel killing of beavers bids and other pests and of course cruelty to other domestic animals.  Celebs posed for PETA's instagram and received t-shirts with slogans like "Mutts Rule. Always Adopt, Never Buy" and "Adopt. Don't Buy. Breeders Kill Shelter Dogs Chances."  For more info on PETA please visit www.peta.org.
The event also featured a glamorous pet lounge where nominees, celebrities and guests were gifted luxurious pet supplies and walked away with gift bags from over fifty gift bag sponsors.
Platinum Sponsors were South Beach Skin care featuring their highly-acclaimed Lifecell and Le Jolie.
Lifecell gifted two of their most popular products: the LifeCell Cooling Under Eye Treatment, with skin-strengthening ingredients, which works immediately and over time to smooth and brighten the eye area. Its ultra-cooling metal applicator refreshes and reduces puffiness. And, Lifecell's All-in-One Anti-Aging Treatment, clinically formulated to target and repair signs of aging. Clinical-strength DMAE, Retinol and Vitamin C Ester work together to stimulate collagen production, firm and sculpt, and virtually diminish the appearance of fine lines and wrinkles.
Le Jolie feature men, women and kids designer brands. With designer brands from Chanel, Hermes, Louis Vuitton and Ferragamo, anyone can wear a name. They offer unique flex pay system which means anyone can afford to wear designer brands.  www.lejolie.com.
Guests and talent where gifted from a wide range of luxurious products which included Swiss Diamond kitchen ware who handed out their frying pans which are ranked number one in non-stick cookware.  The pans are coated and reinforced with real diamonds for a long lasting natural non stick surface and are great at heat conducting and come with with a limited lifetime warranty.  www.swissdiamonds.com.
Paris-based luggage manufacturer Delsey gifted one of their carry-on spinner trolleys to each guest. This durable piece of luggage, which is sized to be a carry-on, has four wheels for easy mobility when traveling and come in a variety of colors and styles. Great product! www.delsey.com
With over ten years of experience GT Nutrition USA is a new US-based company which help athletes and non-athletes achieve a healthier lifstyle with simple dietary supplements.  They gifted MCT Power, a Medium Chain Triglycerides product that rapidly converts into energy and supports healthy weight management. www.gtnutrition.com 
Bohemme a free spirit jewelry company brought a wide variety of their stunning pieces and where gifting celebrities with earrings necklaces and rings from their glamorous collection. For more information visit  www.bohemme.net.
Bringing their new line of vacation must haves (V.I.P Very Important Protection), Joey New York where gifting celebrities and guests with sunscreen and other products from the line.  With exotic smelling ingredients, these oil-free sunscreens will leave you smelling like you are on vacation every day. Love this line. www.joeynewyork.com.
Award winning perfumes Le Maison Hayari partnered with French fashion house Hayari Couture where where showcasing some of their designs and where gifting celebrities their classic perfume.  www.hayariparis.com
Maggie Moose Track is a collection of ongoing and inspirational children's books with full color illustrations page to page to keep the little ones entertained for hours.  www.maggiemoosetracks.com
Tasmanian-inspired jewelry Francesca for all occasions, designed by Hannah, who has had the desire to make and sell her jewelry designs since the young age of sixteen.  The arm candy in classic couture and bridal are always expanding and being updated, purchase a stunning piece at www.francesca.com.au
With a wide variety of organically grown and natural products Favor Care Organics provide a direct home delivery service which was established in 1997 and are now one of Singapore's established retailers or organic food products.  www.favorcare.com.sg
ISO Professional Hair Appliances where giving away their professional limited edition Peacock Ceramic Flat Iron, with vibrant, bold colors and heats to over 400 degrees so anyone can have the salon straight look at home. Because it is ceramic, it will not damage your hair. For other hair styling tools from ISO beauty visit www.isobeaty.com.
Kashmir Keratin Hair Treatment a Keratin based formula that repairs the hair penetrating deep in the shaft to strengthen and renew the hair from within.  Keratin helps to restore the hair to its natural and healthy condition leaving your hair natural stronger and eliminates oils.  www.kashmirkratin.com
FAIRICHE Skin Care range has a product for everyone from reducing scars, acne marks and sun damage to keeping skin looking luminous, this wide range is dermatologist tested and not tested on animals, paraben free and light weight. www.fairiche.com.
Sage Stone Botanical's organic body care have a complete range of lotions soap and shower gels  which also come in gift sets and are 100% organic and natural for all skin types, even the driest of skins for protection from the daily elements.  www.sagestonebotanicals.com.
Astara Skincare is a natural skincare regime made from organic plants, sea extracts and flower essences with the belief that the human body is a self healing organism the products are created to work with in harmony with our body's.  www.astaraskincare.com.
Stephanie Henry was showcasing her book If Only I Could Sleep in which she shares her story about her on abuse and her extraordinary fight for survival and childhood sexual molestation.  Find Stephanie's book on Amazon.
DNK Skin Care Beverly Hills-based consultancy company educates men and woman on the best beauty products for the individual's needs.  Clients can book appointments and receive a number of treatments from chemical peels and facials to spray tanning and eyelash extensions.  www.dnkskincare.com.
Believing that everyone deserves the best skincare, Daisy MD Skincare takes pride in using the finest equipment to improve your skins appearance.  Daisy MD helps with acne, rosacea, sensitive skin and discoloration with specific treatments for selected areas of the face. You can visit her in Beverly Hills on Rodeo Drive for all your skincare needs, from this renown skin care expert! www.daisymdcare.com
Mineral-based make up by Cate McNabb Cosmetics from Chicago were gifting items from their cosmetic line and helping guests with makeup hints and tips on the day.  The line was first started with handmade products in small amounts and tested by professional makeup artists at top style events in Chicago.  Cate McNabb Cosmetic allows skin to breathe and accentuates natural beauty.  www.catemcnabbcosmetics.com.
Delicious gluten-free fudge comes in a number of amazing  flavors from Offenbacher Fudge. Try the Original Fudge and Peanut butter, or more unique and whimsical flavors featuring Mango Raspberry and even Champagne flavor.  www.offenbacherfudge.com.
With the best selection of exotic trips around the world this year, celebrities were gifted an fantastic seven-day trip to Rancho Pacifico, Costa Rica.  www.ranchopacifico.com
With one-of-a-kind gemstones, jewelry designer Jill Reno travels internationally, collecting the precious stones used in her elegant pieces of jewelry.  Jill donates 10% of all her sales to a chosen charity helping the vulnerable.  www.jillrenocollection.com
Providing affordable and effective 100% natural and Eco-friendly beauty solutions, Zen Society Skincare company have beauty products for the face and body.  A percentage of the profits fro sales goes to the Friends For Earth to help fight for sustainability.  www.zensocietyskincare.com.
Global Gaming Initiative is a mobile based game developing company who donate money to charities with each game downloaded so you can have fun while giving back.  www.globalgaminginitiative.com.
Kids hair products Glop & Glam are a fantastic parent approved organic and 100% natural hair care line just for the next generation.  This safe young brand has a number of fantastic smelling shampoos, conditioners and hair gels for toddler's tweens and teens.  www.glopandglam.com.
Founded in 2008 Masik Collegiate Fragrances create signature scents for men and women for collages.  Scent are created especially for specific schools and are licensed by each university so a percentage is put back in for sponsorship funds.  www.masik.com.
Custom-made diamond jewelry and watches designed and made by high school sweethearts Craig & Shelly, are crafted step-by-step, with the customers being a part of the design process from start to finish. Made right here in the US, all the hand-crafted designs are made with quality diamonds and set in platinum and gold.  www.craigshelly.com
Twin sisters Kimberly and Lucy have a shared passion for jewelry and have combined their middle names and come up with their brand Dao Fournier in an east-meets-west line of exquisite designer jewelry.  www.daofournier.com.
Delectable hand made fudge from Niagara's Honeymoon Sweets is created in the honeymoon capital of the world, Niagara Falls.  Passionate about chocolate Niagara's Honeymoon Sweets pay attention to detail and have come up with a variety of confections. www.niagarashoneymoonsweets.com.
The glamorous pet lounge from PETA included some fantastic pet gifts from Organic Oscar who have a range of organic products for dogs including Oatmeal Shampoo, Aloe Vera Shampoo, pet wipes and many other healthy organic and natural products to keep your dog clean while being environmentally continuous.   www.organicoscar.com.
P.L.A.Y – Pet Lifestyle and You have worked on designing the best pet bed possible for dogs all shapes and sizes for the most comfortable sleep your pet could have. They also carry a number of inventive pet accessories and toys for your furry friend.  www.petplay.com.
Pioneer Pet Products started over twenty years ago with Betsey Lipscomb with the idea of enhancing and stimulating her cats imagination. Now with a colorful array of products based on monitoring the behavior of cats, there is a great fun selection to choose from for your pet.  www.pioneerpet.com.
Vivon and Sealy have both come up with a memory foam pet pillow just like their mattresses now for your four legged friend to sleep in the same comfort as you, with a number of different sizes to chose from your lucky pet can sleep soundly and in comfort. www.godogbeds.com  www.vivon.com.
Now the original creator of Bed Head has come up with an edgy and modern line for your pets called Pet Head with a range of colorful cleaning products to keep your cat or dog smelling fresh.  www.pethead.com.
Other great products included The Fifth Paw, a helping hand when taking your dog for a walk www.thefifthpaw.com
DWP dog products www.dwp-dwp.com, where showing various dog products for you and your dog.
Odor control system for cats, The Purr-ifier  www.thepurr-ifier.com.
Celebrities and guests also received an incredible gift bag as they left the event, along with all the other fabulous gifts, from:
* Amamante! Nursingwear
* Food Should Taste Good
* Crabtree & Evelyn
* Just for Red Heads beauty products
* Nursingwear by Lorenza Filati. Fun, flirty, functional nursing fashion.
* Tuvaluhome
* Letarte
* Ponytail pals
* Klassy Kouture
* Kernel seasons
* Pela case
* Musq Cosmetics
* Go! Sac duffel bags
* Byron Bay Cookie company
* Serenity Skincare, natural & organic
* Next Pharmaceuticals
* Wendell Estate Honey
* One-step Ahead
* Couture By Sophie
* Nocturnal workshop
* Thorlos/Experia socks
* Therasage
* Skini-inc.com
* Beverly Hills Cosmetic and Laser Center
* Brown books publishing group BBPG
* RX Clinical Cosmeceutials
* Made by my Dad introduces Frogglez Goggles
* Concealed Carrie
* Mary Jurek Designs, Inc.
* Make my Day Beautiful! Cosmeceutical Skincare and Makeup
* Bootzies
* The Mug Hugger
* Ending Addition for Good
* Grandma's secret spot remover
* Terry Top
* Eco eggs by Maud Borup
* Pretzel  Perfection
* UPF sunshop
* Pursenal Butler Purse Stands and Accessories
* Box Sox
* Southern Belle Boutique
* Gas light Popcorn
More information on Secret Room Events:
Secret Room Events is known for presenting one of the best gifting lounges for a variety of celebrities and VIPs. The company specializes in product placement and focuses on presenting luxurious gifts directly to celebrities. The marketing experience enables vendors to interact and get exposure via a large amount of media and some of Hollywood's biggest stars. In addition to the experience, guests of Secret Room Events always get gifted a special hand delivered nominee basket with some of the best products on the market today.
For more information please visit www.secretroomevents.com.
~~~~~~~~~~~~~~~~~~~~~~~~~~~~~~~~~~~~~~~~~~~~~~~~~~~~~~~~~~~~~~~~~~~~~~~~~~~~~~~~~~~~~~~~~~~~~~~~~~~~~