Celebrate national Yoga Month at Terranea Resort with a special event by the sea. Terranea is Los Angeles' premier oceanfront resort, located on California's Palos Verdes Peninsula. Amid unparalleled Pacific Ocean views, enjoy Free Yoga classes throughout September!
In honor of September's National Yoga Awareness Month, Terranea Resort is partnering with LA Yoga and Find Bliss Magazine to host what is anticipated to be Los Angeles' largest outdoor yoga gathering on Sept. 29. In addition to the special yoga day, Terranea will be offering complimentary yoga classes at the resort throughout the month.
Seasoned yogis and beginners alike are invited to participate in the day, which will include yoga on the 16,000-square-foot oceanfront Palos Verdes Meadow, lead by Terranea's fitness experts. The class will be held at 2 p.m. and will emphasize the most current moves and techniques. The event is open to the public, free of charge. Attendees should bring a yoga mat.
Following the class, participants are invited to enjoy refreshments at The Spa at Terranea and attend a trunk show featuring lululemon and preview items available for the upcoming holiday season. A book signing with guest yogi and author Leeann Carey, for her book The Yapana Way, will also be held. Participants will receive a goody bag featuring a variety of products and special offers and be eligible for a drawing to win one of several prizes including a pair of Tieks and an overnight stay at Terranea Resort with 60-minute spa treatment, valued at $700.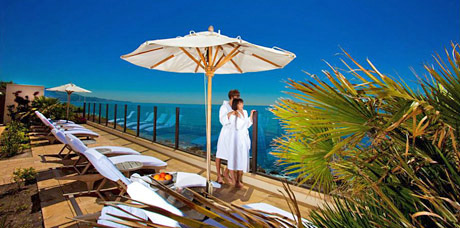 During the month of September, Terranea Resort is offering individuals a complimentary yoga class at the oceanfront yoga movement studio at The Spa at Terranea.  Classes will be offered four times a week, at various times, with options available for all skill levels. A schedule of the classes offered through September is available online. Advance reservations are required.
For more information about the Terranea and LA Yoga Outdoor Yoga event or for complimentary class reservations, contact The Spa at Terranea at 310-265-2740.
About Terranea Resort
Terranea, Los Angeles' premier oceanfront resort, is located on California's Palos Verdes Peninsula. Amid unparalleled Pacific Ocean views, guests enjoy world-class accommodations with 582 rooms that range from hotel suites to bungalows, oceanfront casitas and spacious villas, which are also available for purchase as seaside second homes through Terranea Real Estate.
Amenities include The Links at Terranea, a nine-hole par three golf course; award-winning 50,000 sq. ft. oceanfront spa and fitness center; three swimming pools and a 140-foot waterslide; marea luxury boutique; 135,000 sq. ft. of conference and meeting space; and eight dining venues, including signature restaurant mar'sel; Nelson's, a cliff-side spot ideal for whale watching; and Asian-inspired bashi.
The resort's innovative activity center and adventure concierge, Pointe Discovery, lets guests discover and explore Terranea's rich terrain with miles of scenic coastal trails, secluded beach cove and ocean environment. Fun, enriching programs and activities such as habitat photography, falconry, kayorkle and paddle boarding also abound.
Terranea Resort is owned by a joint venture comprised of Lowe Enterprises and JC Resorts and managed by Destination® Hotels & Resorts. For more information, visit www.terranea.com, call 866.802.8000 or follow Terranea on Facebook and Twitter.