Zen Monkey is on LA's The Place "THElist 2012, top pick for Best New Healthy Food Item
Imagine a breakfast you just grab and eat that's not only guilt-free but actually healthy. Zen Monkey is the perfect balanced breakfast because it contains a combination of the best ingredients, and are NON GMO! Whole Swiss-style oats that are raw and soaked, not cooked, plain non-fat yogurt, whole fresh fruit, a pinch of agave nectar, and spices make up a Zen Monkey breakfast. And it's delicious! One bite and you will be hooked!
Zen Monkey is a breakfast that can keep you full until lunch and is refreshing and delicious. There are three flavors available: Strawberry Spoon, Blueberry Spoon, Apple Cinnamon Spoon. Each bite had fresh pieces of fruit that are so flavorful.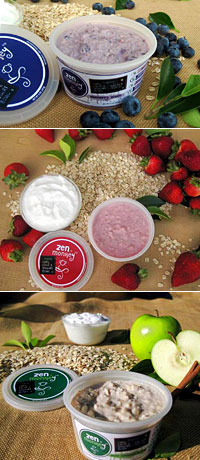 Perfect New Year's Weight Loss Ally!
With the New Year almost here, those New Year's resolutions of getting healthier and possibly shedding a few pounds. And a balanced breakfast is a great way to start the day and keep your metabolism running strong. Their creamy non-fat yogurt is made with fresh, Grade A all natural Real California Milk and contains live probiotic cultures that enhance digestion.
Zen Monkey is simple too as its pre-packed and ready to go! Some of the health benefits of oatmeal are lowered cholesterol, stabilizing blood sugar, and boosting immune system health.
Another great fact is a Zen Monkey breakfast is only 270 calories for the whole container! (10 grams of protein, 5 grams of fiber, only 3 grams of fat)
Zen Monkey began at Farmers Markets and now available at four Whole Foods locations for $2.99 in Southern California and is quickly expanding.
Zen Monkey is on a mission to get people healthier, slimmer, and feeling better. Zen Monkey comes in three great flavors: Apple Cinnamon Spoon, Strawberry Spoon, and Blueberry Spoon.
You can find out more about Zen Monkey at www.zenmonkeybreakfast.com