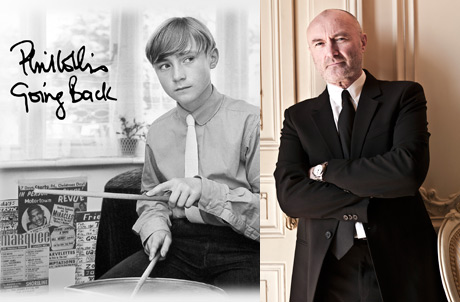 Written by Susie Salva
Atlantic recording artist Phil Collins has announced the U.S. release of his hugely anticipated new album, "Going Back" on Atlantic Records. The former Genesis singer, songwriter, drummer, producer, actor and solo superstar Phil Collins's new solo album of Motown covers is a wonderful compilation and collection of musical nuggets in one place and album. This is the legendary artists' first full-length solo work in eight years. "Going Back," is a deeply personal labor of love that finds the eight-time Grammy winner faithfully recreating the Motown and soul music that played an influential role in his creative life.
This CD finds Collins' characteristic scratchy, velvety,  sweet voice in rare form. While this could be considered a collection of cover tunes like that Rod Stewart has recorded on several recent albums you can tell on "Going Back," Collin has put together some of his favorite tunes which truly resonate with him. With the success of songs like, "You Can't Hurry Love," which he had covered in the past Collins is putting forth material and his musical prowess  on the recorded material herein that is a must for all Collin fans.
The disc features music from super songwriters (Edward Holland Jr., Lamont Dozier, and Brian Holland), Stevie Wonder, Smokey Robinson, and Carol King. It's so fantastic to have such a collection of Motown hits in one place and so expertly crafted in only the unique styling's of this seasoned veteran Phil Collins.
Songs like, "Girl, Why You Wanna Make Me Blue," "Uptight, Everything's Alright," and "Take Me In Your Arms, Rock Me For A Little While," (made famous not only by Kim Weston but the Doobie Brothers), all showcase Collins' finesse and skill as a seasoned musician using an 18-piece orchestra and lovely background singers as well as his fine drumming technique. Then he switches into sultry mode with two of Stevie Wonder's ballads, "Blame it on the Sun," and "Never Dreamed You'd Leave in Summer." Finishing of the CD is the track, "Going Back" recalls times of days gone by. Collins brought together a big band on the disc anchored by three members of Motown's legendary Funk Brothers studio team-bassist Bob Babbit, and guitarists Eddie Willis and Ray Monette who are featured on the album.
While in the past Collins has paid tribute to his roots by covering some of his favorite songs – including "You Can't Hurry Love, "A Groovy Kind of Love," "Tomorrow Never Knows," "True Colors," and others – this marks the first time in his 30-year career that he has devoted an entire project to the work of other songwriters and performers.
This CD will be available in a number of digital and physical editions, with exclusive extras including 7 bonus tracks, a 90-minute DVD making-of documentary, and limited edition lyric sheet lithograph.
The career of Phil Collins is one that, by any measure, stands among the most creative, prolific, and impressive in the history of modern music. It is a career that really has been many careers – musician, singer, composer, producer, actor – from art rock beginnings to pop stardom, from big band leader to film soundtracks and Broadway. It has been an exceptional musical life spanning four decades, some 100 million solo albums sold (250 million if you count his work with Genesis) an extraordinary string of hits, eight Grammy awards, an Oscar, two Golden Globes, five Brit Awards and numerous industry accolades. For more information on Phil Collins please visit www.philcollins.com