GBK Productions took the phrase "green with envy" to a new level with their star-studded and environmentally conscious GBK Music Lounge that honored 2009 American Music Award nominees and presenters. The event was held in a luxurious penthouse rooftop space above Evo-South, the first LEED Certified condominium in downtown Los Angeles.
Evo-South
Only steps away from LA Live and Staples Center, Evo-South is the new home for those wanting to live right where the action is. Located in Downtown, Los Angeles, the building has some of the nicest rooftop views and balcony getaways. The resort-like amenities definitely make Evo-South the place to be. With rooms ranging from studios to townhouses, Eve-South puts its stamp in Downtown while maintaining a green lifestyle.
Event Highlights
A recipient of the BizBash Award for "Best Gift Bag," GBK pulled out all the stops in producing a hip but environmentally friendly event. GBK's Music Lounge featured an incredible sampling of food, beverage, gifts and (of course) great music. Famed musical mixologist DJ Shy (www.myspace.com/djshy) set a festive tone for the evening.
LA Modern Living/ Plush Lounge, co-designers of GBK's Music Lounge, created a visually stunning experience. The exclusive list of celebrities, VIPs, and invited media guests enjoyed a green environment, complete with eco-friendly organic flowers from OrganicStyle.com. Organic Style also gifted a trademark bag containing a gift card and a variety of eco-friendly products. www.OrganicStyle.com
Lexani (www.lexani.com) gifted a VIP "Black" card that offered a variety of benefits to the recipient. Lexani is a provider of luxury alloy wheels and offers an extensive selection of designs and customizing options.
T.O.O.B (www.thinkoutofbox.com) is a pioneering company focused on evolving the digital experience. They provided the GBK American Music Awards event a one of a kind gaming opportunity with an immersive Omni-directional digital screen that allows for a full range of visual experiences.
Prep Couture
Prep Couture dressed the celebs at GBK's gift lounge with handcrafted masterpieces. Made in Los Angeles, Prep Couture pieces are made with hundreds of Swarovski crystal, hand stitching, rich embroidery and an edgy style that exudes class and elegance. The philosophy of the company is positive messages and greatfulness for the blessings in life.(www.prepcouture.com)
Tecmo Inc:  Working along with T.O.O.B to create a unique digital gaming experience was Tecmo Inc (www.tecmogames.com), a global developer and publisher of interactive entertainment software for current generation consoles, handhelds and digital downloads. Tecmo also gifted copies of Ninja Gaiden Sigma 2, an intensely challenging an action-packed ninja adventure available exclusively for the PlayStation 3 entertainment system.
GBK's Presenting Sponsor Hard Candy (www.hardcandy.com) was in attendance with a celebrity makeup artist utilizing samples from the Hard Candy collection. The feverishly talked about collection features a variety of items, including their Just Nails polishes.Hard Candy products on displayIndulgent Escapes (www.IndulgentEscapes.com) provided luxurious multiple night stays in one of the Mexico or Caribbean resorts. The team at indulgent Escapes is well versed in travel and vacation destinations and applies that wealth of experience when helping clients plan the vacation of their dreams.
100 Candles (www.100candles.com) added a finishing touch to the event décor with their well known vanilla scented and battery operated candles.
Arnold Zimberg
Celebs and invited guests didn't just walk away from GBK's Music Lounge feeling better about the environment; they also looked better with attire from Arnold Zimberg (www.arnoldzimberg.com). Arnold Zimberg, a designer of contemporary woven shirts, presented washed shirts with unusual trims for men and women.
Blessed Charm
Accessories were all the rage as Blessed Charm (www.blessedcharm.com) gifted pieces from the incredible line of jewelry. Blessed Charm creations include handmade sterling silver and 14k gold and diamond jewelry that represents the sentiments of feeling blessed, presenting good Karma whenever and wherever possible.
Silent Gypsy Jewelry had the celebs at GBK's event buzzing over the wide selection of pieces from their brand new collection, featuring a mix of layerable necklaces and rocker pieces. www.silentgypsyjewelry.com).
Michael Stars
The GBK Music Lounge wouldn't have been complete without designer fashions from Michael Stars (www.michaelstars.com) new holiday collection. The two decades old T-Shirt Company is renowned for their inventive design of fitted shirts.
Emilie Sloan
Guests also received a Stasha Carry-All Tote from Emilie Sloan (www.emiliesloan.com). The stylish tote bag is an all purpose accessory, ideal for the beach, gym or even a quick weekend getaway.
The Sampler
No gift lounge is complete without a little intrigue and The Sampler stepped up to the plate with a selection of surprise gifts in every gift bag. Finding out what was in each individual bag was a blast as each featured a unique assortment of handmade items from independent designers, like t-shirts, jewelry, stationary and more!
Glamour Kills
GBK's American Music Awards Gift Lounge also features t-shirts and accessories from Glamour Kills (www.glamourkills.com). With lines that reflect the music industry's rock culture, Glamour Kills designs clothing like t-shirts, hoodies, bathing suits and denim.
Auto Friendly
Often forgotten, celebrity vehicles received their proper share of pampering at GBK's Gift Lounge honoring the American Music Awards. Guests enjoyed the opportunity to personalize their ride with everything a car would need, including automatic detailing products from number one Car Care brands Rain-X (www.rainx.com), Black Magic (www.blackmagicshine.com and Auto Expressions (www.auto-expressions.net). Shell (www.shell.com) was also on hand as they gifted Gas cards.
RevitaLash
Always popular among celebrities, RevitaLash (www.revitalash.com) treated guests at the GBK Music Lounge to their eyelash conditioner that lengthens and thickens eye lashes. RevitaLash also presented their new product, Hair by RevitaLash; it's a conditioner that gives you thicker and fuller hair and was a hit at the event!
Dr. Tracie Battle
Beauty and fitness weren't ignored as Dr. Tracie Battle gifted a $7500 Gift Certificate for dental services plus an at-home whitening treatment kit.
CellCeuticals Biomedical Skin Treatments
Another treat at GBK's event were CellCeuticals Biomedical Skin Treatments from CellCeuticals Skin Care (www.cellceuticalskincare.com). The treatments offer visibly younger skin in just 2 weeks!
Century Sports Club and Day Spa
Century Sports Club and Day Spa (www.centurydayspa.com) gifted $200 gift certificates to their club and spa for massages and detox body scrubs. The spa features the 3000 year old art of Korean bathing and relaxation.
ACE Karaoke
From American Music Awards Nominees to shower session divas, everyone enjoyed singing their favorite tunes during GBK's Music Lounge event, courtesy of Ace Karaoke (www.acekaraoke.com). Ace Karaoke is a leading provider of Karaoke equipment and offers a seemingly endless selection of Karaoke machines.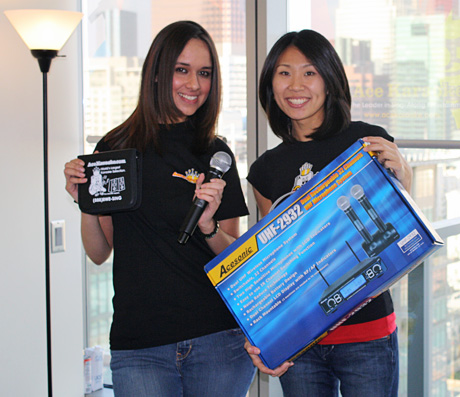 Beezag
A charitable heart and spirit were on display as Beezag (www.beezag.com) raised $3500 for charity during the 2009 GBK Pre American Music Awards Gift Lounge. Beezag is a new invite-only online and mobile service that is revolutionizing the world of advertising. The web site allows people to earn money and rewards simply by watching targeted video ads.
Hireko Golf
Hireko Golf (www.hirekogolf.com) gifted the men one of their best-selling Power Play Caiman Golf Club Drivers or Acer MC4 Putters and to ladies, the Swarovski crystal laden iBella Tiara Putters or iBella Volare Putters.
Tasty Treats
Gourmet highlights included confections by Hansen Cakes (www.hansencakes.com), who served samples and displayed one of their trademark elaborate display cakes fitted to the AMA's Rock N' Roll Theme.
Debrand Fine Chocolate gifted 1 lb. boxes of their classic collection (A favorite treat at Cannes Film Festival) as well as a $50 gift card.  These chocolates are gourmet works of art that are incredibly delicious. From classic favorites to beautiful chocolate truffles to their Connoisseur Collection, Debrand Fine Chocolates has taken the art of gourmet chocolate candy to a whole other level. Truly  a standout in their field.
Debrand President and founder Cathy Brand-Beere explains she grew up in a family deeply involved in the confectionery arts, and her love for chocolate began at age 8, when she started making and experimenting with chocolate and never stopped! Every aspect of her business, from the artisan process of creating their chocolates to the packaging and presentation is held to standards of absolutle excellence. This is the best chocolate, bar none, we have tasted all year! www.debrand.com
Garden of Eating Catering (www.gardenofeatingcatering.com) sampled savory hors d'oeuvres and dessert bites while gifting an invite to use their services for a cocktail party of 10 people.
In a nod to the green theme of the GBK Music Lounge, Yogavive presented their YogaChips; tasty eco-friendly Apple Chips. Dippin' Dots (www.dippindots.com) kept it cool with a flavorful variety of ice scream samples and a $145 gift certificate for use on their website.
Drinking in Style and Luxury
The bar at the GBK gift lounge was stocked with Bean & Body (www.beanandbody.com), a harmonious blend of artisan organic coffee and the powerful health promoting anti-oxidant flavors of pomegranate, acai berries, and blueberries. Unique hand painted bottles of 2Nite Vodka (www.2nitevodka.com) were on hand at the Music Lounge. 2Nite Vodka is premium vodka from a family owned Italian distillery. Celebrities also enjoyed concoctions from Finest Call Premium Cocktail Mixes (www.finestcall.com) and sipping T2U All Natural Green Tea (www.drinkt2u.com) in 3 flavors; original green tea, pomegranate, and citron. Don Pilar (www.donpilar.com) presented their ultra-premium, anejo tequila. And as the night wore on, Monster Energy Drink (www.monsterenergy.com) was there to provide a boost of energy. Guests also enjoyed the thirst quenching taste of O.N.E. coconut water (www.onenaturalexperience.com). O.N.E. coconut water was developed to support the availability of safe, clean water at a global level, donating 100% of the profits (after operating expenses) to non-profit organizations.
Green to the End
The conclusion of GBK's American Music Awards Music Lounge saw Special E (www.thespeciale.com) taking center stage with their recycling efforts. Special E is a unique green business that rescues items that are left over from events, recycling and re-purposing the left over materials in ways that help the environment and people in need.
With each celebrity that became a member during the event, Beezag made a donation to a charity of that person's choosing from the three associated with the GBK gift lounge. They included Okobos (www.okobos.com), Global Green (www.globalgreen.org), and Environmental Media Association (www.ema-online.org).
Celebrites supporting these deserving charities included
La Toya Jackson, Aaron Carter, Twilight star Edi Gathegi, Candace Cameron, American Idol judge Kara DioGuardi, Ugly Betty's Alec Mapa, AMA nominee Anthony B., D. Woods, Weezer's Scott Shriner, Demi Lovato, Karina Smirnoff & Maks Chmerkovskiy of DWTS, Housewives of Atlanta Kim Zolciak, band-mates of Day 26 (band formed by winners of MTV's Making of the Band), pro-snowboarder Louie Vito, season 8 American Idol contestant Jackie Tohn, Colbie Caillat, Melrose Place's Brandon Pierce, Project Runway winner Jeffrey Sebelia, American Idol finalist Elliot Yamin, Julia Anderson, Brittany Flickinger
(
winner of Paris Hilton's My New BFF
) and more.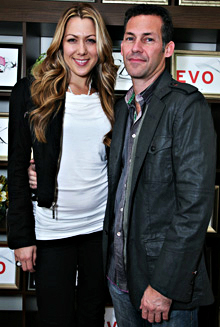 GBK, formerly GBK Productions, is a luxury lifestyle gifting and special events company. GBK was formed in 2000 by Gavin B. Keilly, who continues to serve as GBK's founder and CEO.
GBK gift suites are known for their glamerous ultra suites which are very professionally done with attention to every detail.
Gavin Keilly always see to it that, besides gift giving, GBK give back to charities. He's provided platforms for multiple  charities at each suite, and rallies the stars to help raise tens of thousands of dollars for the charities at every single gift suite that GBK puts on.
GBK has made  "LA's The Place Top Picks for 2010″ in the Gifting Suite category (See list to come out in January 2010). For more information on GBK, visit www.gbkproductions.com.