Will Ferrell. Jon Lovitz. Lisa Kudrow. Throughout its nearly thirty-five year history, The Groundlings have become one of the few genuine birth places for comedians, including the names listed above.
And now, present-day, they still got it. Laffers are out in full-force at the Groundlings "Key Party" to make audience's pulse quicken each weekend with a lively show.
The Groundlings Key Party, directed by Ted Michaels, is a perfect night's fun. Light, relaxing, at times shocking and outrageously funny. And maybe best of all, an essential part of any good date night. Or a ladies' night out. Or just for the guys.
Bringing the Funny
The show, which is cut-up in 19 bite-size morsels, moves briskly over a two-hour period. It only feels long during the unfortunate intermission. But the break is welcomed by the bladder-conscience, who ran for the doors. Goes to show the entertainment is nearly pee-your-pants funny.
The break-neck speed only halts for the biggest jokes. Half the fun is watching the actors race to figuratively and literally get ready for the next pieces.
The show opens with a piece on mistaken identity. The concept is moldy, but as the storyline grows, a fresh spin is brought in and you quickly understand that you're in confident hands. Sit back and relax. Or maybe more appropriately, hold on tight!
From there on, it's go time. We next see a TV commercial where one of the performers' seemingly trademark characters shines with mega-watt potential. During a Coffee Bean rip-off piece, it's so silly it becomes a giggle fest by the end.
Spotlight On
The ensemble is funky and fresh. The men have contagious fun and the women vie for outrageousness, but come together for a mermaid musical number that's too good to be true. The stand-outs include Mitch Silpa, Ariane Price and Timothy Brennan.
In an early sketch that teams Silpa and Price, Price strips down to nearly her birthday suit. The audience explodes. Within the context of the story, you don't know whether to laugh or cry. She's strong and her unflinching confidence makes her sexy. Two out of three are the makings of great comedy potential.
Silpa disappears into his characters. You don't realize it's him until the first laugh. He has an energetic and unique stage presence where the audience becomes his friend. You root for him. There's several sketches where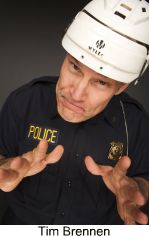 a comical moment leads to one of the characters laughing, and when Silpa is the character it's great fun. Think Jimmy Fallon back on SNL.
Brennan has a Phil Hoffman vibe. More than every-day-man handsome, can carry the stage solo, and blends his characters so smoothly you feel like he's six different guys sharing the same body.
The pacing of each sketch follows the age-old comedy rulebook and tries (more often than not succeeds) ending each piece with a big hit.
Clap for them. Yay!
Director Michaels strolls out to introduce sparse improv segments. At first, his appearance is abrupt, but soon enough it's equated with a different tone and you're looking forward to his next arrival. He has a relaxed, knowing demeanor. His smirky face tells you he knows his team is funny and he has a great time not only sharing the fun with the audience, but laughing along as well.
Between sketches the band comes to life. Sunk down in the corner against the
stage, they're always in the corner of your eye. Dim, but present. As the lights fade between segments, you aural senses are driven forward. Bombastic, energetic, and playing retro songs that take you back to stress-free school days.
The show ends on a high note and you really don't want it to be over. In some ways, it was just hitting its next gear, finding it's second breath. And in other ways you just want to laugh a bit more. But the comics leave us wanting more.
The audience, who arrived quiet and separate, leaves as one big happy crowd. Laughing, smiling and hugging.
To keep the laughs coming, you can catch Groundlings cast member Ariane Price in her solo show, "Dead Moms Don't Hug." Despite the dour title, Araine promises a night of comedy, which can be seen May 20th & 27th at 8:00 p.m at the Groundlings Theatre. Tickets are free. For more information call 323.934.4747 ext. 41.