What brings out such Hollywood legends Lily Tomlin, Dick Van Dyke, Penny Marshall, Rob Reiner, Ann Marie, Nichelle Nicole and Michelle Lee to name a few? To honor Carl Reiner, of course.
Closing night of the 3rd Annual Backlot Film Festival in Culver City brought kudos to the filmmakers and big laughs from historic comedy legends in the business.
As the evening began, Culver City Mayor, Alan Corlin welcomed the guests to the awards ceremony and presented the first Founders Award to Los Angeles County Supervisor Zev Yaroslavsky, who has been instrumental in rebuilding and modernizing the world famous Hollywood Bowl, among more landmarks.
Reiner Finds Laughs
Soonafter, Academy Award-nominated filmmaker Rob Reiner was introduced to bestow the next salute. He revealed that he learned his film trade as a teenager, by watching his father work on the set of the "Dick Van Dyke Show".
Then Reiner used his trademark charm in a comical opening featuring pre-taped acknowledgements from Garry Marshall, Henry Winkler and Lily Tomlin.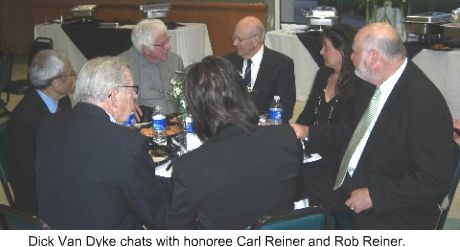 During Marshall's video he joked about old film equipment, such as a movieola, and both teased, "We're as old as this thing… ancient", and commended, "Just like it, we're still working too".
Winkler noted the first time he met Reiner he knew he "Was in the presence of greatness", and added "With his ability to find comedy, would he mind sharing some with him".
In addition there were letters of congratulations – some warm, some spiked – from colleagues Steve Martin, Billy Crystal, Mel Brooks and Carol Burnett. Each had a good time jabbing their old friend while making a few more jabs on themselves.
TV legend Dick Van Dyke stepped on stage to deliver a few words before honoring Reiner. He also teased, "We're Octogenarians now. We don't remember a lot. So we sit in a room and reminisce about things that never happened".
The crowd was in good spirits as honoree Carl Reiner made the stage and was presented the prestigious Thomas Ince Award. He quipped, "I didn't know who the Backlot Film Festival was, but now they're my favorite people in the whole world and this is the nicest festival in the entire world."
His words turned tender as he acknowledged the centuries of his work, some of his proudest moments, and of course, the great friends he made through his journeys.
As both father and son Reiner shared the stage, their love and mutual admiration was obvious. Rob's heartfelt words from just earlier in the evening were echoing in his eyes as he watched his father work the audience and then traded a few zings with him.
Reiner acknowledged his family pride: "The best thing that can happen to a parent, is that their children do
things that the parents could never dream of doing. I have three good, nice, amazing children".
The Award Goes To…..
Following the top-tier tribute, the festival winners were announced.The lovely and beautiful actress and 1960's sex kitten Stella Stevens announced the winners to the eager audience.
Best Short Film was the comedy "Pencil Fighting" with filmmakers Paula Jimenez and JC Nunez. Best Documentary went to William C. Dear's "OJ Is Guilty-But Not of Murder, the Overlooked Suspect". In a surprise and un-precedented event, there was a tie for Best Independent Feature between "La Cucina" and "Yesterday Was a Lie". Co-director Zed Starkovich accepted for "La Cucina," a romantic dramedy, and Multi-hyphenate filmmaker James Kerwin accepted for "Yesterday Was A Lie," a sci-fi film noir.
This was the first year of the Arthur Freed Award for Best Student Film. Stephen A. Saltzman, grandson of Arthur Freed narrated a presentation on his grandfather's legacy and then announced the winner, Jackie
Liao, for her animated short film "Dandelion".
The festival included 14 premieres, in its four-day run, with categories: independent feature, documentary, shorts and student shorts.
The festival also included a tribute to legendary producer Arthur Freed, screening "DuBarry Was A Lady", "Cabin In the Sky" and "Gigi".
Carl Reiner's Saturday evening tribute followed a screening and Q&A on Friday evening between Reiner and actress/comedienne/collaborator Lily Tomlin. The screening selected episodes from the "Dick Van Dyke Show" and "Your Show of Shows". Reiner's tribute films included "The Comic," "All of Me" and "Dead Men Don't Wear Plaid".
BacklotFilmFestival