Next time out in Hollywood, if you're in the mood for a refreshing, new cocktail, put down your boring Vodka & Soda and order up an IZZE WASSER – the latest IZZE Cocktail collaboration between master mixologist Michael Rubenstone and IZZE Sparkling Juice Co.
The inspiration for this innovative cocktail, renowned celebrity lawyer Laura Wasser, was honored in stylish fanfare by family, friends, and celebrities at the Terrace Patio at the legendary Sunset Tower Hotel in West Hollywood this past Thursday. Back dropped with an iconic patio view of the downtown skyline, the celebrations continued into the evening as guests like Tim Omundson, professional quarterback Matt Leinart and TMZ's Harvey Levin dined on fine hor'dourves and sipped on a never ending flow of the delicious purple potion.
For all you curious bartenders out there, the IZZE WASSER is a refreshing combination of IZZE sparkling blackberry juice, Trago premium Tequila, Chambord, lime juice, garnished with fresh blueberries and raspberries. This makes for a refreshingly, intoxicating mixture of flavors that personifies the refined, sophistication of Laura Wasser. This was also well received by the guests, as was evident by, the massive congregation around the bartender. Upon questioning of the drinks origins master mixologist Michael Rubenstone stated perfectly, "Laura is a great inspiration for an IZZE cocktail because she is stylish and captivating."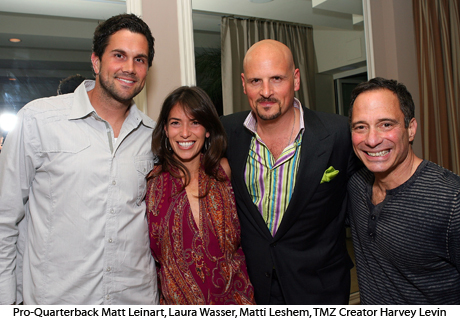 As a male, I was at first skeptical of sipping on any pinkish, fruity beverage served in a martini as it would be a direct attack on my manhood, but IZZE's natural fruit flavors and subtle addition of sparkling water blended perfectly with the smooth, rich flavor of the Tequila.
The recent IZZE Cocktail program was developed by Los Angeles-based Protagonist marketing firm and is the brainchild of Matti Leshem and Michael Della Femina. The IZZE campaign will identify eight to ten unique individuals whose intriguing personalities that embody the IZZE spirit. This April, be on the lookout for the next IZZE Pomegranate and Vodka inspired cocktail honoring famous photographer Pamela Hanson in NYC!
Humble Beginnings, Posh Future
IZZE Beverage Company was founded in Boulder, CO by long-time friends Todd Woloson and Greg Stroh in 2002. Their goal was to design a refreshing, all-natural fruit beverage with a splash of sparking water, inspired by their love of the Italian café fruit juice spritzers. As a socially conscious company IZZE has also founded several non-profit charities. This program helps give more educational opportunities to families of the farmers that sell their fruit to IZZE.
As the brand grew, as explained by IZZE's PR Manager, Meg Heitlinger, "we began to get tons of letters from loyal fans of the product about how not only is it a great drink but how it makes for a great mixer as well." IZZE has also released a compilation of fan-inspired cocktails using the simple sparkling flavors of IZZE. The IZZE Mimosa, IZZE Pearl, and IZZE Gin Rummy are just a few of the many concoctions that have been developed by IZZE's growing loyal fan base over the years. After indulging on a few IZZE-inspired cocktails and bottled flavors, Ms. Heitlinger definitely made a believer out of me. Alcoholic or not this is a fantastic beverage that you have to try (Check out the Grapefruit and Clemintine flavors).
IZZE Sparkling Juice (http://www.IZZE.com) is commonly sold at Starbucks and other coffee shops, health food stores (Whole Foods, Wild Oats), and most grocery stores.
Click here to find where IZZE Sparkling Beverages are sold near you!