In the early morning hours of Monday, July 9th members of the media along with a select group of radio contest winners were treated to an intimate performance by Adam Levine and Moroon 5 at the House of Blues on Sunset. They sang hits from their album "Songs About Jane", such as "This Love" and She Will Be Loved", and "Makes Me Wonder" and "Back At Your Door" from their newest album "It Won't Be Soon Before Long". They were also there to make their official announcement of their upcoming tour of the same name.
Ryan Seacreast was onhand to present the band. "It's great to have you all here. I'm very excited to be here today at the House of Blues. My name is Ryan Seacrest and I'm here today to just be a fan. "I've known these guys quite a while and love their music. And I'm a
fan of their new music too. You guys have heard their new music. First time I had a chance to hear some of their new songs was at Adam's house. It's hard with musicians – they take you not into their living rooms to play the CDs, they take you to their car. And you sit in the driveway and just listen to the music in the speakers because that's how we all hear the music when we're driving around".
"There's a lotta new news for M 5 fans today. These guys have sold over 12 million albums worldwide. "It Won't Be Soon Before Long"…you guys love that. That is the title of the new one. They're Grammy winners as you know, Maroon Five, and they're announcing their North American tour today. It's a big tour. And a music tour. It will be called the It Won't Be Soon Before Long Tour. Makes sense, right?" With that, Seacrest introduced the band to the small, excited audience.
Noting the early hour, Adam Levine, front man for the group, welcomed the audience by saying, "We're not used to scrambled eggs and live music at the same time." Back in 2002, when we were first on the scene, we played to sold-out houses. We really had a good time. It was always great playing here." In addition to playing a few songs for the crowd, the Grammy winners, whose sophomore album "It Won't Be Soon Before Long" has already gone platinum, announced that they were eager to begin their tour, which kicks off in Detroit on September 29th.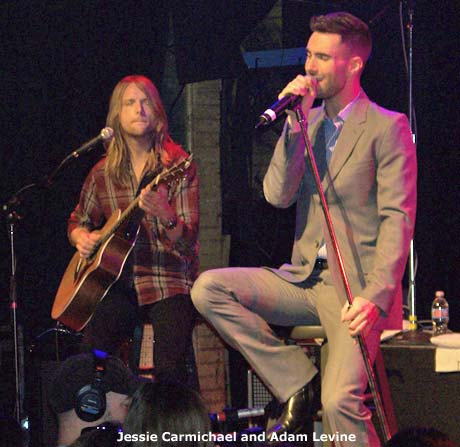 Opening acts will include Swedish group The Hives as well as Sara Bereilles, Kevin Michael, and Phantom Planet. The European leg will begin on November 25th at the Nottingham Arena, followed by shows in France, The Netherlands, Belgium, Denmark, Germany, Austria, Switzerland, and Italy.
When it came time for the press to ask questions, Ryan Seacrest asked some probing questions such as, "Will there be any hot girls in your new video?" and "Who are you wearing?". He defended himself saying "Hey, these are questions our listeners what to know! All joking aside, Seacrest then asked, "Is it true you almost killed yourself yesterday near a burning car?"
Levine explained, "During the shooting of our new video which included a scene with an exploding car, the fire marshal explained to us all the hideous things that could go wrong and like an idiot I decided to do it anyway. And we blew up a car, there were about 15 of us in front of it. I was scared, but I had to pretend to be not scared because I was standing next to a pretty girl". When Seacrest asked when fans can expect the new video, Levine responded, "That video should be coming out in the next couple weeks and it's by far, I can pretty much say now, the best video we've ever made."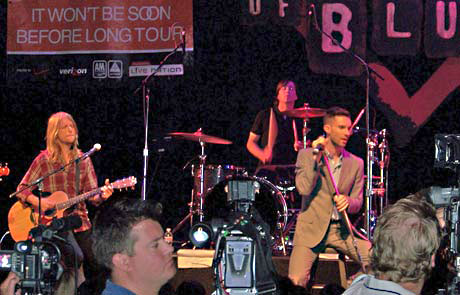 Los Angelinos eager to watch the band won't have long to wait. Maroon 5 will be performing at The Staples Center on November 8th.
Levine also announced that Maroon 5 has partnered with Global Cool to make the entire tour production carbon neutral. Additionally, the bad will contribute $1 from each ticket purchased in North America to buy carbon neutral offsets—essentially offering money to help reduce carbon emissions in our country.
"Our world is in a serious predicament right now, and we all need to play a role in reversing the catastrophic affects of global warming," Levine said.
Tickets go on sale this Saturday, July 14th.
The North American Tour Schedule is as follows:
Xcel Energy Center, St. Paul: October 1st
Allstate Arena, near Chicago: October 2nd
Air Canada Centre, Toronto: October 4th
Quickens Loans Arena, Cleveland: October 5th
Nationwide Arena, Columbus, OH: October 7th
John Paul Jones, Charlottesville, VA: October 8th
New York's Madison Square Garden: October 10th
Mohegan Sun Arena, Uncasville, CT: October 12th
Wachovia Spectrum, Philadelphia, PA: October 13th
TD Banknorth Garden in Boston: October 15th
Verizon Center, Washington D.C., October 16th
Colonial Center, Columbus, SC: October 18th
BankAtlantic Center, Sunrise, FL: October 20th
St. Pete Times Forum in Tampa, FL: October 21st
Amway Arena, Orlando, FL: October 23rd
Arena at Gwinnett Center, Duluth, GA: October 24th
Toyota Center, Houston, TX: October 26th
Fort Worth Convention Center, Ft. Worth: October 26th
Pepsi Center in Denver: October 29th
Energy Solutions Arena, Salt Lake City, UT: October 31st
Rose Quarter-Memorial Coliseum, Portland, OR: November 2nd
PNE / Pacific Coliseum in Vancouver, B.C.: November 3rd
Arco Arena, Sacramento, CA: November 5th
HP Pavillion at San Jose, San Jose, CA: November 6th
The Pearl Concert Theater at The Palms Casino, Las Vegas: November 10th